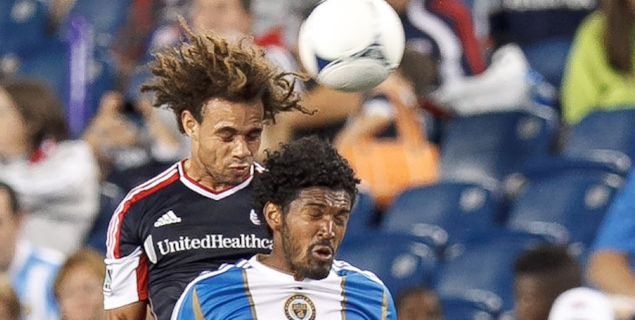 By Tony Edwards – San Jose, CA (Sep 4, 2012) US Soccer Players — For your post-holiday reading, Tony looks at Major League Soccer clubs going in different directions and if there is hope for the teams on the slide.
Tell me something good about Saturday night's New England –  Philadelphia game?
Philadelphia completed a lot of passes and had lots of possession. Freddy Adu touched the ball often and had three times as many successful as unsuccessful passes. Matt Reis was good in goal. Philadelphia has nice away uniforms.
The Revolution have now gone 10 games without winning.  They came into this one trying to sell tickets on a holiday weekend facing another team that won't make the playoffs and facing their first game without leading scorer Saer Sene.  Unfortunately for the Revs, it won't get any easier in 2012.
Will MLS Cup '12 feature Columbus versus Dallas?
With a kind upcoming schedule (Toronto, Philadelphia, New England, and Chivas USA are four of the Crew's eight remaining games),  Columbus has inserted themselves into the discussion for home-field advantage in the Eastern Conference.  Dallas has a more difficult road, but after Sunday's draw against Seattle, Dallas is only 4 points behind the free-falling Whitecaps, who admittedly have a game in hand over Dallas.
While Vancouver is getting the wrong kind of attention for their recent play, is there something to worry about in Houston?
Four games without a win and some uncharacteristic sloppy play has Houston tied for fourth on points in the Eastern Conference with Columbus.  Though Houston leads on the tiebreaker, Columbus has played 26 games to their 27.  So yes, there is.  There's still plenty of time for DC United to reassert themselves as a playoff team.  Believe it or not, Montreal is also still in contention three points out of the final Eastern Conference playoff slot.
Which teams lead the League in Road Goal Difference?
Seattle and Kansas City at +3, with San Jose at +2. Kansas City is the only team in the Eastern Conference to have a positive RGD, with Los Angeles also on the right side of the ledger at +1.
For this season, the sample size is large enough to suggest that Houston (at -8) might need to reverse their recent slide to avoid being the road team in the wild card game. In the Western Conference, Vancouver's RGD is -13, so the fact that they have only two more road games this season might give their fans some hope the team can arrest their recent slide.
Is small beautiful sometimes?
I said to a friend of mine this weekend that San Jose would draw poorly for a holiday-weekend, Sunday 6pm start time.  It didn't help that the opponent was Chivas USA or that the game was available on national cable.  Still, more than 10,500 showed up as San Jose put away its chances. 
Where to start for San Jose? They are unbeaten in 15 games at Buck Shaw and have already scored the franchise's most goals ever scored in a season, breaking a record set in 1997, with seven games left. They are scoring from the run-of-play and from set pieces. Their defense, if not as airtight as it was earlier in the season (Chivas USA had at least three very good chances) is doing enough.
Right now, at least, they are also fortunate, as a good case could be made that goalkeeper Jon Busch might have saved US National Team Player Juan Agudelo's breakaway effort outside the box. The question also lingers if forwards Alan Gordon and Stephen Lenhart will be allowed to continue their physical style of play in the playoffs, against better teams and presumably sharper scrutiny by the referees.
---
Tony Edwards is a soccer writer from the Bay Area.
More Questions: