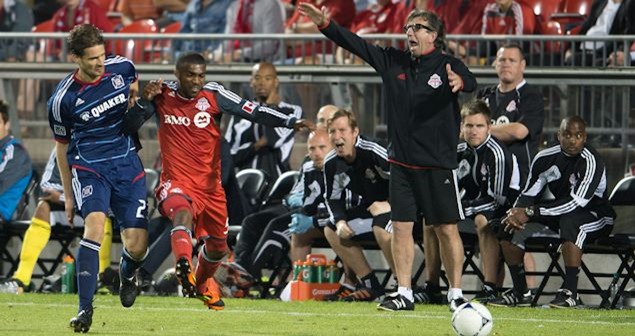 By Jason Davis – WASHINGTON, DC (Sep 19, 2012) US Soccer Players — The story of the rise of spectator sports in America is, in many ways, the story of the rise of mass media in America. The popularity of products like the National Football League and Major League Baseball was built on the back of the invisible radio waves and television signals conveying accounts and images of games into American homes just as urbanization transformed life from a daily grind of dawn-till-dusk workdays into one with more significant leisure time. Via radio and then television, sports took a prominent role in the day-to-day passions of people across a vast nation ready to welcome trivial pursuits into their lives.
The natural progression of mass media coverage of sports would eventually lead to the ubiquitous call-in radio show. Here, fans could dial up a local station and let fly with all of their pent up angst, blatant homerism, and half-cocked theories on who should play, what the head coach was doing wrong, or how an (unlikely) championship was in the offing. In the aftermath of a game, sports talk radio gave voice to the common fan in a way previously impossible.
In places where the team was more than just a team, it was a way of life, these shows were the lifeblood of the revolving discussion that rose and fell with the team's fortunes. People with names like 'Joe in Greendale' and 'Tom in Smithburg' became minor celebrities.  Even in this era of constant connectivity and social media, sports talk radio continues to prosper.  Well, except for soccer. 
Major League Soccer's presence on terrestrial radio is spotty at best, near non-existent at worst. In most cities, clubs are lucky to get an occasional mention on the sports stations in the market, much less full game coverage or dedicated call-in shows. Soccer's role in the fabric of American sports is that of wayward thread, meandering through an otherwise cohesive cloth, mostly ignored by a radio industry too old or too stodgy to give soccer a chance.
Over the course of the League's existence, teams have alternated between having radio distribution and not, both on English and Spanish-language outlets. In most cases, getting on local radio means teams putting up the money to buy airtime, rather than being paid for the radio rights. It's a throwback to the early years of MLS on television, when the League paid get the product in front of American eyes.
That pay-for-play dynamic extends to programming outside of games, the kind that encourages fan participation. The number of MLS markets with weekly (or more frequent) soccer shows not directly paid for by the team, or on a station with a shared owner (as is the case with Real Salt Lake), is miniscule. The Cascadian clubs are a notable exception, with all three having strong radio presences.
Sporting Kansas City launched a post-game call-in show this year to augment a weekly team-focused program called "This Week in Sporting." The post-game show gives a burgeoning fan base during the club's rise to prominence a place to vent and commiserate in the aftermath of Sporting match.
For co-host Andy Edwards, the show provides the diehards a voice and encourages new fans to get involved.  "The great thing about soccer radio, and especially a postgame call-in show, is that everyone's got an opinion," he said. "Especially in a town that's never had a show like that to voice their opinions, it's become a very well-used outlet for frustrations or celebrations. In a city like Kansas City, one that's so quickly blossomed into a soccer "hotbed", at least at the MLS level, having a daily or bi-daily product that's publicly accessible in the traditional form of radio, goes a long way to keeping the team, and the sport as a consequence, in the forefront of people's minds."
Both the post-game show ("The Final Whistle", co-hosted by former team employee and play-by-play voice Dave Borchardt) and This Week in Sporting fill time purchased by the team on sports talk station 810 WHB.
Rather, This Week in Sporting did, until the team lost the slot (suddenly, but not unexpectedly, on Tuesday) due to scheduling issues with American football now in season. The loss of the program for the year, despite the team's willingness to pay for the air time, not only leaves fans without a dedicated hour of live and local MLS chat on terrestrial radio during the stretch run of the MLS season, it indicates just how far down the pecking order soccer is for local sport stalk. Sometimes, even paying for the right to put soccer content on the radio isn't good enough.
This is the Internet age, however, and when the traditional radio outlets don't step up, fans and aspiring professionals can fill the void with streaming shows online. It's an acceptable alternative in many cases, full disclosure – I cohost one, but for MLS that's not the same as commercial radio. Whether fair or not, the AM and FM dials still hold sway as relevance-makers, even in 2012.
"At present time, I think being on the 'real' radio still carries quite a bit of weight in an 'official' sort of way, that lets people know this product is good, that someone important believed in it enough to pay some airtime fees. And, the option of having it on in the car on a home game day as you leave the stadium always brings out the rawest of emotions, win or lose. I'm as much in love with technology and all the things it allows me to do in terms of listening to radio all over the world, but nothing beats having it on the regular radio airwaves," Edwards said.
It's this odd juxtaposition – the legitimacy of traditional media against the wave of new media options – that makes divining the future of Major League Soccer on the radio difficult.
Presumably, as the competition grows in importance and earns more fans, the League's mentions on general sports talk radio will increase. That doesn't necessarily mean game broadcasts will find a radio home, or that the call-in show will become a staple in local markets. MLS fans, for their part, might have already given up on radio as a place to hear about their favorite team in any significant depth. They've been given little reason to turn to their radio for MLS coverage during the last 17 years.
If fans are going elsewhere for their fix, why should teams invest in terrestrial radio distribution? While podcasts lack the sense of immediacy and don't allow for the interaction so intrinsic to sports radio in the United States, they're cheap to produce and easily disseminated. Satellite radio requires equipment and a subscription, but it's car friendly for live broadcasts. 
For the foreseeable future, the bulk of MLS clubs will have to turn to pay-for-play, or other creative alternatives, to get soccer on American radio stations, if they even see the need. They'll have to deal with the predominance of baseball in the summer, and football in the fall. Maybe in the world of iTunes and radio-on-demand, the tough nut of terrestrial radio isn't worth the effort it takes to crack it.
Still, soccer has Joes in Greendales and Toms in Smithburgs, too. There's a need for soccer talk radio, the same as the other professional sports.  It's an outlet that helps grow a fan base and get a simple message across.  People care enough about this sport in their local markets to pick up their phones and call in.
---
Jason Davis is the founder of MatchFitUSA.com and the co-host of The Best Soccer Show. Contact him: matchfitusa@gmail.com. Follow him on Twitter: http://twitter.com/davisjsn.
More From Jason Davis: