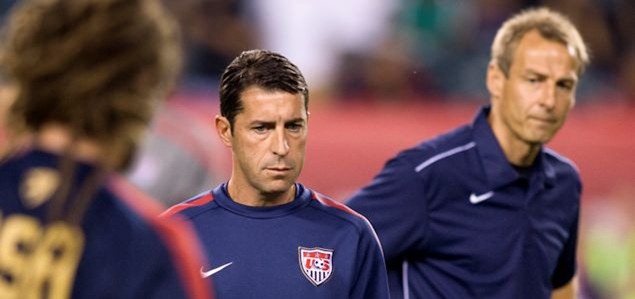 By Charles Boehm – WASHINGTON, DC (Sep 28, 2012) US Soccer Players — Last week, I spoke to US Under-20 National Team coach Tab Ramos for an MLSsoccer.com feature on youth development. The site was in the latter stages of its "24 Under 24" countdown, a series attempting to catalogue Major League Soccer's top young players, and I was seeking a national-team perspective on the wider issue.
Ramos has about as much credibility on this issue as anyone in the country. The former United States star cut his coaching teeth at much younger age levels than most retired professionals of similar reputation.  Founding the New Jersey Soccer Academy in 2004, Ramos quietly built his skills before moving into the US Soccer ranks as an assistant with the Under-20's.
Perhaps the most arresting insight he shared with me was the tiny number of former pros who follow the same path he did, paying their dues with the kids, and the consequences of this.
"Unfortunately it's still not common to have coaches with a high education and development working with our younger players," he said. "Normally in the US, even though things have improved a lot, most of our best coaches are working in the older age groups. I guess that would be where most of the coaches would want to work, especially after they have gone through the full education of getting all their licenses and everything else. But we need to get to the point where we have some of our better coaches working all the way down to the younger guys as well."
After all, why would the likes of Ben Olsen or Jay Heaps turn down the prominent – and lucrative – pro gigs that were offered to them at the outset of their coaching careers, before they'd even completed their licensing curriculum, in order to herd pre-adolescents through after-school sessions in anonymous suburban parks? Ramos himself admitted that he felt more fulfilled working higher up the pyramid.
"It's not easy," he said. "I'm glad I was able to do it. I think I learned a lot coaching from the younger age groups all the way up. But I think I have more of a passion for coaching older players as well."
For me, all this immediately, jarringly brought the debate about "24 Under 24" into focus.
Inherently controversial, like most inventories of its kind, the list prompts inevitable arguments over those rated too high, too low, or left out altogether – and many of us can't even agree on what constitutes a "young player." Alluding to the highly divergent meaning of the term everywhere else in the world, veteran television commentator Phil Schoen, for example, took to Twitter to urge the league to adopt a "20 Under 20" list instead.
I should almost go without saying that the developmental level before 11v11 play, or even the move to a size 5 ball, is every bit as important. Famously, Lionel Messi's gifts were spotted by top clubs around age 11. Most US children in what respected journalist (and part-time youth coach) Beau Dure calls "single-digit soccer" are being coached by parents.  Most of them – for all the growth of our nation's "soccer culture" – have limited firsthand experience in the game.
Soon after moving to the Washington, DC area, I coached my nephew's coed, Under-10 team for a few seasons. Limited training time and an extremely wide spectrum of ability levels made it difficult to develop anything resembling advanced skills. Once I started a full-time job downtown, it was a perpetual hustle just to get back out to the suburbs in time for practice, much less plan out devastatingly effective drills.
Yet, it was a rewarding experience and I was showered with gratitude by the team's parents, who reminded me over and over again how much more qualified I was than any of them. The main point was to try and foster a love of the game and the freedom it could offer between the chalk lines.  I reminded kids and families alike that their own development would hinge on what they did between practices, on their own time.
Even at that tender age, those children had some serious cramming to do if they wanted to grab a place in the upper ranks of the elite youth system that channels talent towards the college and pro ranks. It would probably take a full-time professional to guide them there.
Who fills that role, and how would it be funded? And who will convince American soccer's best and brightest that those "single-digit" kids probably need their knowledge and experience just as urgently as the pros?
---
Charles Boehm is a Washington, DC-based writer and the editor of The Soccer Wire. Contact him at:cboehm@thesoccerwire.com. Follow him on Twitter at: http://twitter.com/cboehm.
More from Charles Boehm: