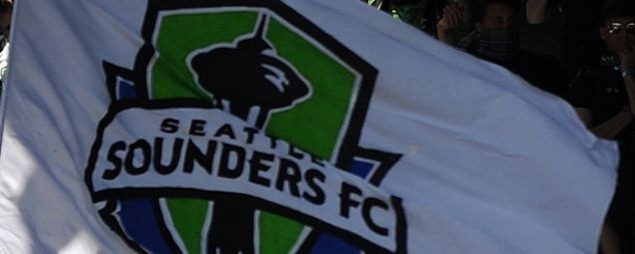 By Cesar Diaz – NEW YORK, NY (Sep 20, 2012) US Soccer Players — On Saturday, the showdown between the San Jose Earthquakes (17-6-6, 57pts) and Seattle Sounders (13-6-9, 48pts), the best two teams in the Western Conference will take place in CenturyLink Field in Seattle.  With the Sounders having the best average attendance in Major League Soccer with just over, 42,000, their supporters may witness an offensive shootout between each club's dynamic duos. San Jose's Chris Wondolowski and Alan Gordon vs. Seattle's Fredy Montero and Eddie Johnson*.
With San Jose leading the Western Conference with a comfortable nine-point advantage, Seattle will have the opportunity to chip away at the lead. While it's evident that San Jose is in position to win the Supporters' Shield, it's Seattle with the most to lose in the encounter.
Should the Sounders lose on Saturday combined with Real Salt Lake (14-11-4, 47pts) and Los Angeles (14-11-4, 46pts) winning, Seattle would drop to fourth place. In the end, this match is a must win for Seattle.
Excellent marketing and an incredible fan base may raise eyebrows, but in the end American sports is based on championships. While it's true that Seattle has a fan base that's the envy of many MLS teams, this remains an expansion team still in the euphoric stage of their development.  Though US Open Cups certainly count, what's needed is a League championship. 
Including their solid performance in this year's CONCACAF Champions League, no one can question the marvelous job head coach Sigi Schmid has done in his four years with the club. Along with a 57-30-35 record over four years, Schmid has led the Sounders to the postseason in his first three seasons.
While a fourth postseason appears inevitable, the reality is that the Seattle Sounders have to win the MLS Cup. After four solid years, it's their time. Up until this season, the Sounders have been a regular season team. In 2012, that reputation has to change. 
Why is this year so important?  Seattle finally failed to win the US Open Cup, and there's the feeling that they and several other teams are nearing the end of their current runs.  Seattle needs a championship to cap one of the better expansions in MLS history.  They need to be that team, following in the footsteps of Chicago who started their MLS journey as a contender turned champion. 
There's history here.  Back in the original North American Soccer League era, the fans showed up to see the original Sounders.  What they didn't get was a championship.  Seattle came close twice, both times against the mighty Cosmos. 
Ask a Sounders fan who was around during that time how they felt losing those Soccer Bowls to New York. Ask them about the emotions they felt when they lost in '77 with Pele played his last NASL game on the home of their most bitter rivals, the Portland Timbers.  Maybe you'd get a response to look at more recent history, when Seattle was a dominant team in the A-League and USL-1.  Fair enough, but this is a club with a long history and no topflight championship.  That needs to change immediately. 
It's almost a surprise that it hasn't happened already.  Schmid joined the club as a champion, a coach who knows how to take an unheralded club and turn them into winners.  Seattle started in the strongest position in Major League Soccer in terms of fan support, giving Schmid the kind of platform he never had with Columbus or the pre-designated player era Galaxy. 
Since 2009, the Sounders only trail the Galaxy in most MLS points with 206 and a 57-30-35 record. During that span, Seattle's attacking style of soccer has accumulated 177 goals. On the road, they have an overall record of 24-17-21, again trailing only the Galaxy.
Here's another statistic for you. Since 2009, the Sounders have the best record from July 1st through the end of the season. In four seasons, Seattle's record is 32-11-13. In both 2010 and 2011, Seattle won 10 matches during that span. For 2012, they currently have a 6-1-4 record since July 1st.
For 2012, Seattle has a winning record against both Eastern and Western Conference opponents. Against the East, the Sounders are 4-2-4 and 9-4-5 against the West. The Eddie Johnson and Fredy Montero combo have produced 27 goals combined. Complimenting both players has been Mauro Rosales, second in the league with 13 assists.
Defensively, the Sounders have remained one of the league's best. So far, they've only given up 28 goals while their opponents have surrendered 44. In goals allowed per match, the Sounders are second in the league with an average of 1.04 per match. Goalkeeper Michael Gspurning ranks first in MLS with a goal against average of 0.74 and a 10-2-3 record this season.
This is their year, it almost has to be.  While another postseason failure wouldn't impact their home attendance, it'll affect their credibility of being a legitimate contender. 
Any sound that goes on long enough eventually stops having an impact.  You adjust, and it's background noise.  Without a championship, that's Seattle.  With a championship, they're the biggest thing going in Major League Soccer.
---
Cesar Diaz is a freelance writer for several online soccer publications. If there's a soccer topic you believe needs to be written about, please feel free to contact him. Easily approachable, you may contact him atCDiazNYC@gmail.com and @CesarDiazNYC.
More from Cesar Diaz:
*Editor's Note: Johnson will miss the game.