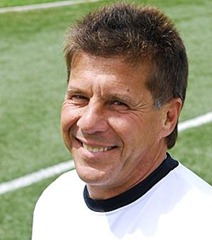 By Clemente Lisi – NEW YORK, NY (Sep 19, 2012) US Soccer Players – When a young player named Antonio Carlos Pecorari came to the United States in 1981 to play for the Tampa Bay Rowdies, his goal was to make enough money so that he could move back to his native Brazil and buy a home. It didn't exactly work out that way. Pecorari, known by his nickname Tatu, wound up staying in this country and turned into one of the game's biggest stars during the 1980s. Not only did Tatu stay after the original North American Soccer League folded, he would go on to play in six indoor leagues over a span of 20 years. He scored nearly 800 goals in the process.
As a player for the Dallas Sidekicks, Tatu became one of the best known athletes in Texas.  These days, Tatu, 50, is coaching the team he played with for so many years. Reunited recently with the Sidekicks, Tatu will coach the team in the PASL-Pro indoor league starting this fall. Tatu said he hopes Dallas will respond to the team with open arms like they did when he played in the original Major Indoor Soccer League era.
"Fans still stop me these days and say they remember when their dads would take them to games," Tatu said. "I love that. It really shows that we made a difference in peoples' lives. To try and re-create that now is great. I am excited about it. To coach the Sidekicks is a great opportunity." 
Tatu called Dallas a "soccer city" – but warned that the team will have to work hard to attract fans.  
"You need to sell the product," he said. "Texas is all about American football. You need to show the community that you are in touch with them. The players need to make appearances and meet the fans so that we can create a good environment."   
Tatu said his arrival to the United States was fraught with mixed emotions. While excited to be in a new land, a lot was expected of him in Tampa. For starters, the team was counting on him to score goals once he got there in 1981. The pressure to succeed, he recalled, was enormous.
"It was a great experience," he said. "I was just a baby then. I remember it was a lot of pressure on me. I wasn't prepared for that role. I was immature. Being a foreigner made it worse. As a foreigner you were expected to make the difference." 
Tatu said the best part of playing in the NASL was living in the United States. His experience changed his goals and his future. 
"It was crazy. I was living in the best country in the world," he said. "It would take six months to get a telephone in Brazil and it took one day here." 
Once the NASL folded, Tatu found work playing indoors. He said making the transition was not difficult.  
"It was an easy transition. I liked the one-touch plays. I played futsal in Brazil on a basketball court. That helped me," he said.  "I really believe that (playing indoor soccer) is the best way to develop younger players. You have 11-year-olds these days playing on a large field with 11 versus 11. That's crazy. In Brazil we play on small fields."  
As a member of the Sidekicks, Tatu was part of four titles (1987, 1993, 1998 and 2001). Tatu said winning the MISL crown in 1987, his first, remains the one closest to his heart. Down two goals in Game 7 in Tacoma before 22,000 fans, Dallas tied the game and won 4-3 in overtime. 
"If I close my eyes, I can still remember that game," he said, before going into a three-minute explanation on how every goal was scored in that game. "When we won the game, the crowd was quiet. All 22,000 were stunned. I was jumping up and down like crazy. It doesn't get better than that."  
Tatu said he is proud that soccer has become popular in this country, but that he and others who played in the NASL and MISL years ago deserve a lot of the credit. 
"I don't think the NASL and MISL guys get enough appreciation," he said. "We planted the seeds. All these guys planted the seeds. We all helped soccer in this country grow. Without us there would be no MLS. We kept the ball rolling. We didn't always get paid a lot. We did free clinics and made appearances at high schools and camps. We really didn't get paid a lot, but we did a lot."
---
Clemente Lisi is a New York-based writer. Contact him at: CAL4477@yahoo.com. Follow him on Twitter at:http://twitter.com/ClementeLisi.
More from Clemente Lisi: