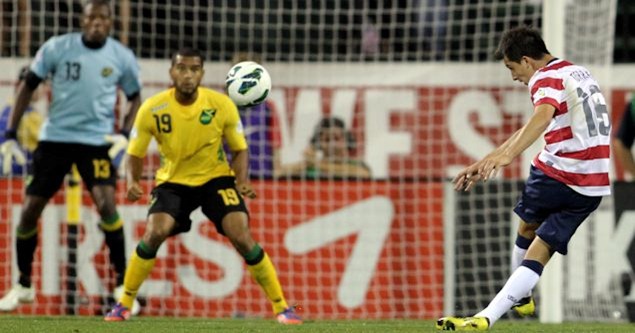 By Charles Boehm – WASHINGTON, DC (Sep 13, 2012) US Soccer Players — Jose Francisco Torres has become the enigma of the United States National Team's player pool. Once a darling of the program and its fans, a leading member of the much-coveted Latino demographic who made the rare and brave choice to wear the colors of his country instead of his father's, Torres' recent fortunes have clouded his place in the larger picture.
Perhaps the polar antithesis of "the traditional American player," as many stereotypically perceive it, "El Gringo" is not distinguished in terms of size or speed, but he offers a more probing, nuanced take on the game. The Pachuca midfielder has appeared on stages few other US players have reached and his club team, at its best, has graced Mexico, CONCACAF, and even the FIFA Club World Cup with a flowing style both cerebral and effective.
As an inventive distributor and midfield metronome, the scarcity of his skill set is widely recognized. Yet its consistent effectiveness with the National Team remains elusive.
"Over the last months, we've had quite a few talks with Jose on his role here with the national team. We want him to take more responsibility and make his case stronger," said coach Jurgen Klinsmann in Columbus, Ohio on Tuesday, after Torres had logged 67 capable but understated minutes in a narrow left midfield role against Jamaica. In nine overall appearances for Pachuca and the US since June, Torres has lasted all 90 minutes in just two.
"We want him to become a real leader and in Pachuca we are all very well aware of how things are going in his club. We all agree he has tremendous talent and he has matured as a player, but still he needs to become more physical and take over the game. He needs to play more killer balls into the strikers – the decisive things that change the game."
Klinsmann expressed nearly identical sentiments after last month's 1-0 friendly win over Mexico at Estadio Azteca, an occasion which seemed perfectly suited for Torres. But his night lasted just 45 minutes as he could not impose himself amid El Tri's chokehold on possession and was substituted at halftime. That night marked one of the few times he's been fielded in his preferred central midfield placement, with Klinsmann more often giving him a left-wing role where he has not always looked comfortable.
"I didn't get many balls. And when you don't have very many balls, a coach tries to find a different way to have the team attack more," Torres said of his experience in the Mexico match when reporters brought it up in Jamaica last week. "It's part of soccer and I don't mind."
Torres, a perennially levelheaded presence, is also practical about being tasked with roles outside his comfort zone.
"My spot?" he pondered last week. "I want to play in the middle, man. But wherever he puts me, I'm going to respond and try to do the best I can. There's new spots that he's put me in, and I've just got to respond and enjoy the game."
I asked Torres about his reaction to Klinsmann's public urgings to take the next step forward in his career.
"That motivates me a little bit more, that he wants to me to be one of the leaders on the field. So that's a good compliment, that alerts me," he said. " If I get to play, that's an opportunity for me and I'm going to do my best, and try to be one of the guys that demands the ball and tries to move it around a lot."
Some of his opportunities have been mixed blessings. Torres' club responsibilities precluded him from easing into international life with participation in the National Team's January camp.  Quirks of the calendar have seen to it that most of his call-ups have been for meaningful matches against difficult opponents.
Torres was handed his first international start by Bob Bradley as part of a young lineup at the tail end of the semifinal round of 2010 CONCACAF World Cup qualifying, a 2-1 loss in Trinidad & Tobago after the US had already booked a place in the Hexagonal round.
His second came in a World Cup qualifier at Costa Rica on June 3, 2009, where he featured at the heart of a new-look 4-3-3 shape. And while the resulting 3-1 beating at the hands of Los Ticos was no great surprise given the Yanks' long winless streak in that nation, it was disastrous enough that both formation and player were set aside for long afterwards (Torres made that summer's Confederations Cup roster, but did not play a single minute). He's also been in the first 11 against illustrious opponents like the Netherlands, the Czech Republic, Belgium, Brazil and Mexico (twice).
All of which explains, but does not erase, the harsh fact that the US holds a 4-7-3 record in games he starts. There might well be no good reason at all for that statistic. It might even be a sign that he's actually a step ahead of the program as a whole. The Longview, Texas native's adolescent tutelage at Pachuca's respected youth academy programmed his style a bit differently than some of his US-reared colleagues, and the instinctive off-the-ball movement by teammates that brings out his passing range may not come naturally to all.
So the unique qualities that make him a valuable asset may simultaneously complicate the way in which he's used. The pragmatic Bradley might have regarded Torres as a luxury, one he could rarely afford to wedge into his team's established style. But the diminutive Texan would appear to have the most to gain under Jurgen Klinsmann's new regime and its emphasis on possession and technique.
The latest tactical tweak, moving him to the left of a "skinny diamond" shape that unlocks left back Fabian Johnson's overlapping abilities, may suit Torres as well as anything that's been tried yet. It also raises the expectations around both player and coach.
"We're working on that with him and we are patient," Klinsmann said on Tuesday. "We are building a bigger roster for 2013 – we've got to get the [qualifying] job done now first – but it'll be a very busy year with qualifiers and Gold Cup. It's up to Jose and what he wants to make out of his career."
---
Charles Boehm is a Washington, DC-based writer and the editor of The Soccer Wire. Contact him at:cboehm@thesoccerwire.com. Follow him on Twitter at: http://twitter.com/cboehm.
More from Charles Boehm: