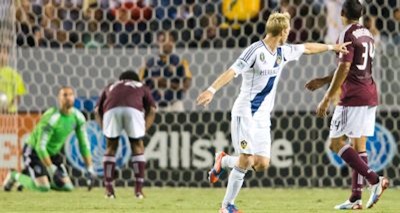 By Zac Lee Rigg – LOS ANGELES, CA (Sep 17, 2012) US Soccer Players — There's a month and a half to go until the MLS Cup Playoffs and the defending champs just got a little bit better.  Swedish international Christian Wilhelmsson joined the LA Galaxy and made his debut in a 2-0 win over the Colorado Rapids on Friday.
Despite limited fitness, Wilhelmsson went 60 minutes and scored the clinching goal when Matt Pickens fumbled on his shot from outside the box. For a player nicknamed "Chippen" after his ability to chip goalkeepers as a youngster, it wasn't the most aesthetically-pleasing goal he'll score, but he'll take it.
"I didn't think so much that I would score today," Wilhelmsson said. "[If] it's a goal, it's a goal. I have to thank the 'keeper, he helped me a little bit though."
The opportunistic shot wasn't all accident. The 32-year-old pressed high and wide every time the Galaxy won the ball back. Plenty of floated balls over the top gave him chances to stretch the high Rapids backline.
"I think he's going to be a good addition to the team," Galaxy coach Bruce Arena said. "He showed his experience on the field, an excellent first touch, understands how to play on both sides of the ball. I think he's going to be a player that's certainly going to help us in the stretch."
One imagines David Beckham in particular will relish the outlet the Swede provides. Beckham, perhaps the premier long-range distributor in MLS, missed the game with an ankle sprain. Once the English midfielder returns the team will work on the chemistry of its high-octane offense. Landon Donovan only made his first appearance in a month against Colorado, helping set up Robbie Keane's opener.
"It was his first game so we've got to iron out some kinks with all of us," Donovan said. "We've got to figure out how he wants to play. But he contributed – not the most beautiful goal but it counts."
Wilhelmsson agreed that there's plenty of room for improvement in Los Angeles ("We struggled a little bit with our passing") but doesn't envision a lengthy gelling process. "I've been in a lot of places by now and to adapt is one of my qualities," he said. Most recently the former Anderlecht, Nantes, Roma, Bolton and Deportivo La Coruna winger played for Saudi Arabia's Al-Hilal.
He joked that thus far Los Angeles is similar to the Middle East, "It's like where I come from: very hot, a lot of traffic." His jokes come from behind a light blond stubble in staccato English, his posture unnervingly straight, making him look taller than his 5-foot-9 frame. He plays like a taller player than his former international teammate, the recently-retired Freddie Ljungberg, who was the first Designated Player of the Seattle Sounders.
After representing Sweden at Euro 2012, his third European Championship, Wilhelmsson was looking for a new club. He pointed out that Galaxy games are now on TV in Europe and that MLS had been on his mind for some time.
"There has been moments the last year, a year ago even, that I had in mind maybe one day I will try MLS to see if I get the opportunity. And now it came," he said. "The league is upcoming. It's growing. The football is getting better."
Though exact terms of his deal with MLS won't be revealed until the Major League Soccer Players' Union releases wage numbers before next season, Wilhelmsson is likely taking a substantial pay-cut from his bounty in Saudi Arabia. He's on a short-term deal through the end of the season with a possible multi-year extension. Either way, the World Cup veteran represents a bargain for the Galaxy. He has nine goals in 78 international appearances for Sweden and easily could have commanded a Designated Player contract.
"His resume speaks for itself," Donovan said. The Galaxy have all three DP slots full already, with Donovan, Keane and Beckham on board. Instead, Wilhelmsson accepted a lower paying deal, Bruce Arena somehow squeezing him under the salary cap.
Wilhelmsson says his wife, the model Oksana Andersson, learned to enjoy the Middle East eventually, but her career prospects certainly improved with the move to Los Angeles.
"I think it's low-risk and potentially really high reward for us," Donovan said. "We're fortunate at this club that we get a number of players that reach out and want to play here. It's a big advantage for us."
With the reigning champs roaring into the postseason – six wins and one draw in the past seven games in all competitions – it's an advantage that makes the Galaxy even better.
---
Zac Lee Rigg is a Senior Editor of Goal.com.
More from Zac Lee Rigg: