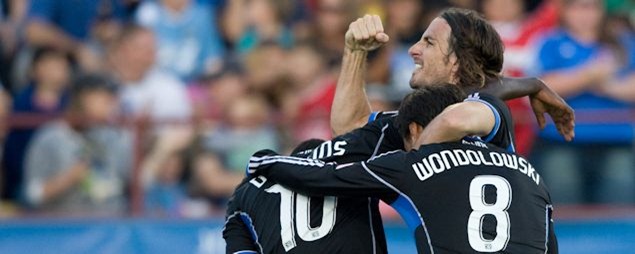 By J Hutcherson – WASHINGTON, DC (Sep 21, 2012) US Soccer Players – There's a tendency at this stage of the Major League Soccer season to treat each and every game like Herculean obstacles, almost impossible to overcome.  Part of that is marketing, raising the stakes as we head to the playoffs.  That's never likely to account for teams stumbling along, creating their own problems, yet still with enough points and space to make the postseason. 
The intrusion of Champions League play and the international calendar along with the disparity in games played certainly doesn't help.  The closing weeks of the regular season don't flow.  They push through questionably scheduled weeknight games, forcing teams into a midweek-weekend schedule that's at odds with the empty spaces from earlier in the season.
As it stands, barring a remarkable playoffs 2012 will be remembered as the season when coming up with a schedule was hard.  Too many gaps, too much white space where games should've been, and too many home games grouped together.  The end result is the schedule doing as much as the MLS version of parity to impact the standings. 
Clubs absorb the competitive effect of the calendar in September.  It's hard to judge where any team really is unless all involved play the same number of games.  It's getting better, but MLS waits too late to get all teams level on games played.  It's the concept of matchdays, or even match weeks, that got lost in the season of poor planning. 
Included in that is the lack of flexible scheduling, the hallmark of television deals in other leagues. No network partner is thrilled to have a late season game where one or both clubs are either out of contention entirely or fighting for a low playoff seed.  What they want are the marquee games, something that should be an option in the era of the soccer-specific stadium.  Instead, the bigger games play out in obscurity while the 'not quite as big' or 'not big at all' end up with national availability. 
Sure, it's possible to try to tease out some meaning in any matchup the League offers.  Call it the curse of the club cups, but there's almost always something to play for.  That this normally adds very little aside from confusion for the mainstream viewer tends to get lost in the push for every game on the schedule as relevant.  No league gets that.  Every league suffers from late season games that don't really matter as much. 
DC beating Philadelphia on Thursday night was treated as a huge win, but a team in the top half of the table should be beating one of the worst teams in the League home or away.  Chivas USA is a spot above Philadelphia in the Supporters' Shield table.  Should we be treating DC at home against 17th-place Chivas USA as a game that will require everything 6th-place United has to offer? 
For the Supporters' Shield contenders, the trick is avoiding this MLS ideal that any game can be isolated and turned into a bigger event than it warrants. San Jose only getting a point at home against Portland was a disappointment. The same will be true when they play them away in their final game of the regular season. DC should beat Philadelphia home or away.
It's the MLS version of the silly season, where we're expected to treat each and every game as the determining factor in a club's chances.  Forget about points dropped in May or June, now it's all about proving yourself against a straggler that fell off the pace weeks ago.  Like the concept of parity in Major League Soccer, 'spoiler' also needs a specific definition.  A team dropping points in a winnable game doesn't necessarily mean the opponent played the role of spoiler.  More often than not, it's the favored team spoiling things for itself. 
That's the standard too many MLS teams deftly maneuver to avoid, the accountability that means winning the easy games.  Some would have the MLS schedule as devoid of easy games, but none of us should be that naïve.  There are bad teams in this League, just like any other, even if we're not supposed to say that out loud. 
---
J Hutcherson has been writing about soccer since 1999 and has worked as the general manager of the US National Soccer Team Players Association since 2002. Contact him at jhutcherson@usnstpa.com.
More from J Hutcherson: