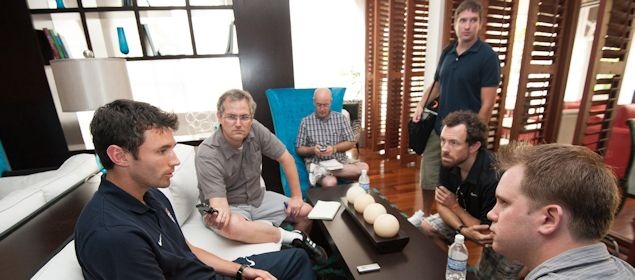 By Charles Boehm – WASHINGTON, DC (Sep 20, 2012) US Soccer Players — There aren't quite as many these days as there once were, but plenty of white whales remain for US soccer, elusive milestones that typically serve as reality checks on our optimism about the sport's progress. 
The UEFA Champions League may be the biggest of them all. Qualitatively, it represents the loftiest heights a pro player can attain in his career, a collection of the planet's best talent performing in front of dedicated global television audiences.
Yet, the number of US players who have earned the right to compete on that rarified stage remains depressingly small. Only an even scarcer handful – Claudio Reyna, DaMarcus Beasley (and the listing gets a lot tougher from there) – have consistently distinguished themselves at that level.  It's more than being on a squad, it's being selected to start in these games that count most at club level.
This year's group stage includes three Yanks: Jermaine Jones (Schalke 04), Sacha Kljestan (Anderlecht) and Michael Parkhurst.  His unexpected ascension to this rare company is probably only surpassed by the degree to which his modest Danish club, FC Nordsjælland, are drastically overachieving merely to stand among Europe's elite.
The upstart side qualified for the first time by virtue of winning their first-ever Superliga championship last season.  Combined with Denmark's improved ranking in the UEFA coefficient rankings, that allowed for direct progress to the group round. Not a single member of the squad has Champions League experience.
To inject a bit of individual drama into the proceedings, Parkhurst, who now spends most of his time on the field at right back after many years of immaculate center-back performances in NCAA and MLS play, is in the final months of the contract he signed upon arrival from the New England Revolution in 2008 and subsequently extended by one year. This also happens to coincide with the best US National Team opportunities of his career.
"I'm out of contract at Christmas. So it's a great time for me to play in big games in front of a lot of people," Parkhurst told a pack of traveling American journalists in Jamaica earlier this month.
"It's an important season for me and those are important games to get my name out there. I'm sure you're going to be able to watch those [Champions League] games," he added with a brief smile. "It's a little easier to watch those games, they're [widely] broadcasted. So, of course, playing against the best guys in the world is a good way to prove yourself."
Drawn into a murderous Group E with defending champions Chelsea FC, Italian icons Juventus and wealthy Ukrainians Shakhtar Donetsk, few are giving Nordsjælland any chance of advancing to the knockout stages. Nordsjaelland's opening game ended in a 2-0 loss to Shakhtar. 
There's substantial risk in Parkhurst's approach, given how easily some of the attacking talent in that group can make even distinguished defenders look silly. The "Wild Tigers" apparently plan to maintain the swashbuckling tactical approach which has already toppled one giant closer to home, the larger, wealthier FC Copenhagen side they outwitted in their domestic title run.
"The way we play, sometimes I attack more than I defend, which is a lot of fun," Parkhurst said of his role at club level. "I've got a lot of freedom to go forward and I'm enjoying it. We play out of the back all the time, so I'm on the ball a lot and the style of play is really nice. And I've taken to it. Initially I was against moving to right back, but over time I see that it's a good change for me and I think that moving forward, it gives me the best chance with the National Team and also to make another step ahead in European club level."
He even believes Nordsjælland, former home of MLSers Heath Pearce and Patrice Bernier, can seduce a few neutrals.
"Our style of play is attractive," he said. "I think that's why people will come out and cheer for us."
If there was ever an underdog worthy of investing faith in, it's Parkhurst. Routinely written off due to his lack of size or overpowering athletic gifts, the Rhode Islander nonetheless excelled both at Wake Forest and with New England, his exceptional ability to read the game always helping him adapt to progressively tougher competition.
He won MLS Rookie of the Year in 2005, then was whistled for just five fouls and no bookings all season en route to the league's Defender of the Year award in 2007.  That's a scarcely believable statistic which probably should rank among the all-time accomplishments in MLS history.
The 90 minutes he logged in place of injured veteran Steve Cherundolo at right back for the National Team against Jamaica in Kingston revealed that he's been studying his new role with similar effectiveness. Probably the smallest player on the field that night, he was pinpointed as a potential weak link by the Reggae Boyz.  Parkhurst dealt with their early pressure and eventually worked his way into the attack, sending a cross to Clint Dempsey that nearly gave the US what would've been a game-changing 2-1 lead before halftime.
"I felt comfortable out there," he told me afterwards. "It was always going to be difficult against their pace, but I thought we did a pretty good job of not letting them get in behind us too much. So I didn't get forward as much as I would've liked, but it was difficult to keep possession on that field. It's tough for me to get forward because [Jamaican striker Luton] Shelton was just letting me go, and hoping for the counterattack."
His first qualifying experience in a hostile CONCACAF environment did not ruffle Parkhurst, nor has one challenging situation after another in his club career. His next task is to prove that he can keep pace in the Champions League, which would probably go a long way towards proving to Jurgen Klinsmann that he's a worthy successor to the 33-year-old Cherundolo.
"I think my continued involvement in the National Team speaks for itself in that regard," said Parkhurst when asked about the importance Klinsmann has placed on Americans reaching, and prospering in, Europe's top competition. "But he congratulated me a lot after we had clinched the Champions League and said that was a big step and a big opportunity for me."
Group E is likely to expose Nordsjælland's limits. The question for Parkhurst is whether or not he's reached his own.
---
Charles Boehm is a Washington, DC-based writer and the editor of The Soccer Wire. Contact him at:cboehm@thesoccerwire.com. Follow him on Twitter at: http://twitter.com/cboehm.
More from Charles Boehm: