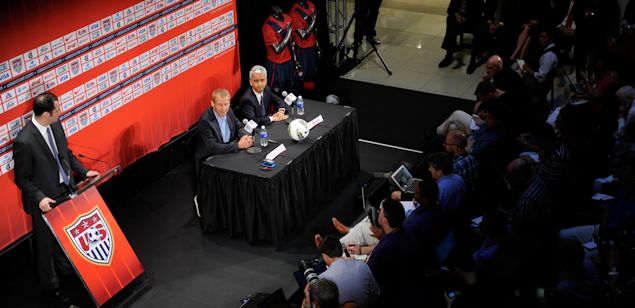 By Charles Boehm - WASHINGTON, DC (Oct 31, 2012) US Soccer Players – In his book How Soccer Explains the World, Franklin Foer describes a criticism of soccer as a game that "gives life to tribal identities which should be disappearing." Foer rejects that criticism for ignoring what he calls a 'craving' to identify with a group as a central part of the human experience. For club and certainly country, soccer is about identity.
On Tuesday, US Soccer announced that veteran Scottish coach Tom Sermanni will succeed Pia Sundhage at the helm of the US Women's National Team. Some observers hailed the mildly unexpected pick as a coup, noting his adept management of the Australian Women's National Team. Others raised their eyebrows at the hiring of a male coach to lead such a fiercely independent, iconoclastic group of women in the wake of Sundhage's quietly progressive stewardship.
Then there was a not-insubstantial contingent which questioned – in some cases even lambasted – the Federation's decision to "go foreign" yet again. With Sermanni, Sundhage and US Men's boss Jurgen Klinsmann, US Soccer president Sunil Gulati has lately made picking overseas-born coaches a habit after many years of domestic leadership in both posts.
"I'm disappointed that [Gulati] thinks so little of American coaches," former Women's National Team coach Tony DiCicco told ESPN.com. "But it's hard to say for me that he didn't make a good choice."
Digest DiCicco's take with a grain of salt if you will, given that he was a candidate to resume his old job who underlined his credentials in the same breath ("I thought I was the best candidate and I still do."). Still, leave no doubt that this strain of nationalism, or perhaps homerism, runs strong in the American soccer mindset.
Should it, though? Is the idea of promoting and preferring US-born, or at least US-bred, coaches a worthwhile element of the nation's overall soccer culture, or a nasty bit of chauvinism which has no place in a truly global game where we need all the expertise we can get?
This topic runs deeper than it appears at first glance. Over and over again, I have heard those who work in or around the sport in this country note that a nagging inferiority complex routinely inserts itself into the way we approach the game.
Just one example: Thousands, perhaps millions, of hard-core soccer lovers across the country scoff at Major League Soccer and other domestic pro leagues. Many of these soccer fans happily part with large chunks of disposable income to watch European leagues on television and in person when foreign club visit on summer tours with little more than glorified scrimmages on offer.
Some of MLS's greatest success stories include awkward, but popular, embraces of blatantly transplanted supporter culture. That runs the gamut from club rebranding to match a European ideal to supporter scarves in cities where it's rarely cold. There's that old idea at the youth level where a foreign accent draws far higher fees and wider acclaim than actual coaching know-how.
It's hard to tell which we need more at this point in our development: the deep respect a young soccer nation has always granted to overseas institutions, or the proud and prickly backlash it triggers as we build our own collective resume.
Even Klinsmann, a gracious, cosmopolitan émigré who has lived in California for many years and adopted many of his second homeland's best practices, cannot quite transcend this ambiguous state of affairs – not yet, at least. His World Cup heroics in a Germany shirt remain a central part of his identity. It's not always easy to separate evaluation of his results with the US National Team from the perceived superiority that glorious playing career grants him in some eyes.
"People will buy anything from a friendly German," wisecracked one old hand – someone who has worked in several areas of North American soccer for the better part of the last two decades – in a recent conversation with me.
As Foer notes in his book, we're far from the only ones to wrestle with this. US fans chuckled when Mexico "went foreign" in their own way by naming Sven-Goran Eriksson to lead El Tri, an experiment which imploded in the pressure cooker of the 2010 World Cup qualifying cycle. England's footballing identity seems irrevocably intertwined with their manager's nationality, with the FA going so far as to announce that former boss Fabio Capello's successor would be English well before the Italian had even stepped down.
The fact that only a scant few US coaches have ever received fair consideration for overseas vacancies underlines the enduring appeal of old stereotypes. Stateside, however, we have a long tradition of incoming foreigners who dive into the melting pot, pay their dues, pledge their allegiance, and help push the American game forward.
---
Charles Boehm is a Washington, DC-based writer and the editor of The Soccer Wire. Contact him at:cboehm@thesoccerwire.com. Follow him on Twitter at: http://twitter.com/cboehm.
More from Charles Boehm: