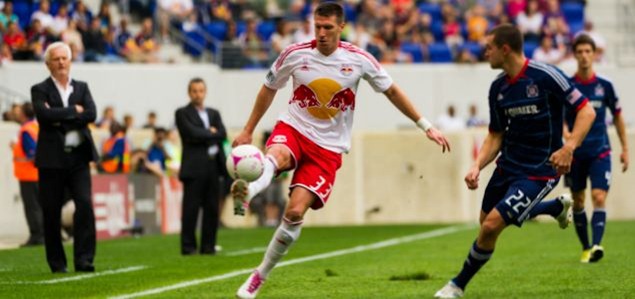 By Clemente Lisi – NEW YORK, NY (Oct 9, 2012) US Soccer Players — Kenny Cooper is having a standout season. Cooper's 16 goals – twice his tally from all of 2011 when he played for the Portland Timbers – is proof of that. Cooper is second in Major League Soccer among scorers behind the record-setting Chris Wondolowski. For Cooper, the goals only count as part of the larger effort to try to get the New York Red Bulls into the playoffs.
This past Saturday, Cooper and his teammates had an unusually bad afternoon against the Chicago Fire. Losing 2-0 at home ensured Chicago a playoff berth. The Red Bulls, despite having Cooper, Tim Cahill, and Thierry Henry spearheading the attack, never really threatened the Fire backline. For now, New York remains in contention for a playoff spot in the Eastern Conference, but risks missing the postseason altogether should results go against them.
"We have to work hard every day if we want to succeed," Cooper said. "If we do that, it will translate into wins for us. I'm here to make this team better. We need to win games in order to make the playoffs."
The previous week, New York put together a brilliant performance, dismantling Toronto FC 4-1 at Red Bull Arena. Cooper scored twice – both off assists provided by Henry – to break a drought that had dated back to August 19th. After the game, Cooper heaped praise on the Henry. "I think he has eyes on the side of his head, the back of his head, all over," he said. "His vision is unbelievable and I don't know how he's able to find me so easily."
Cooper, who turns 28 on October 21st, has been fortunate to have Henry providing service. At the same time, Cooper has worked very hard in order to put himself in great position. It's two parts of an attack. Ever the opportunist, Cooper, with his big frame and ability to battle defenders, has teamed up well with Henry, who has 12 assists this season. Cooper's success is also proof that Henry's signing has paid off for New York. If the role of a high-paid Designated Player is to ensure that your teammates get better, then Henry has delivered on that count. Without Henry's abilities and experience, Cooper would not have scored so many goals this year.
"It's a privilege to have him play alongside of me," Cooper told reporters following the win over Toronto FC. "It might have been more difficult for me to miss than to put those two in. He's an exceptional world-class player."
Cooper was once on a similar path. Starting his career with Manchester United, Cooper spent time on loan in Portugal and in England's lower divisions before a move to FC Dallas in 2006. Scoring 30 goals in 90 appearances, he moved back to Europe with 1860 Munich. Two seasons of intermittent appearances and a loan to Plymouth Argyle in England followed.
It was during that period that Cooper showed well for the United States as part of the 2009 Gold Cup squad. He scored two goals in that tournament, with a career mark of four goals in ten appearances. He is still looking for the opportunity for more.
"I always dream of playing for the National Team," Cooper said. "I've had some great experiences with them and I hope to have more in the future."
His return to MLS was supposed to be a key to Portland's expansion success. Instead, he found himself unable to put up the kind of offense the club expected. Cooper ended up on the bench and available in the offseason. In January, he moved to the Red Bulls in exchange for a first-round MLS SuperDraft pick. It was a fresh start for him and a smart move for New York.
"I want to be one of the team leaders," Cooper said. "I hope my experiences help this franchise."
There's no question New York's 2012 season would be playing out differently without him. Cooper's ability to change a game pushed New York into a fight at the top of the Eastern Conference and made them a force at Red Bull Arena. Throughout, Cooper remains the type of player that will talk about a teammate's game before talking about himself. Cooper remains humble. It is normal for Cooper to talk up his teammates over himself. Asked about his scoring rate this year, Copper said. "This is a great group. Players like Henry and Dax (McCarty) have really made a difference for this franchise."
Now Cooper is among the players the Red Bulls now rely on to be that difference in their final two regular season games. Results from other games could put New York into the postseason, but this team has shown enough this season to want to handle things themselves.
---
Clemente Lisi is a New York-based writer. Contact him at: CAL4477@yahoo.com. Follow him on Twitter at:http://twitter.com/ClementeLisi.
More from Clemente Lisi: