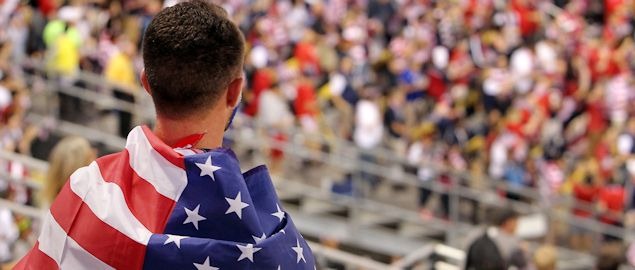 By Charles Boehm – WASHINGTON, DC (Oct 5, 2012) US Soccer Players — The Yanks' 1-0 win over Jamaica in Columbus on September 11th calmed the nerves of fans who, thanks to the historic defeat in Kingston four days prior, had been stewing in semi-apocalyptic visions of missing out on World Cup qualification for the first time in a quarter-century. 
Those looking for further degrees of reassurance ahead of this month's decisive qualifiers against Antigua & Barbuda and Guatemala, however, might want to avoid Doug McIntyre's one-on-one with Klinsmann, posted on ESPN.com at the end of last week.
Asked about the possible need to compromise his oft-stated preference for a "proactive" possession style and "go direct" when necessary, the normally optimistic German conjured up a frightening scenario right out of the US Soccer Book of Revelations, should such a canon exist.
"Yes, we want to implement a style that the players and US fans enjoy," he told McIntyre. "But while we go through that process, we need to get results. So if in Antigua (on Oct. 12th) we have to send a tall center back up front, we're going to. In those games it's not about what systems we play, the tactics. It's about getting the job done. In other games, you can do it by going the technical route."
Full disclosure: I gasped audibly when I first read that passage. It sounds as if, after extolling an expansive overhaul of the program's style aesthetics for most of the past year, Klinsmann intended to reassure us about his practicality when it comes to reaching the World Cup.
Yet for me at least, this apparent nod to realism, while understandable, is actually more unsettling. First off, the mere thought of a US team needing to chase a result against Antigua & Barbuda strikes a fairly nightmarish note. And then there's the idea that such a situation would be addressed via a fairly Paleolithic maneuver like the one Klinsmann mentioned.
Few moves are more synonymous with desperation than sticking your team's biggest body in the vicinity of the opposition's penalty box, aiming long balls in his or her direction and hoping for the best.
Could the tactics Klinsmann plans to employ against the cricket-loving island nation of some 80,000 souls be so suspect as to already be in doubt? Barely a month after the Nats' first-ever loss to Jamaica, do USA supporters really need to brace for another West Indies Waterloo?
Perhaps Klinsmann was simply being didactic, or is preparing for a challenge on a scale that the rest of us cannot perceive. The National Team defeated Antigua 3-1 in Tampa in their opening match of the semifinal round of CONCACAF qualifying earlier this year, a result which was never really in doubt. The relatively modest margin of victory was chalked up to nerves and growing pains in the team's first competitive game under Klinsmann.
That was almost four months ago. Even as player after player has used the phrase "work in progress" to describe the National Team's move towards flowing soccer, discerning observers are within their rights to expect a few signs.  That's to say nothing of the three points which are essential from the Antigua trip.
Even if the straightforward 4-1-3-2 formation most observers expect the US to maintain in these next two matches (which, as Ives Galarcep recently noted, is actually a close facsimile of Bob Bradley's "empty-bucket" 4-4-2) totally fails to catch fire in the Eastern Caribbean, it's hard to envision how the deployment of Geoff Cameron or Clarence Goodson up top would rank as an effective Plan B.
If a coach has determined this far in advance that the opponents or situation might be well-suited for this gambit, there's time to select a target forward with ample experience. Could this have been what Klinsmann had in mind when he called up San Jose Earthquakes battering ram Alan Gordon for August's friendly against Mexico?
I'll admit, FC Barcelona have resorted to this tactic with center back Gerard Pique in the past – and were subsequently accused of having betrayed their own purist pass-and-move principles. It's fairly depressing to mull the idea that Klinsmann's desire to enact transformational change in the US system is more skin-deep than we think.
Yes, of course World Cup qualifying results matter, as much as anything the National Team does. Still the hope is that Klinsmann and his staff are approaching the Antigua match as a chance to lay down a marker for who and what they want this team to be, not a tortuous exam to be passed. The cricket ground that's hosting the match may not be putting-green quality, but it will likely be spacious, firm, and fast – certainly decent enough to string together a pass or two.
The first 14 months of Klinsmann's tenure have certainly been intriguing. His unpredictable streak does have me wondering if times might soon become "interesting," however, in the manner of that apocryphal Chinese curse.
---
Charles Boehm is a Washington, DC-based writer and the editor of The Soccer Wire. Contact him at:cboehm@thesoccerwire.com. Follow him on Twitter at: http://twitter.com/cboehm.
More from Charles Boehm: