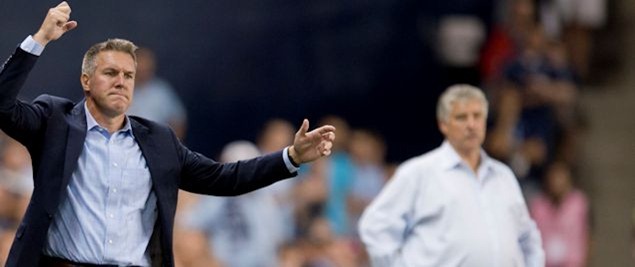 By Jason Davis – WASHINGTON, DC (Oct 4, 2012) US Soccer Players — Like reports from a distant front, American soccer fans often hear from players who have taken their careers abroad that everything in Europe is more. More intense, more engrossing, more strenuous, just a lot more. Players who have permanently moved to the Continent speak of constant competition for places. Slip up, even in training, and you might find yourself warming the bench or worse. Pressure, from both inside and outside the club, turns the volume on the existence of a professional soccer player to eleven.
Conventional wisdom, informed by those reports from the front, states that when compared to the Major League Soccer way of doing things, European soccer is a step above. That's true even in those cases where the competition itself is not significantly better than what the American League has to offer.
That reality is a big part of why United States National Team coach Jurgen Klinsmann helped orchestrate offseason training stints for MLS players likely to figure in his plans. Klinsmann's opinion of MLS notwithstanding, the head coach clearly sees value in sending American-based players overseas for a crash course in how an all-encompassing soccer culture operates. It's the eating-sleeping-living-breathing the game he wants young American players to experience, in addition to the more intense, more internally competitive training atmosphere.
MLS is made up of 19 teams now, each one with their own unique approach. The differences may be small, but as a rule head coaches like to put their own stamp on how their teams work and prepare. Is it possible that there are teams in MLS that approach the accepted European standard of intensity and competition? If so, would striving for that standard give them an advantage here?
Apply enough pressure, and you might get a diamond. Apply too much, and you'll end up with dust.
This League's clubs rarely have the necessary depth to foster an intensely competitive environment in practice. The budget and the designated player exceptions create disparity.  Nobody should want to 'challenge' a player they've gone beyond salary cap to pay.  It's not the way MLS is supposed to work.  Meanwhile, at the other end of the pay spectrum are players that have very little in common with their MLS-elite teammates.  The expectation is that they'll start—with no real threat to their jobs—because the team is paying a premium for their services. A quick scan at the salaries of the players on a typical MLS bench shows the dynamic at work.
The season is long, both in a literal and emotional sense. It's a grind, played through sweltering heat compounded by energy-sapping travel. Scheduling inconsistencies often throw multiple games in small windows of time, congestion that is exacerbated for those in international competitions or who value the US Open Cup.
When presented as "the way they do things", the reality of European intensity is painted as an example of how soccer there is "better" and more serious than soccer here. Whether one or both are true, the assumption fails to consider the reasons why American and Canadians clubs don't approach their preparations with the same vigor as clubs who do a tiny fraction of the traveling in milder climates.
Still, there are a few contenders among the MLS collection of clubs who might aspire to that European standard of intensity.  Real Salt Lake, a club known for their "the team is the star" ethos, with the concept that places in the lineup are always up for grabs.  Seattle, a club with real depth at several positions.  Sporting Kansas City, a club whose identity is based around the idea of always going full throttle.
As a simple analogy, think of each MLS team as a car. Beyond their obvious similarities (an engine, four wheels, a passenger compartment of some type), each one is subject to significant limitations. There's only so much gas in the tank. The engine can only be pushed so hard before it breaks down or seizes up. At any given moment, while being driven down the long road of the MLS season, some important part of the car could fail, slowing down the trip to a disastrous crawl. Managing all of those factors makes MLS a different journey than any of the European comparisons.
Real Salt Lake and Seattle could have as much competition for starting places as anyone in MLS history, but each can only go so far in attempting to replicate a European environment. The benefit either club may get from week-to-week battles for the first eleven is mitigated by the fatigue and potential for injury such an atmosphere can create. There's a fine line between doing and overdoing. There needs to be enough fuel to complete the journey.
Peter Vermes could push Sporting especially hard, befitting their style in matches and the fervor of their fan base. Yet, his roster is top-heavy, with a core eleven possessing nearly all of the team's important minutes this season. Driving his team hard in training, and enabling players to challenge for starting spots by going full-bore with no governor might redline the engine.
Maintaining a more pragmatic approach to preparation isn't a cultural issue, it's a pragmatic one. No coach would choose to have his team at less than their best out of some misplaced desire to replicate a more Euro-like environment.
Older, richer leagues have clubs with more money to spend and a deeper roster of talent. We all get that, but the difference in intensity between Europe and MLS isn't only down to salaries. MLS isn't Europe. Things move a little slower here. Sometimes, it's because they have to.
---
Jason Davis is the founder of MatchFitUSA.com and the co-host of The Best Soccer Show. Contact him:matchfitusa@gmail.com. Follow him on Twitter: http://twitter.com/davisjsn.
More From Jason Davis: