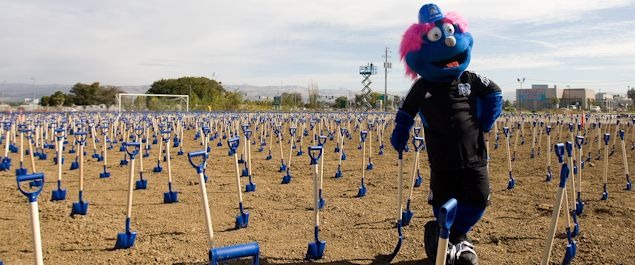 By Zac Lee Rigg – LOS ANGELES, CA (Oct 25, 2012) US Soccer Players — Three fairly monumental things happened for the San Jose Earthquakes in a rushed but raucous two-day period. One, it won the Supporters' Shield. Next, it broke ground on a new stadium. And, thirdly, Chris Wondolowski pulled to within a goal of the MLS regular season record.
Let's start at the beginning. On Saturday, a scoreless draw between Sporting Kansas City and the New York Red Bulls mathematically prevented Sporting KC – the last team in contention – of overtaking San Jose's point total of 65. Kansas City finished their schedule on Wednesday night with 63 points.
For some, the uneven regular season detracts from the Supporters' Shield. But plenty of Shields stand from seasons parallel or otherwise, and it is still the best way to gauge the best side in the league over the course of a season. So San Jose, which has scored a dozen more goals than any other MLS side, is brushing aside criticism of that variety.
"We've proven throughout the season that we're best team in the league," captain Ramiro Corrales told the League's official website. "We've just got to prove it again in the playoffs."
Before heading back to the pitch, the team took a quick detour to a dirt field on Coleman Avenue in San Jose. There, 6,256 fans helped break ground on a new stadium. The number topped the previous Guinness World Record, set in Jaipur, India, by nearly 2,000 people. Cue thousands of blue shovels, a proliferation of hard hats, and some confetti.
"This is a landmark day for all Bay Area soccer fans," Earthquakes president Dave Kaval said. "I couldn't be more proud to be a part of this organization. The support from our fans has been tremendous the entire way through this process, but today was something special." In comments to Center Line Soccer's Robert Jonas, Kaval said the move is "really an inflection point to take us from a quasi-minor league team to really the big leagues."
The new stadium should open in 2014, allowing San Jose the seating capacity their current home Buck Shaw Stadium noticeably lacks. The new place has 18,000 seats and the largest outdoor bar in North America. Quakes investor/operator Lew Wolff will spend a reported $60 million to build the venue, a commitment when he is still searching for a new home for his Major League Baseball team.
"This is so great," Wolff said at the groundbreaking. "On top of it, having a winning team like we have coming together, it's a perfect storm."
It wasn't always like this. Actually, it never has been. Since 1974, when the franchise entered the original North American Soccer League, San Jose hasn't had a permanent home. In 2005, after winning its last Supporters' Shield, MLS approved a move to Houston with the name, titles, and record book staying in San Jose to wait for an expansion bid. While the Dynamo won titles, Major League Soccer regrouped in the Bay Area.
"What a fun day," MLS commissioner Don Garber said. "I think it speaks to the character of this team. It's always been deeply embedded in the community. And frankly, that's why it hurt so much when this team moved. And I remember saying we'd be back, and I remember lots of people were skeptical as to whether we'd be able to do that."
Wolff helped bring the club back in 2007. This time, with the security of concrete roots, no one will be moving the team out of the Bay Area. The new stadium will be the 15th built specifically for Major League Soccer. Only two MLS teams share stadiums with National Football League teams. Even in rough economic times, MLS continues to build and expand.
Later that day, the Earthquakes played a soccer game. Buck Shaw Stadium's sold-out attendance of 10,744 underlined exactly why the club needs a new home. And the team showed why it's trending at the top of the table.
Twice San Jose came back against the reigning Supporters' Shield and MLS Cup champions, the Los Angeles Galaxy, to draw 2-2. The Earthquakes are unbeaten at home in 18 games. The party continued.
"It's a season's worth of celebration," Chris Wondolowski said after the game. Wondo himself scored the second equalizer, his 26th goal this year. With one game left he is one goal short of Roy Lassiter's record, set in 1996, MLS's first season.
Lassiter was in attendance. He'll join the team in Portland, when the Quakes take on the Timbers, to see if Wondolowski can match his total.
"I think he's going to do it," fellow forward Steven Lenhart said. "He's hungry and he's a fighter."
In all, it's a weekend in Quakes history that would take a lot to top. Then again, hosting the 2012 MLS Cup in their current home just might come close.
---
Zac Lee Rigg is a Senior Editor of Goal.com.
More from Zac Lee Rigg: