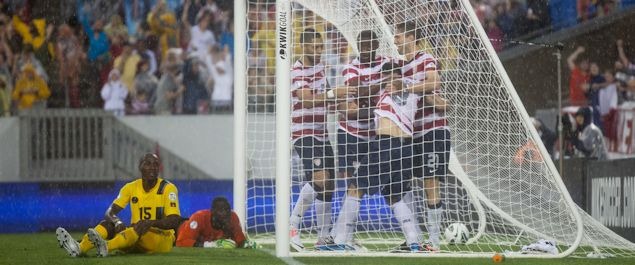 By Charles Boehm - WASHINGTON, DC (Oct 11, 2012) US Soccer Players -- United States President Barack Obama is campaigning for reelection which will do much to define his legacy in his homeland. Yet, he's already been immortalized by the Caribbean island of Antigua, whose tallest point was renamed "Mount Obama" three years ago in a nod to his status as "the first black president of the United States of America, as a symbol of excellence, triumph, hope and dignity for all people," according to a marker at its base. The peak isn't much by global standards, only 1,319 feet above sea level, though conquerors of its summit gain rare views of the active volcano atop nearby Montserrat.
The US National Team visits the tiny island this week with a fitting task: dispatch the spirited, but limited, challenge of Antigua & Barbuda on Friday night (7pm ET – beIN Sport). Three points puts them in an easier position to advance when Guatemala visits Livestrong Sporting Park in Kansas City for Tuesday's decisive final match in Group A of the semifinal CONCACAF World Cup qualifying round. Antigua & Barbuda should be a simple hike, but it's still a challenge under uncertain circumstances in an exotic locale.
Earmarked as the sacrificial lambs of this stage, Antigua & Barbuda are stuck in the Group A basement but have provided surprising resistance in their deepest qualifying run to date. The Benna Boys do their best to defend in packs and possess enough athleticism to cause trouble, as striker Peter Byers showed by bagging road goals against Guatemala and the United States.
The minnows gained positives – and probably tactical lessons – from their 3-1 loss to the USA in June, while the Yanks have lost the services of four important contributors due to injury and illness this week, a key central midfielder has missed training time, and several regulars are off the roster.
"Competing well was just part of the plan," A&B head coach Tom Curtis told FIFA.com in August. "We wanted to be organized and make it difficult for [the US] to play against us. But our goal isn't just to compete, it's to get results. I feel we could have gotten more from the game, and that's just what we'll aim to do when they come to play us here in the return leg."
Still, the contrast between the two programs is striking. For all the growing pains associated with the United States' first year under head coach Jurgen Klinsmann, the US remains a well-funded regional giant. This includes a diverse player pool deep enough that pregame media coverage has focused on who isn't in the squad.
Conversely, the hosts have a domestic population of just over 80,000, along with a sizeable overseas expatriate community. That's contributed Britain-based national teamers like midfielder Mikele Leigertwood of English Premier League side Reading FC and Motherwell (Scottish Premier League) defender Zaine Francis-Angol, two of the squad's more influential figures along with Byers and veteran center back George Dublin. The federation has nonetheless shown savvy to enter Antigua Barracuda FC, a club team which nearly mirrors the national squad, in the United Soccer Leagues' third-tier USL PRO league in order to give domestic-based players decent competition on a regular basis, a project led by Curtis.
Friday's game will take place at Sir Vivian Richards Stadium, a cricket-specific venue located on Antigua's North Sound about half an hour's drive northeast of Mt. Obama. Expressing concerns about the quality of a playing surface which will probably be firm, uneven and possible rain-slicked due to tropical storm systems in the area, Klinsmann sounds inclined to adopt a direct, muscular approach.
"If it's not possible to play in that flowing mode because of the field, because of circumstance, whatever it is, we have to find ways to battle through it and get the points," he said on Monday. "We'd love to play really well and please people, please the fans and excite everybody ... but first we've got to make sure that we score the goals."
Thus, he called up MLS-based strikers Alan Gordon and Eddie Johnson in recognition of their aerial abilities and physical strength. The defiance of the Benna Boys will be on display, packing numbers behind the ball in a 4-5-1 or 5-4-1 formation. The chances for the US should still be there. Injuries to Landon Donovan, Brek Shea and Edgar Castillo and the flu virus afflicting left back Fabian Johnson have robbed Klinsmann of several wide players capable of providing service into the box, which will likely delegate the creative impetus to Graham Zusi and the always-key Clint Dempsey.
Herculez Gomez is in line for another start up top, possibly as a lone striker or in partnership with Dempsey. Michael Bradley's return to central midfield after missing last month's qualifiers due to injury looks like a massive boost, though his usual partner Jermaine Jones' availability is in some doubt due to ankle troubles. Klinsmann must also decide whether captain Carlos Bocanegra is the best patch for the problematic left back slot, or whether the right-footed Michael Parkhurst is an option. That call will help determine whether Clarence Goodson, Maurice Edu or Bocanegra partner Geoff Cameron in central defense.
With two games remaining for all four teams, Antigua & Barbuda are already out of contention for the region's final "Hexagonal" round. The US and Guatemala are tied for the group lead at seven points, while Jamaica sit just a step behind on goal differential. Taking only four points from these two games could well see the USMNT through to the Hexagonal as one of Group A's top two finishers. However, most of the team's fans expect two victories to bolster flagging spirits and reassert a claim for regional dominance with wobble-free progression.
---
Charles Boehm is a Washington, DC-based writer and the editor of The Soccer Wire. Contact him at:cboehm@thesoccerwire.com. Follow him on Twitter at: http://twitter.com/cboehm.
More from Charles Boehm: