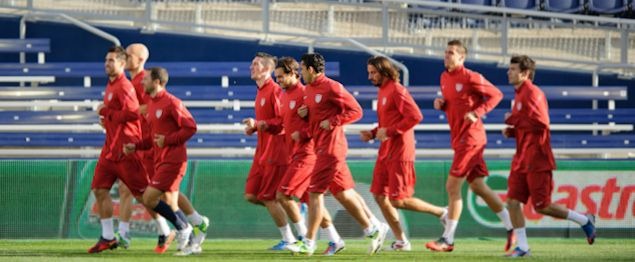 By Charles Boehm – WASHINGTON, DC (Oct 16, 2012) US Soccer Players — The United States National Team has weathered rough results, injury, and challenging away dates all leading up to the finale of the semifinal round of CONCACAF World Cup Qualifying. Circumstances favor the US as they prepare to host Guatemala on Tuesday evening at Livestrong Park in Kansas City, Kansas.
The match will take place on a lush playing surface in an intimate, soccer-specific setting, in front of what should be a passionate, pro-USA crowd. The pressure is there, but it's on the other contending teams in Group A more than for the United States. It will take a sweeping Guatemalan victory, paired with a similarly one-sided result for Jamaica in the night's other Group A match to create the scenario that denies the US a place in the final Hexagonal round of qualifying.
Still, there's a series of nagging questions surrounding coach Jurgen Klinsmann and his squad. The only answer to all of them is playing well. It's time to find their top gear.
"Everything is there now for us to step on the field Tuesday night and play a good game, to use our personality and want to play, to want to impose ourselves on them in the way that we move, in the way that we pass, in the way that we press," midfielder Michael Bradley told MLSsoccer.com on Sunday. "Obviously, the conditions here are as close to perfect as they can come."
While the free-flowing soccer so many US fans dream of has yet to materialize for an extended period during the current qualifying cycle, credit the this team for earning results in a variety of situations over the course of the year. Most recently, Friday night's skin-of-the-teeth 2-1 win over Antigua & Barbuda took place on a patchy cricket ground rendered a mud pit by heavy rains and drawn farcically – and unnecessarily – small by the hosts' gamesmanship.
The full extent of the farm-like field conditions was driven home when players and Federation officials shared up-close photos via social media postgame, reinforcing the sense of relief after the Yanks managed to earn the three points that have made the lead-up to their next game much less nervous.
Guatemala home or away is no easy game, especially when their progress to the next round is at issue. They're a rugged regional rival with no shortage of experience in the game's "dark arts," standing in the way of a USA side which still seems well short of full speed and maximum cohesion. Los Chapines have won three straight matches (admittedly, two of them against Antigua) since their second-half comeback at Estadio Mateo Flores earned them a 1-1 draw in their first meeting with the US, on June 12th.
"We got a very positive result against Jamaica, to stay close to the United States, knowing that they too will play [like Tuesday's game is] a final," attacker Mario Rodriguez told Guatemalan website guatefutbol.com this week. "We are in first place with them, with the same points and with the great possibility of the two teams qualifying. We have to be solid to pass [through to the Hex], and leave no doubt to the Guatemalan people. That's what we expect."
One of the savvier – some would say cynical – teams in the CONCACAF region, Guatemala will likely defend in packs on Tuesday, pulling numbers behind the ball and chopping up the game's rhythm where possible.
The danger men are eminently familiar. Veteran striker Carlos Ruiz banged in the pivotal game-winner against Jamaica on Friday and remains a menace to any defense. Ex-Chicago Fire winger Marco Pappa habitually floats into dangerous positions around the opposition's 18-yard box and as US goalkeeper Tim Howard learned in June, he can hit a world-class free kick with his gifted left foot.
Both men made their names in Major League Soccer and both are presently enduring rough patches in their club careers, which only whets their appetite for glory in their country's colors. It's defense that's the question. Wracked by injuries, coach Ever Almeida's answer was a makeshift back line surrendered plenty of opportunities to the Reggae Boys in Guatemala City.
Guatemala need only earn a draw in order to advance alongside the US, a reality that has prompted some observers to mull the prospects of a "gentlemen's agreement" playing out at LSP in the form of a draw. That seems unlikely for several reasons, starting with the USA's need to make a statement to their fans and themselves. A low rumble of doubt about coach Jurgen Klinsmann's tactics and personnel decisions threatens to grow louder after unsteady results like Friday's, and as Bradley noted, extenuating factors are minimal this week.
Speaking of Bradley, the Yanks' midfield general will again be a key protagonist for his team.  Moving into the attack with speed and sharpness – an area that's been difficult under Klinsmann – will be an important factor in breaking down Los Chapines. Clint Dempsey is due for a more influential performance after his quiet night in Antigua. Further forward, Eddie Johnson should be rewarded for his inspirational performance on Friday, though it remains to be seen whether that would come alongside, or in place of, Herculez Gomez.
Over the weekend, an already shorthanded squad learned that left back Fabian Johnson's ongoing bout with the flu will keep him in Germany. On Monday, Klinsmann acknowledged that a reshuffle along the back line was possible. That could well include shifting captain Carlos Bocanegra back into the center and handing the left flank to Michael Parkhurst, who showed mobility and flashes of attacking verve in the road loss to Jamaica last month.
USA – probable lineup (4-4-2): Tim Howard; Steve Cherundolo, Geoff Cameron, Clarence Goodson, Carlos Bocanegra; Graham Zusi, Danny Williams, Michael Bradley, Clint Dempsey; Eddie Johnson, Herculez Gomez
Guatemala – probable lineup (4-4-2 or 5-4-1): Ricardo Jerez; Jonathan Lopez, Elias Vasquez, Ruben Morales, Erwin Morales; Jose Contreras, Wilfred Velasquez, Manuel Leon, Marco Pappa; Mario Rodriguez, Carlos Ruiz.
---
Charles Boehm is a Washington, DC-based writer and the editor of The Soccer Wire. Contact him at:cboehm@thesoccerwire.com. Follow him on Twitter at: http://twitter.com/cboehm.
More from Charles Boehm: