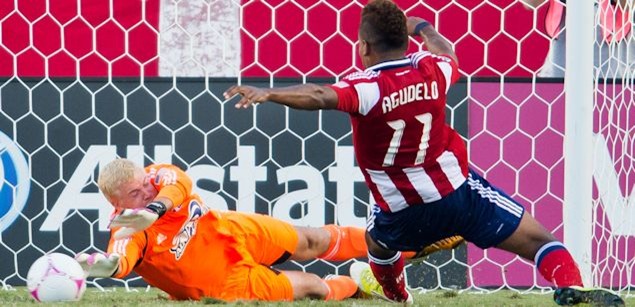 By Tony Edwards – San Jose, CA (Oct 9, 2012) US Soccer Players — In Tuesday's column, Tony asks what has become of Major League Soccer's commitment to American players, looks at league-wide penalty kick numbers, and wonders about management decisions in Dallas and New Jersey.
What is the percentage of minutes played in MLS by American players this season?
According to Jeff Carlisle on ESPN.com, the percentage has fallen this season to 52.4% through October 1st. In 2011, the percentage was 55.75%. As the article notes, that's a significant drop from the almost 70% in 2006. Last time I checked, there are a few more teams now than there were in 2006.
Carlisle quotes MLS Executive Vice President of Competition and Player Relations Todd Durbin as saying that, for the League, it's about quality of play. "From our vantage point, the most important thing we need to be doing right now, is to be doing everything that we can to get the best product on the field," he said.
Why is it that when the League declines to pay players competitive salaries or sanction transfer fees, it's about 'what's best for the League' and 'financial stability,' but when numbers show playing time for American players (one of the reasons FIFA approved MLS as a Division One competition) declining, it's about 'quality of play?'
Its playoff hopes depending on a win against Chivas USA on Sunday, what happened to Dallas?
Vancouver thrashed Chivas 4-0 in midweek last week, but Dallas couldn't hold serve on Sunday. In a must-win game, Dallas trailed on shots, possession and passing against a team that has scored three fewer goals this season than Chris Wondolowski. What does this say about Dallas?
If the Whitecaps fall apart and Dallas wins both remaining games, they can 'earn' the fifth seed in the West, but that looks unlikely right now. Dallas is a mediocre 3-1-4 when leading at the half (13 out of a possible 24 points), and while they have scored 17 goals in the last half-hour of games, they've given up 25 during that same period of the game.
Does management give the coaching staff a pass because of injuries and matters out of their control or do they hold Schellas Hyndman accountable for the team's inconsistent play? That offseason question could come sooner than later.
What records did Chris Wondolowski break this weekend?
The Earthquakes forward set an MLS record for most goals over a three-season span, with his 59 goals (with two games remaining), passing Raul Diaz Arce's previous record of 56. He also passed Ronald Cerritos' franchise record for goals scored. Cerritos scored 61 goals wearing the cloudy jade of the Clash and the blue of the Earthquakes.
With Portland management thoughtfully reminding MLS that they haven't received any penalty kicks this season, how many penalties are other teams getting this season?
Unless you happen to be Montreal, it's a very small number. The Impact has received 9 penalty kicks this season, scoring on all of them. That's a fifth of Montreal's 45 goals. Houston, Philadelphia, and San Jose have scored five goals from PKs this season. Among other problems in Dallas, they have only converted 2 of 5 penalties. That includes a miss against San Jose that would have added to their point total.
Interestingly, during the Earthquakes' first year back, they only had one PK all season. It came in the second-half of their last game and the Quakes converted
With the team in fourth place and coming off a mediocre performance, is this the perfect time for the Red Bulls' new general manager, who handles the business side, to weigh in on the coaching situation?
"Unequivocally today we are behind Hans and we are going to be with him through the end of the season," Red Bulls general manager Jerome de Bontin told MLSsoccer.com. "As to next season, we don't know right now." What we do know from de Bontin's comments is that there will be changes on the technical side. New York will get a 'sports director' appointed by head of global soccer Gerard Houllier. de Bontin also mentioned taking the MLS SuperDraft seriously.
The timing of all this is odd, at best. No matter how diplomatic de Bontin might be attempting to be, he's made everyone's status an open question when they need to focus on the playoffs.
---
Tony Edwards is a soccer writer from the Bay Area.
More Questions: