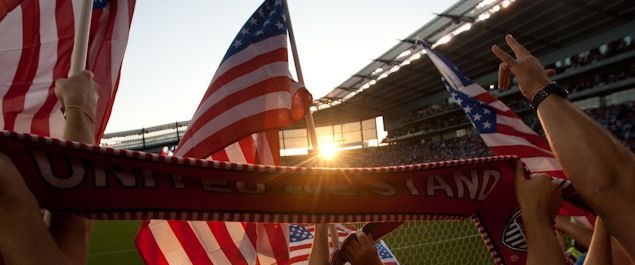 By Charles Boehm – WASHINGTON, DC (Oct 26, 2012) US Soccer Players — The US National Team's opponents in next year's CONCACAF Hexagonal round are ranked 19th, 43rd, 52nd, 66th and 72nd in the FIFA World Rankings, an unassuming set of numbers which might give outsiders another excuse to minimize the region's difficulty. Yet, danger lurks for the Yanks in each and every one of these matchups.
The quality of competition is supposed to increase as qualifying progresses, and the next 12 months will be no exception. United States National Team coach wasn't exaggerating when he began to talk about planning for the Hexagonal directly following the final game of the semifinal stage. It's how this tournament is played. If anything, it's tougher this time around. The Cinderella stories that sporadically slip into the Hex have been barred admission to this edition of the party, and even those that are easy picks for the weakest in the bunch boast battle-tested squads and daunting home venues.
Mexico remain the continent's most feared adversaries, imperiously dispatching all before them with a lengthy run of victories only interrupted by that famous 1-0 friendly loss to the United States at Estadio Azteca in August. Azteca will surely be a boiling cauldron howling for revenge when the USA makes its Hexagonal visit.
Costa Rica has bounced back from their crushing failure to reach the 2010 World Cup and their balanced squad is fully capable of extending their eight-game unbeaten streak over the US in home qualifying matches. Los Ticos are reportedly keen to help ensure their traditional home-field advantage by hosting Hex matches on the artificial turf at the hostile, antiquated Estadio Saprissa instead of their brand-new national stadium. That's the basic definition of gamesmanship in CONCACAF, making it as difficult as possible even if it means neglecting a nicer venue for a proven advantage.
Even the early favorites to miss out on a trip to Brazil 2014 are not easy games. Honduras pushed the USA to the limit in the last qualifying cycle, taking early leads in Chicago and San Pedro Sula that forced the Yanks to dig deep for one-goal victories. Nobody in American soccer needs reminding that it was Honduras's youth team going to the Olympics instead of the United States.
Perhaps no one is punching above their weight more than Panama, who has gone to great lengths to harass and intimidate visiting teams during qualifying. Their federation even publicized the location of Canada's hotel via their twitter account ahead of a crucial semifinal round qualifier in Panama City last month, inevitably prompting an all-night party in front of the building featuring fireworks, roaring motorcycle engines, and anything else that might turn into an on-field advantage. Los Canaleros shocked the US in a 2-1 victory at the group stage of last summer's Gold Cup and are led by an experienced core which knows this may be their best-ever chance to reach a World Cup.
These days Jamaica presents a different sort of trouble, all too familiar for the United States. Last month the Reggae Boyz ended their unthreatening history against the USA, winning at home in the semifinal stage. Their speed and physicality isn't a secret.
The US and their Hex counterparts will soon learn the order and locations of next year's matches, and it's revealing to see how keenly fans are paying attention to this more or less administrative process.
Jurgen Klinsmann's team and its supporters have ample reason to say their prayers and clutch their lucky charms in hopes of a favorable draw, because the schedule could prove a decisive factor in what appears to be one of the most competitive Hexagonals in many years.
The US has greatly benefitted from hosting Mexico at cold-weather venues in the past. But with just one February fixture date and the next two falling in late March this time around, the odds of staging another "Guerra Fria" look shorter, while the prospect of a midsummer trip to Azteca or other sweltering locales looms large.
Klinsmann's friendly schedule over the last year with visits to Paris, Brussels, Ljubljana and Mexico City were about preparation. Though the bright lights of Europe and Mexico at Azteca had little in common with the semifinal venues the USA visited in World Cup Qualifying, the potential benefit is obvious. It's creating a comfort zone that didn't show until the end of that semifinal round. Then there's the USA's own gamesmanship to consider.
US Soccer takes its host stadiums very seriously, knowing that a draw that could've been three points can disrupt the momentum of the team. Like so many elements of this World Cup journey, the margins for error just keep shrinking.
---
Charles Boehm is a Washington, DC-based writer and the editor of The Soccer Wire. Contact him at:cboehm@thesoccerwire.com. Follow him on Twitter at: http://twitter.com/cboehm.
More from Charles Boehm: