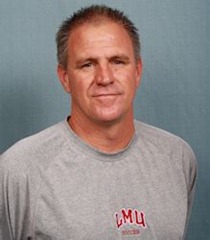 By Clemente Lisi – NEW YORK, NY (Oct 23, 2012) US Soccer Players – Paul Krumpe is known as one of the most successful college coaches out there. In his 15 seasons at Loyola Marymount University, Krumpe has amassed over 100 wins and his team regularly reaches the NCAA Tournament. It's no surprise that Krumpe has built a legacy. As a player, he was a member of the US National Team that kick started the modern era of American soccer.
In all, Krumpe, a defender and occasional midfielder, played 25 times for the senior squad. He also appeared at the 1987 Pan-Am Games and 1988 Summer Olympics. Even though he was part of that 1990 World Cup in Italy, Krumpe said his best memory was an Olympic Qualifier against Canada for the '88 Seoul Games.
"My most memorable game was certainly a May of 1987 Olympic qualifier against Canada.  We had a home-and-away series with Canada to advance to the next round of Qualification," he recalled.  "We visited Canada and got beat 2-0, which meant we had to win by three at home to advance.  We did win 3-0 and I was able to score the first two goals off assists from Chico Borja and Brian Bliss.  Jim Gabarra sealed the win in the second half and we knocked Canada out of the 1988 Olympics.  (It was a) very memorable day for a right back to score twice in a US jersey.  I will never forget it."
In hindsight, Krumpe said it is unfair that his appearances at the Pan-Am Games and Olympics don't count as caps. Had they, Krump's appearance total would be over 40.
"The Pan-Am Games and the Olympics were highlights for me and for the National Team at the time.  We hadn't qualified for a World Cup or an Olympics in over 40 years. We played in 1984 in the Olympics, but that was because we hosted in Los Angeles," he said. "So for me, those games were the pinnacle level of what American soccer players could actually play in the 1980s.  I think it is sad and a bit laughable that those huge games are not considered caps.  They were amazing experiences – especially at the (1988) Olympics where we tied Argentina and tied the host country South Korea."
Krumpe, 49, said his experiences at Italia '90 two years later showed the world that the United States had finally arrived on the international stage.
"Most memorable moment of Italia 90 was watching the US team fight to the end against the host Italians and lose 1-0 in front of 80,000 people," he said.  "For me, that was the day US Soccer knew it could take center stage with anyone in the world."
At the time, Krumpe said making a living playing soccer in this country was very difficult. Following the demise of the North American Soccer League after the 1984 season, there were few places for players to ply their trade.  For Krumpe, a national champion with UCLA who graduated in 1985, that meant adjusting to the new realities for American soccer players.
"I made a living playing soccer two ways.  I played in the MISL for two seasons with the Chicago Sting.  As there was no outdoor pro league and there were only a handful of Americans playing abroad, if you wanted to make a living playing soccer, you had to play indoor," he said.  "I was drafted out of college from UCLA and spent two years learning the indoor trade before the team folded.  I was fortunate at the time of the club folding to sign on under a full-time contract with US Soccer.  We would fly in for a game, train for a week together, and then fly home to train on our own for two weeks, before we played another game somewhere else and repeat the same scenario.  (It was) certainly not ideal, but there weren't many viable options for the US Soccer Federation."
Krumpe retired in 1991.
"I had played for several US National Team coaches in Lothar Osiander, John Kowalski and Bob Gansler.  Bora Milutinovic did not like the way I played and when I was cut from the National Team and was no longer employed as an indoor player. I chose to settle down with my wife and two boys in my hometown of Torrance, CA and begin a teaching and coaching career," he said.  "I had an Aerospace Engineering degree from UCLA, but in 1991 the Aerospace industry was downsizing.  Teaching math and coaching soccer was a very welcome and challenging option."
Krumpe said being a coach was not too difficult. He said he "had played for some of the best coaches in the country in Osiander, Gansler, Sigi Schmid, and Steve Sampson" during his career and modeled his coaching style after them. In 1998, Krumpe took over as head coach at LMU and has been there since.
"I felt compelled to share what they had taught me and helped me learn as a soccer player," he said.  "I will always be grateful to those four men."
---
Clemente Lisi is a New York-based writer. Contact him at: CAL4477@yahoo.com. Follow him on Twitter at:http://twitter.com/ClementeLisi.
More from Clemente Lisi: