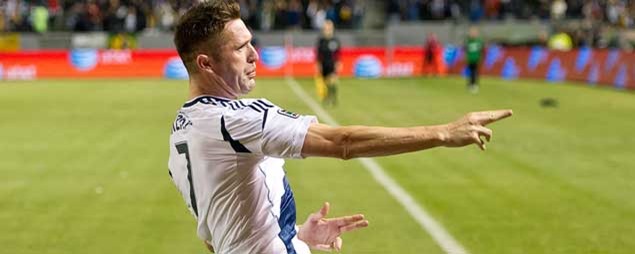 By J Hutcherson – WASHINGTON, DC (Nov 12, 2012) US Soccer Players – Whenever a team takes a sizeable first-leg lead in a two-game playoff series, the talk normally moves to comebacks. There's almost always an example of a team that made good on a first-leg deficit. Los Angeles Galaxy forward Landon Donovan made that point after his team was the one taking that sizeable first-leg lead. Comebacks happen. We all know that. Still, immediately moving to how the team that failed over the opening 90 minutes can succeed over 180 is somewhat disrespectful to the team that got the job done in the opening leg.
In both of our examples from the 2012 Major League Soccer Conference finals, we have teams expected to take their series. Houston might not have looked like a threat in their second leg against Sporting Kansas City, but it wasn't necessary to advance. Two goals are enough of an advantage in most instances, and Houston played to that. It's the same scenario with DC United, forcing the first-leg loser not just to respond, but respond enough to make it a series. For all of their offense, Kansas City failed to do that.
DC likes to talk about motivation. The motivation of the postponed second-leg that they insisted was a playable game. DC is missing players that would help their chances, alongside the idea that there's a lack of respect when it comes to this version of United. The problem with that is it doesn't work when United is the favorite.
Though Houston knocked off the Eastern Conference champions, they're still the wildcard team. It might not be a lot that separates 2nd from 5th in the East, but it's still a separation. DC is the favorite and at no point in these playoffs are they the plucky underdog.
The powers have fallen. Sporting is out, with San Jose and Salt Lake exiting in the West. DC is the highest ranked regular season team remaining in these playoffs. The advantage is theirs. That might not be the story they expected to tell, but that hardly matters at this stage in the competition. Two goals or no goals down, the expectation is United advances. It changes the story, and they have to adjust.
Houston did work in game one, just like their game one in the semifinal round.  Whatever criticism they faced from their second-leg performance against Sporting, Houston wasn't the team that needed to score two goals to turn a 180-minute series into 210 minutes.  With the path to advancing clear, Houston did enough to stop Sporting.  It's the respectful way of looking at it when a team has the option of bunkering over the final 90 minutes.  That might not produce the most attractive soccer – ok, it never produces the most attractive soccer – but it's a tool that normally only comes into play when a team already has a lead in a series.
Meanwhile, the team that was supposed to send a message against MLS parity waited until  well into the playoffs to do just that. LA has the highest level of skill in the Western Conference and arguably, the League, and they're finally putting that into practice. Three goals scored in the opening leg of a playoff series is exactly the kind of soccer the Galaxy should play. They are this team, taking their opponents out early and resisting the urge to manage a series by playing for draws. In other words, they learned a valuable lesson after their first-leg loss to San Jose in the Western Conference semifinals.
Seattle already knows what that means, needing to get those three goals back. For the East, it's a cross-conference statement of intent from a club with advantages that don't exist for Houston or DC.
It's easy enough to say after that first-leg performance, but beating the Galaxy over one leg or two requires more than the standard MLS style of play. San Jose needed yet another late goal to take an advantage into their second-leg. It wasn't enough, and the Seattle scenario not only downplays the Galaxy's story but San Jose's as well.
"The approach is we have to understand that we need to score three goals in 90 minutes," Seattle coach Sigi Schmid said following Sunday night's loss. "We don't have to score 3 goals in 5 minutes, we don't have to score 3 goals in 15 minutes and for sure we don't have to go hog wild scoring goals and giving up goals because then we have to score more goals. It is important that we come out with a good mentality and good work rate, a good effort on our part but also a good plan."
Indeed, and it's the planning rather than comparative motivation or any other sporting cliché that will tell the second-leg stories.
---
J Hutcherson has been writing about soccer since 1999 and has worked as the general manager of the US National Soccer Team Players Association since 2002. Contact him at jhutcherson@usnstpa.com.
More from J Hutcherson: