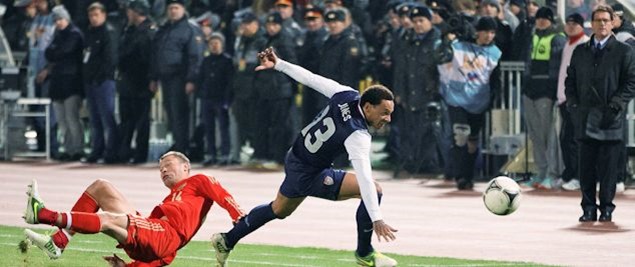 By J Hutcherson – WASHINGTON, DC (Nov 15, 2012) US Soccer Players – On Wednesday, the USA failed to lose against the 9th-ranked team in the world. Let me stop you before letting me know FIFA Ranking is meaningless. Let's just assume that a team having no trouble in UEFA qualifying is quality, certainly not business as usual by CONCACAF standards. The setting and the circumstances didn't favor the US. Lacking options, they put together a game that equalized the threats Russia showed early and often. Here are the four things I took from watching an early morning friendly.
The Attack
Russia moving early took the gloss off of anything short of a series of quick US counterattacks. What that overshadowed early on was a US forward paring capable of seeing lines and creating threats. Though it developed slower than some might have liked, The Jozy Altidore – Herculez Gomez partnership had its moments. Their styles aren't as complimentary as a traditional strike partnership and there weren't long periods of sustained pressure. Instead, there were enough suggestions that these two would produce a goal. That kept Russia's defenders in place and their transitions careful. Eventually, that also created opportunity for the United States.
Howard
Once again, Tim Howard made the kind of saves that are familiar to anyone paying attention to what he does with Everton. At club level, Howard is the difference between a team threatening to take a European spot at the expense of significantly more expensive squads and one fighting for respect in the middle of the table. With that in mind, it's hard to overplay his importance. There's this idea that teams are supposed to have backups for the backups, but it's a strength that the US has the latest in a series of truly elite goalkeepers.
The Midfield
If you felt the desire to look back at previous 'Five Things' columns, you'd find a few discussions of how to shape the US midfield. Part of the problem is insisting on players out of position. This isn't just the casual shifting of assignments with offensive-minded midfielders called on to take defensive roles. It's forwards pressed into service as conventional midfielders. It's wingers in a setup that doesn't play wide. It's a riff on the idea of a false nine without the support to really work in a free role. Jurgen Klinsmann isn't the first US National Team coach to choose a setup and then try to force a fit, but with him the expectation is different. The US setup is supposed to be past the era of multiple defensive midfielders and stressing safety above their own creativity. Roles are supposed to be defined and expectations in place to be met. Instead, it's a familiar problem. A different choice brings with it risk, and right now the US midfield is about management first.
The Defense
When Carlos Bocanegra exited early, it was another scenario that didn't favor the US regrouping and giving Russia a game. Shades of the last Gold Cup final, the United States needs their best back four in place and doing work to have a chance against good teams. Except that's not what happened. Even though the defense gave up a penalty that put Russia back in front, this game ended tied. It's almost worth repeating a few times since that seems to get lost. For all the unflattering player ratings and talk of the defensive issues, the group of players on the field salvaged the game. Style points don't count, and the group did enough for a score draw against a team not known for allowing goals.
Disruption
Few things in soccer are as disruptive as a blast from distance. Score from the top of the arc, and it's an easy way to push back against an opponent that thought they had the game figured out. It's worth the reminder that Russia was holding onto a 1-0 lead when Michael Bradley surprised everybody who wasn't familiar with his game. Bradley shoots from distance. It's part of his game even when it doesn't turn into a surprise equalizer. Mix Diskerud watching what Bradley did from the bench and then trying it himself in what looked to be a late cameo appearance decided this game. A player saw opportunity and capitalized, and another followed his example. That should have the rest of Group F in UEFA World Cup Qualifying wondering if Russia unwittingly exposed a weakness in a friendly against the United States. All it takes to find out is a midfielder shooting from distance rather than waiting to see if options with higher odds might appear.
---
J Hutcherson has been writing about soccer since 1999 and has worked as the general manager of the US National Soccer Team Players Association since 2002. Contact him at jhutcherson@usnstpa.com.
More from J Hutcherson: