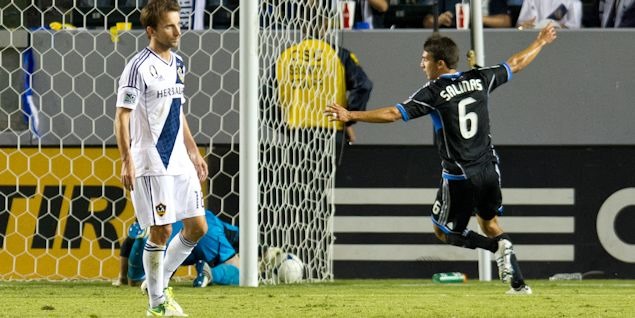 By J Hutcherson – WASHINGTON, DC (Nov 5, 2012) US Soccer Players – The majority of complaints about the playoff setup concern the two-leg series. So how about getting rid of the two-leg series? This is an old point in this League and we've seen a variety of answers. Though it managed to throw me on an annual basis, MLS used to follow the two-leg Conference semifinals with a single game Conference championship. Instead of going all in with a single-game setup, they added a second-leg to the championships.
Part of this is trying to meet a worldwide standard. In most places, playoffs mean two-legs. The Champions League and Europa in Europe, Copa Libertadores in South America, and CONCACAF's own Champions League make a distinction between single-game knockout domestic cups and bigger knockout tournaments. Two-legs means important, but MLS doesn't have to follow tradition.
There's no pressing need to see what MLS teams can do over a two-leg series since even though we already have a single game elimination tournament that normally features MLS clubs playing each other. The US Open Cup isn't a big enough competition in the eyes of most fans to confuse its single-knockout setup with the MLS playoffs. That takes away the identity issue found in other countries. For a major European league with two domestic cups, identity and importance are serious concerns. That's not how it works here.
With that in mind, there's no pressure for the MLs playoffs to be distinctive. They can take from whatever model they like, tweak as needed, and try to come up with something that rewards and entertains. Those two points have to balance with each other.
This is a League that doesn't make its regular season champion its overall champion, so there shouldn't be the expectation that the playoffs come to the same conclusion as the regular season. That limits the advantages any team should have once the postseason starts. It's also part of the problem with the two-leg series.
Advantage is an open question in a two-leg series. Though the thought is whoever hosts the second-leg has the edge, it's tough to prove that in practice. That's on display when the first game in the series is on a weekend rather than a weeknight, with the expectation that clubs have an easier time getting a big crowd on Saturday or Sunday. That big crowd is an advantage. At least in theory, so is the ability to put a series away in that opening game.
Houston is our only clear example of that. The lowest seed in the East squaring off against the highest meant the Dynamo hosting the opener on a Sunday. Houston created a scenario where the regular season Eastern Conference champion might have home field for game two, but they're also in search of two goals just to pull level in the series. As advantages go, it's not much of one.
San Jose's late goal against LA saved us from all of the other series heading into game two tied. That's fortunate for MLS, because it keeps the calls for a different playoff setup from already turning into shouts.
It's the reward issue looming large over the playoff field. There has to be a limit to any advantage in a playoff league. At the same time, there has to be enough of a reward for the seeding to matter. MLS answers part of that by putting the 4th and 5th place finishers in each conference in a Play-In Round. Houston used that as a confidence builder to shock Sporting. That late goal aside, LA remains in contention to advance in their series. In real terms, what's the disincentive in simply making the playoffs and calling a season successful?
That brings us to the entertainment value. Though some balk at talking about soccer as entertainment, the sports business marketplace and the broadcasters and sponsors that support it disagree. Sports are programming, and MLS needs to display the best possible product. That's not going to happen with a combination of questionable officiating and gamesmanship from coaches.
We saw examples of both in the same game over the semifinal first-legs. It's possible for referees and coaches to pull down the quality in any league in any sport. MLS's work to improve the quality of officiating should go hand in hand with making sure their coaches understand nobody wants to see the kind of gamesmanship that turns opening legs into 0-0 thrillers.
Again, there has to be a balance and that includes teams playing to win over the opening 90 minutes rather than trying to game the 180 minutes. All you have to do is match what happened on the field with postgame comments from the coaches. In a two-leg series, there's always a reason for hedging in game one and there's normally a coach that will bring down the overall quality of the League to 'get a result.' No one needs to see that on national television, and the League shouldn't reward it.
The quick fix is turning the playoffs into a single-game knockout competition. The bigger and difficult move is convincing all involved that there's a bigger game this League is playing. It's the one that establishes it as a true television sport in this country, one capable of drawing the kind of ratings and audiences that allows for and understands the occasional display of negative soccer but expects a higher standard.
---
J Hutcherson has been writing about soccer since 1999 and has worked as the general manager of the US National Soccer Team Players Association since 2002. Contact him at jhutcherson@usnstpa.com.
More from J Hutcherson: