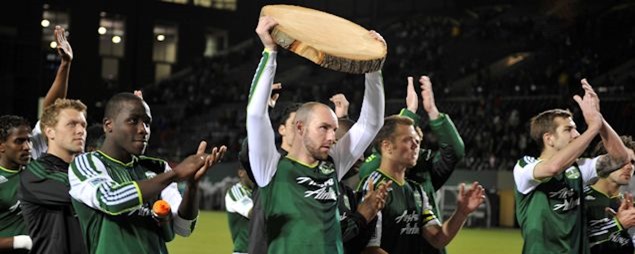 By Tony Edwards - San Jose, CA (Nov 8, 2012) US Soccer Players -- In Thursday's column, Tony asks if tonight's the night for Fredy Montero, takes a look at opportunities for Portland and Colorado, and wonders why non-playoff teams continuing to train.
Besides the hiring of Caleb Porter to be head coach, what's going to change in Portland before next season?
Seemingly not a lot, according to Timbers owner Merritt Paulson. Gavin Wilkinson will continue as General Manager and the current assistants will return. Paulson cites organizational continuity, but is that the best way forward?
This is a team, other than having San Jose's number this year, that had twice as many losses as wins, seemed to have very few ideas offensively, and finished closer to Chivas USA than to the playoffs.
'Wait a minute,' you might be tempted to ask. "Didn't it only take 43 points to make the playoffs in the Western Conference this season?' The odds of Dallas and Colorado falling on their faces again seem minimal. Vancouver is likely to improve. It is a pretty safe statement to make that it is going to take more than 43 points to make the playoffs in the Western Conference in 2013.
In bringing back Oscar Pareja as head coach, what is one piece of advice Rapids technical director Paul Bravo has for Pareja next season?
Pareja's hiring was, presumably, to play attractive, attacking soccer. His remit, at least in part, was to take the Rapids away from their reputation for playing a 'safety-first' game. That clashed with a roster ill-suited to Pareja's 4-3-3, injuries, and 19 losses, despite a goal-difference of only -6.
"He understands that there could be moments where we need to lock it down to get the point," Bravo told MLSsoccer.com. "The thing with him is he's open minded. He accepts constructive criticism and he uses that to become a better coach."
Again this returns us to the question 'what is a successful season in MLS?' Bravo just labeled 2013 a success if the Rapids make the playoffs, essentially. This was an opportunity for Bravo and the Rapids to throw down the gauntlet, commit to finding players that will fit Pareja's vision (and a 4-3-3 doesn't have to be defensively vulnerable while attacking), and push for actual success, versus 17 home games and then a playoff game in the snow.
Going into Thursday night's game against Salt Lake, how many playoff goals has Seattle's Fredy Montero scored?
Zero in seven games. And yes, as his coach Sigi Schmid acknowledges, defenses key on Montero more during the playoffs. Playoff teams are usually smart teams, not prone to too many defensive mistakes. Schmid told the Seattle Times: "Now the question is, 'Does he have to do a little bit more at times?"
All forwards go into slumps and all forwards need service, but this is a chance for Montero to put any questions behind him with an emphatic performance. If Mauro Rosales isn't fit to play tonight, and Eddie Johnson is, Montero's ability to draw defenders and make space for his teammates may turn out to be a key factor. Or, it could be another year where a very good Seattle team, in many ways the real flagship of the League, goes home early.
Which US National Team player has the most starts?
Landon Donovan, with 130 starts among his 144 caps. Cobi Jones remains the all-time appearances leader, with 164, 109 of which were starts. What is surprising about the list is that you don't get to a goalkeeper until sixth place (Kasey Keller with 99 starts out of his 102 caps). Donovan, Jeff Agoos (124 starts), Marcelo Balboa (117), Jones (109), and Carlos Bocanegra (104) all are ahead of Keller.
Why do non-playoff teams in MLS continue to train?
It's not like you see major league baseball teams hanging around after the exit interview. But some, like Montreal, take international tours. The Impact are going to (shock) Italy, where they will play Fiorentina and Bologna in friendlies. Some, like the Revolution, are using the time to give trials to new players. Some may give new coaches a chance to see players in person before making contract and roster decisions.
---
Tony Edwards is a soccer writer from the Bay Area.
More Questions: