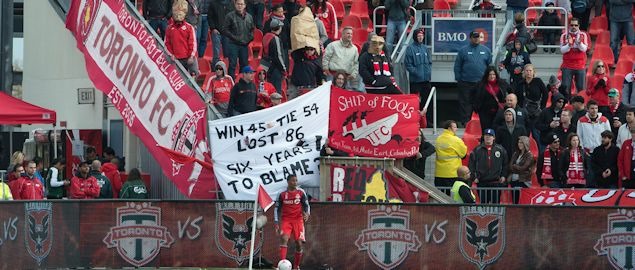 By J Hutcherson – WASHINGTON, DC (Nov 6, 2012) US Soccer Players – One of the questions that Major League Soccer has yet to answer after 17 regular seasons is when it's time for a team to admit they no longer have a chance. Over its history, MLS is the League of slight chances turning into real opportunity. Well, at least for some teams.
Every season, we see a team all but out of contention by the All-Star break still talking about the playoffs in September. Points for plucky optimism, but that requires real points to show a turnaround. With teams like Chivas USA, Toronto, and Portland that didn't happen in 2012. Instead, it became a countdown on when we would get an honest appraisal of what continued to go wrong and what needed to change.
No one in MLS should be convinced of the in-season turnaround for very bad teams. What MLS prides itself on is mid-tier teams doing enough to make the playoffs. It's the playoffs that remain the only way to turn an unremarkable regular season into something special. In this League, there's not enough credit for turning a bad club into one that misses out on the postseason. That's true internally as well, with coaches struggling against what success really means in MLS.
Here's a hint, it's always relative to scale. The disparity in payroll and use of the designated player means a League where some teams play at a sizeable advantage and with sizeable expectations. Should a team like the Los Angeles Galaxy or New York Red Bulls fail to advance to their Conference finals, their regular season finishes becomes questionable. Both of them didn't win their conference titles, telling for the two high-payroll teams. It's the same for Seattle, with the advantage of selling substantially more tickets than any other team in the League.
At the other end of the scale are the teams that seem caught in transition. Toronto, Chivas USA, and now Portland make changes in and out of season, but the net gain still leaves them out of contention. For all of those clubs, 2012 became about admitting the obvious, and then admitting it all over again. The model here is not the wholesale clear out we see in other leagues. MLS doesn't allow for that kind of luxury, and total roster rebuilds are more than the salary cap and player acquisition rules can handle.
Instead, it's partial changes that can seem like bigger steps. The coach, trading a popular player, bringing in a new player that won't have a reasonable amount of time to make a difference. All of these are hallmarks of the MLS in-season revamp and it's rare that the team ends up in contention after the changes.
Whether or not these moves are stalling tactics to get to the offseason is its own question. MLS teams can rebuild substantially from one season to the next, and there are enough examples of works in progress becoming very good teams. Again, by MLS standards, that means one thing – making the playoffs. Historically, turning a team around means qualifying for the postseason, even if there's a good argument that the 6th-place team is no worse off than the Play-In round loser in a big picture sense. Sometimes, they're better off. Would you rather be working toward 2013 with Chicago's roster or Columbus's?
The problem for the teams with the most work to do is that it's easy to confuse their situation with what's happening with the teams just out of the playoffs. They have very little in common. The difference between an MLS team that could use a bit of luck to turn into a contender and a team at the bottom of the table is more than just a player or a tactical switch. Considerably more when we're talking about clubs that string together multiple losing streaks with brief glimpses of respectability.
When to call a season done becomes a significant question for these clubs, top down. Caught in a losing season with results piling up against you makes it tough to convince people to spend on your product. There has to be a reason for them to stay engaged, and the tried and true method in North American sports is to talk openly about using the rest of this season to make things better next season. It's not so much capitulation as it is honesty.
For MLS and its clubs, there might be too much pressure for a version of parity that does a disservice for struggling teams. Making the playoffs might not be the answer for some of these teams, at least not yet.
---
J Hutcherson has been writing about soccer since 1999 and has worked as the general manager of the US National Soccer Team Players Association since 2002. Contact him at jhutcherson@usnstpa.com.
More from J Hutcherson: