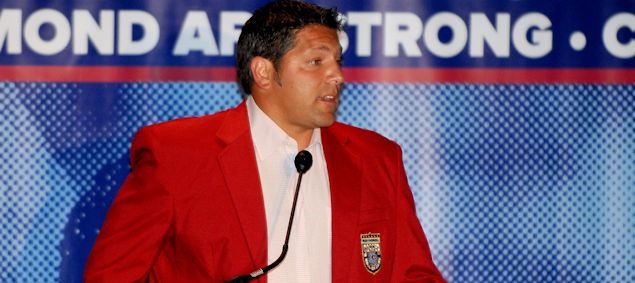 By Clemente Lisi – NEW YORK, NY (Nov 28, 2012) US Soccer Players – Tony Meola is one of the most recognizable players to ever represent the National Team. The New Jersey native had a pro career that spanned three World Cups – one of only a handful of American players to do so – and a very successful 10 seasons in Major League Soccer. Earlier this year, Meola became a member of the National Soccer Hall of Fame, recognition for a career filled with achievements.
"Being inducted into the Hall of Fame was something I never thought of when I started out," said Meola said. "It's not what I played for. I just loved playing and growing the sport. I won a lot of awards in high school, college and as a professional. I won every practically every individual award you could imagine and I always said that winning them was never my goal. My goal was to play."
Play Meola did. He became the gold standard for what an American goalkeeper was during the 1990s. As a teenager, Meola had excelled at both soccer and baseball. In college, at the University of Virginia, Meola decided on a soccer career.
"It wasn't until my second year in college (that I decided on soccer) and half my scholarship was baseball; the other half was soccer at the time," he said. "This kind of happened by accident and fell in my lap. We qualified for the World Cup for the first time in 40 years so at that point the decision was made for me."
Meola looks back fondly on his playing days, including his time with the National Team and the 1994 World Cup finals. When it comes to his club career, Meola said his time with the Kansas City Wizards stands out. After coming off an injury in 1999, Meola made 2000 a season to remember. Meola won the League MVP, Goalkeeper of the Year, and MLS Cup MVP as he led Kansas City to the title over the Chicago Fire. He also set a League record with 16 shutouts that year.
"I knew at 30 years old that I wasn't done playing," he recalled. "It was a crazy time. From 2000 to 2004, we had the best record in Major League Soccer. It was a great group of players. That team was a real lesson. If you believe in yourself, you can do whatever you want. We'd call ourselves 'the misfits' because we were all guys no other teams wanted at the time."
Meola was never able to win a title in New York, but the old Giants Stadium remains a special venue to him.
"I loved Giants Stadium. The atmosphere was great. I grew up with the game there," he said. "When I left MLS, I walked away. I didn't go to games and I didn't follow it. I did take my kids to the last soccer game at Giants Stadium. I wanted them to see where I learned the game."
These days, Meola, 43, is busy running a business and working in broadcasting.
"I had started GK1 Soccer when I was still playing. It was a glove line and goalkeeper apparel line," he said. "That turned into GK1 Sports, where we do other sports as well. I had a feeling of where I was going with this and I wanted it to grow. This is a crazy time of year for us. We are an online retail store and this is the time of year that we are very busy."
Meola also does a daily radio show called "Counter Attack" on SiriusXM with fellow US teammate John Harkes. Meola, however, isn't shy about what he wants to do next.
"I want to coach at the highest level," he said. "Coaching these days is not about X's and O's. I can X and O with Bruce Arena and the best of them. The issue these days is that coaches need to manage players. Dominic Kinnear, Ben Olsen, Peter Vermes, Frank Yallop — these guys are all young coaches – have something in common. All know how to manage players. Players want that."
Meola pointed out that Kinnear, his former National Team roommate, is an excellent example of this and the reason why the Houston Dynamo has reached the MLS Cup final for a second straight year.
"He's a good guy that players like and that players want to play for," he said. "That's the difference."
Asked to make a prediction on which team between the Dynamo and the Los Angeles Galaxy will win Saturday's MLS Cup final, Meola said, "Not yet. I need to see which players will play or not that day."
---
Clemente Lisi is a New York-based writer. Contact him at: CAL4477@yahoo.com. Follow him on Twitter at:http://twitter.com/ClementeLisi.
More from Clemente Lisi: