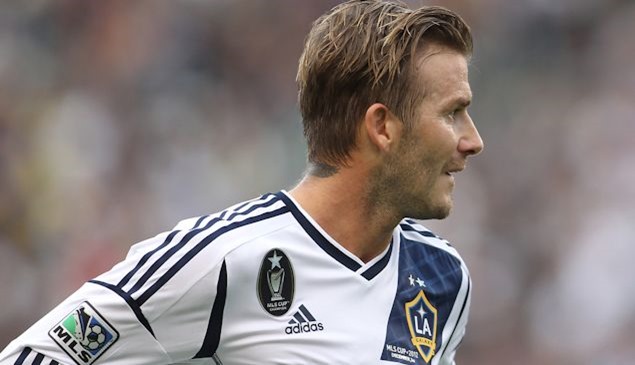 By Zac Lee Rigg – LOS ANGELES, CA (Dec 5, 2012) US Soccer Players — "One more year" rang out in the LA Galaxy locker room on Saturday. "One more year," the fans chanted two days later to celebrate the MLS Cup triumph. Unfortunately, for the Galaxy faithful there will be no more years for David Beckham in Major League Soccer.
After six years in Los Angeles, the 37-year-old heads to an undetermined location for one final playing adventure. This adventure is over. Beckham had an option year in his contract, but decided to decline it, announcing the impending divorce before the MLS Cup final.
"I came to the decision solely because I felt like I'd achieved everything I wanted to achieve with the Galaxy, on the field and off the field," Beckham said.
The Galaxy went on to win the final, beating the Houston Dynamo 3-1. It marked a second consecutive MLS Cup for Los Angeles, its third final in four years. The Galaxy also won two Supporters' Shields in that time.
"He's done more in MLS and for the Galaxy than any of us would have imagined," LA coach Bruce Arena said. "He's worth a lot more to the league than we ever could have thought."
Arena is talking about more than sporting metrics. When Beckham joined MLS in 2007, his team was poor (the Galaxy didn't make the playoffs in 2007 or 2008), but he provided publicity and a credibility arguably no other soccer player in the could have. At the time, he had just won a league title with Real Madrid and the Spanish giant wanted to re-sign him. Instead, he chose to move his family to Beverly Hills.
"When I decided to come here, I kind of raised a little bit of interest," Beckham said. "I hope that's what I've done. If that's the single thing I've done, then great."
He certainly did that. MLS attendance has risen 20 percent. Teams have built 10 new stadiums, and the league has grown at a clip faster than one expansion side a season since Beckham joined. That suggests those new fans are around to stay.
"There is arguably not a soccer fan on this planet that does not know the LA Galaxy and Major League Soccer," Don Garber said. "David played a significant role in helping us make that happen."
These were not idle eyeballs, either. The English midfielder's star wattage – not to mention the Designated Player mechanism created to sustain his wages – helped lure plenty of quality players from Europe.
"His presence here and his experience with the Galaxy served, without doubt, as a significant catalyst for other world class players to come to the league, from Thierry Henry to Rafa Marquez, Robbie Keane, Juan Pablo Angel just to name a few," MLS Commissioner Don Garber said.
Beckham's role in seducing other name-brand players to join him Stateside has varied from his celebrity credibility to actively petitioning potential league-mates, proselytizing for MLS.
"My pitch is simple: if you want to be a part of something that is going to be big, [join MLS]," Beckham said. "Because when Tim Lieweke came to me six years ago in my house, that's exactly what he said to me. He said, 'Soccer's not one of the biggest sports in the U.S., but one day it will be.' And I believed him."
Soccer continues to progress into the American consciousness. It is no longer a punch line, except to a handful of curmudgeonly pundits who rely on jokes fashioned a half decade ago. MLS is the seventh most attended soccer league in the world, and has surpassed the attendance figures for both the National Hockey League and the National Basketball Association.
"We can't forget that the league is only 17 years old and that's relatively very young for a league," Beckham said. "The position we're in at the moment, the interest that is around and surrounds this league, is pretty good. It's there to get to that position and it's there to be able to reach a level that can compete with some of the best leagues in the world."
Beckham helped with the playing level, too. Landon Donovan talked frequently of the leadership role Beckham took this season. One example involved the former Manchester United midfielder pulling Omar Gonzalez aside in the MLS Cup final and telling the American defender to attack set pieces. Gonzalez scored the equalizer and won the MLS Cup MVP award.
Donovan said that Beckham led a change in demeanor that turned the club around in June, after a miserable start to the season.
"I've grown a lot. Forget the soccer part, I've grown a lot as a person since he's been here," Donovan said. "I've watched him closely with all the things he does and his leadership abilities and how he handles himself. It's been an inspiration for me. We haven't always gotten along, especially in the beginning, but he's a good person."
Donovan was citing friction between the pair in Beckham's first years with the club, extensively documented in Grant Wahl's book "The Beckham Experiment." Since, the two have repaired their relationship, and Beckham patched up his rapport with the Galaxy fans, who questioned his commitment following two offseason loans to AC Milan.
A second consecutive cup means Beckham can leave the league with any previous rough patches faded to the background by the glint of a trophy. Of course, attached to an equally gleaming smile, David Beckham is just a human – a human who decided to take another job in another country.
"Sometimes you guys see him of someone of 'that stature,' but he's just another teammate," Donovan said. "Now, more than anything, we're just sad to see a teammate go."
---
Zac Lee Rigg is a Senior Editor of Goal.com.
More from Zac Lee Rigg: