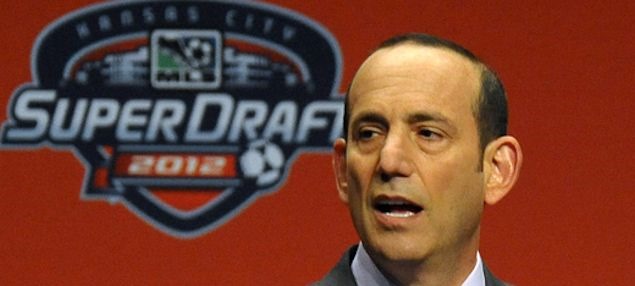 By Tony Edwards – San Jose, CA (Dec 6, 2012) US Soccer Players — In Thursday's column, Tony looks at Friday's Re-Entry Draft, examines the Sounders approach towards their academy players, and asks when MLS teams start preseason.
How many players are theoretically available in tomorrow, and next Friday's, Re-Entry Draft?
Sixty-three, according to this list. That's not the whole story. With MLS allowing its franchises to re-sign their Re-Entry Process eligible players through 5pm ET today, there's no guarantee every one of those players will be available when your favorite team's turn comes around Friday.
Even if all 63 players are available, there's a reason those 'you could put together a team' lists from the players on the Re-Entry Draft are ridiculous.
Have the Sounders been encouraging their academy players to sign a professional contract or play college soccer?
"…we've encouraged of our homegrowns to move onto college, because we think that's a good intermediate step for them," head coach Sigi Schmid told the Seattle Times.
Then Schmid made the key point. "…we've been very conscientious of making sure we present [our homegrown players] with an opportunity and not sign homegrowns for the publicity sake of signing homegrowns — and then two years later release them."
While it does no one any good to sign an academy player just to hold a press conference, it's interesting that in the opinion of Seattle's technical staff, the college game is the right choice for individual players. Before taking that as an indictment of Seattle's program, it isn't. Most of the players in any franchise's academy are never going to turn pro at the elite level.
How many games over the last four seasons has US National Team player George John played for FC Dallas?
Ninety-five, with a high of 31 coming in 2001. John made 19 starts for Dallas, logging more than 1700 minutes. As much as Dallas struggled to score this season, lowering their goals against from this season's 47 is one of their keys to playoff contention. John was one of five Dallas players to re-sign with the club.
When can you next see MLS teams in action?
Next month, as, for example, San Jose takes on New England in a preseason game in Tucson on January 29th. The Earthquakes report for physicals on January 19th, train in San Jose for a week, then head to Tucson for six days of training. At that point, the start of regular season will be less than a month away.
With such a short amount of time between the playoffs and the start of training, the League almost ends up competing against itself. Players need to recover. It's another reason why cutting the regular season to 30 or 32 games would be a positive.
According to coach Paul Mariner, what do Toronto fans have to look forward to early next season?
"It's not going to be the beautiful game overnight," Mariner told MLSsoccer.com in his season in review interview. Toronto fans at least have to appreciate that Mariner is speaking directly, rather than promising that the franchise's new management will have all the answers immediately. "What we have to be aware of is that we finished rock bottom in the league," he said. "We know we need to add a couple of components."
It's an ask to think Toronto has realistic playoff expectations this coming season. Then again, the Western Conference saw Colorado and Dallas fall off significantly last season.
---
Tony Edwards is a soccer writer from the Bay Area.
More Questions: