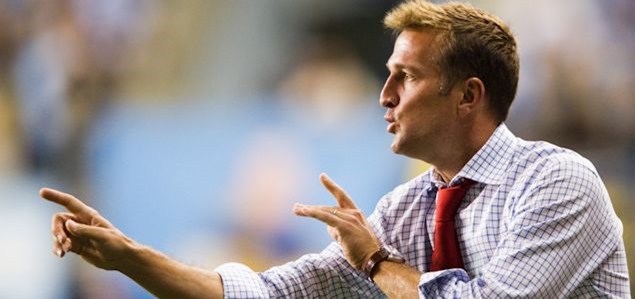 By Jason Davis – WASHINGTON, DC (Dec 5, 2012) US Soccer Players — I'm going to make a small request here at the top of this piece about the frenetic insanity of the MLS transaction season. Read it quickly, as quickly as you can. In fact, stop wasting time on this part and skip to the second paragraph, post haste. If you don't hurry, you'll probably miss a cut, a trade, a declined option, all of the above, or all of the above plus allocation money. The exhaust from David Beckham's blinged-out SUV hasn't even left the air above the Home Depot Center yet, and Major League Soccer clubs are already scrambling to reconfigure their teams for 2013.
On Monday alone (after word of several moves leaked out over the weekend), Real Salt Lake traded stalwarts Jamison Olave and Fabian Espindola to New York for allocation money. RSL traded starting midfielder Will Johnson to Portland, also for allocation money. Portland acquired Sporting Kansas City defender Michael Harrington for… allocation money. Houston traded for Portland defender Eric Brunner in exchange for (you guessed it) allocation money. New York added Kosuke Kimura from Portland for the Homegrown Player rights to Akron star Bryan Gallego and—say it with me—allocation money. TFC acquired forward Justin Braun from Real Salt Lake in exchange for defender Aaron Maund and… nope, this time it was just player for player.
Depending on when you're reading this, there's a better than good chance this list is only half of the moves made so far in an MLS offseason that is less than a week old.
Your head is spinning. It's natural. No time to lie down to let it settle, however. You have to forge ahead. Read faster. Teams are wheeling, dealing, slashing, and signing and you're probably missing it. The longest MLS season, as judged by the calendar, has just ended. There's no time to waste, because next year comes sooner than it ever has before. The 2013 campaign starts in less than 90 days.
The stage one of the re-entry draft (which sounds like something out of archival NASA footage—"Firing afterburners, stand by for stage one of MLS re-entry draft, on my mark") happens on Thursday. Stage two is a week later. In between, team will identify targets, announce new contracts, complete more trades, sign new players, shop big names and do everything they can to re-tool or re-build their rosters for the next season. The re-entry draft itself, the mechanism MLS concocted as a compromise with the players instead of free agency, could see a small handful of players selected.
On one hand, the flurry of activity is disconcerting simply because there's so much of it and it all happens while covered in a soupy mess of arcane rules. On the other hand though, few MLS teams are standing pat and hoping for the best next year. The dynamics of the League will change again (the better to keep our interest), and players who are ready to step into primetime roles are moving up the depth chart.
Whether it was a function of the long postseason or simply that those teams who didn't make the final took advantage of a head start on rebuilding, several MLS clubs are in a rush to get things done.
Make no mistake, though. Real Salt Lake's decision to trade Olave, Espindola, and Johnson was more about "need" than "want." All three players make salaries in the League's upper tier With mandatory increases across the roster, the club had no choice other than to let go of players they would undoubtedly have preferred to keep. Several other clubs find themselves in violation of the salary cap for similar reasons—the amount of allocation money teams have at their disposal expands and contracts from year to year due to a variety of factors. Seattle missing the allocation money given to CONCACAF Champions League qualifying teams, for example, exacerbates an already difficult salary budget situation. The Sounders are on the transaction clock. Expect to see some movement.
Without fail, a great cry goes up from fans the moment a season ends, either for their team specifically, or for the League in general. The pining for games begins as soon as the final whistle blows. Funny then, that the MLS offseason is the shortest of any major professional sports league in America. In a way, MLS is replicating the year-round interest for which the NFL is so noted, even in the short(ening) window that opens between the MLS Cup final and First Kick. It's slightly more complicated (read: much more complicated), but player movement and rumor can stoke the fires of fan passion almost as much as game day. It's the season to find joy in a new player that might make the difference in 2013.
---
Jason Davis is the founder of MatchFitUSA.com and the co-host of The Best Soccer Show. Contact him:matchfitusa@gmail.com. Follow him on Twitter: http://twitter.com/davisjsn.
More From Jason Davis: