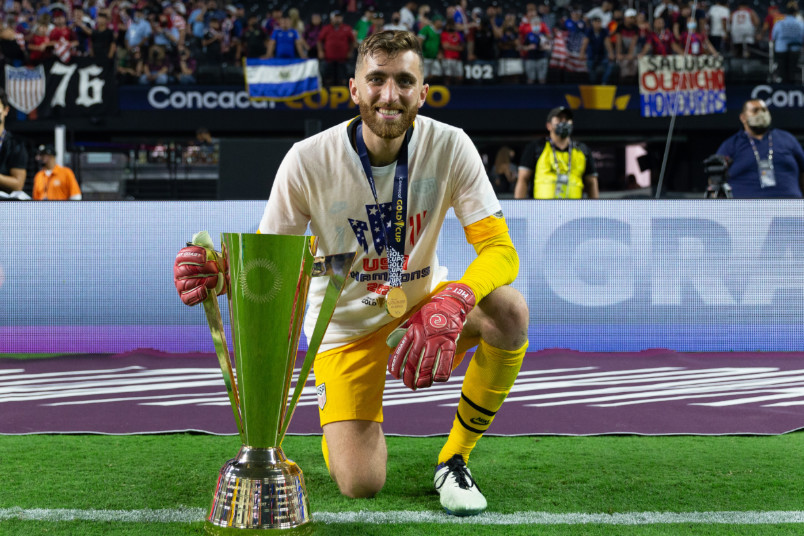 By Charles Boehm – WASHINGTON, DC (Jun 22, 2023) US Soccer Players – There's considerable optimism around the Jamaica camp ahead of the Gold Cup. The Reggae Boyz will bring a talented, experienced squad to meet the USMNT at Chicago's Soldier Field on Saturday for both sides' Group A opener.
After a training camp in Austria, Jamaica coach Heimir Hallgrímsson named a solid roster for this year's edition, including Premier League-based veterans Michail Antonio, Leon Bailey, Bobby Reid, and Ethan Pinnock. There are also familiar MLS names like Andre Blake, Damion Lowe, and Cory Burke. Then there's Dujuan "Whisper" Richards, a 17-year-old attacking phenom currently at Chelsea FC, who Hallgrímsson has said could blossom into "one of Jamaica's greatest in the future."
Jamaica and Philadelphia Union goalkeeper Andre Blake has competed in this tournament four times and called this summer's roster "the most talented group we are going to have going into the Gold Cup" in remarks to reporters this week. He was also quick to note that "a lot of running, fighting, commitment" would also be required to convert that potential into a deep run.
The Reggae Boyz could not advance out of the group stage of the Concacaf Nations League, despite holding Mexico to draws in both of their fixtures. A silver lining of that is their ability to focus entirely on the Gold Cup this summer with what amounts to a full-strength group. It's a sign of the respect the United States has garnered that even with some rotation in the USMNT player pool, Hallgrímsson's first priority is not losing on Saturday.
As Blake observed, having quality on paper is only one part of the equation. A collective must be crafted, one that can withstand individual absences and learn how to grind out results under difficult circumstances. For several years now, meshing the various elements of a player pool scattered around the world, comprised of both domestic-reared contributors and dual nationals from Jamaica's large diaspora, has been an ongoing challenge.
The Reggae Boyz entered 2022's Concacaf Octagonal qualifying phase with high hopes, only to struggle for wins and eventually finish sixth, 14 points back of the final qualification slot taken by Costa Rica. High-powered recruits like Antonio brought match-winning abilities, as the USMNT learned when he lashed home a fine equalizer against them in a 1-1 draw in Kingston in November 2021. Yet the construction of a coherent, consistent XI proved quite difficult.
Long travel was a constant X-factor, as were relations with clubs and the limitations imposed by the COVID-19 pandemic, which depleted the Reggae Boyz' home-field advantage by severely restricting the size of their crowds at Independence Park.
On Monday, Jamaica lost a warm-up friendly to Jordan in Austria. That loss and a similar defeat to Qatar last week, both by 2-1 scorelines, have raised the pressure on Hallgrímsson, who is 0-4-3 since taking the wheel last year. That said, his role in the methodical growth of Iceland from UEFA minnows to qualification for the 2016 Euros and 2018 World Cup from 2013-18 suggests he's adept with long-range projects. That points to a need for balance between a desire for short-term results with the big-picture goal of successful 20026 World Cup qualification.
Much like the USMNT's 2021 Gold Cup run helped fortify the foundation upon which to pave the road to Qatar and beyond, this summer's tournament could be crucial for Jamaica's future. With Group A filled out by fellow Caribbean sides Trinidad & Tobago and St. Kitts and Nevis, the latter making their tournament debut, the Reggae Boyz will be familiar with their main rivals for advancement to the knockout stages. There's a promising path to that goal and beyond if they can perform up to expectations.
"We've looked at them pretty extensively, and this is probably the strongest Jamaica side that the US might have ever faced," USMNT goalkeeper Matt Turner said in a Thursday media availability from the Yanks' base in Chicago. "They've gotten a lot of play off dual nationals they've been able to entice to come over, a lot of Premier League experience. So it's going to be a really, really tough challenge for us. It's going to be a physical game. I think they're a lot better on the ball than they probably used to be. So yeah, we expect a direct, physical game, but also some good soccer, some good football to be played. It's a strong team with strong individuals. We're hoping our collective is stronger."
As Turner experienced firsthand by backstopping it, the 2021 Gold Cup run was a key achievement in the USMNT's growth over the 2022 cycle. Coming hard on the heels of the Nations League triumph just weeks before, it drove home the depth of talent available to Berhalter and the program's ability to sustain a sturdy locker-room culture regardless of who was called in.
Now, the plan is to run it back in similar fashion this year, with confidence high following another Nations League trophy celebration. The US Gold Cup roster includes just five holdovers from the Nations League squad, offering opportunities for a host of newer and less familiar faces.
The USMNT has a strong competitive record against Jamaica. Still, several of the current Reggae Boyz were part of the team that upset the Yanks 2-1 in the 2015 Gold Cup semifinals, the only occasion in the last two decades on which the US did not reach the tournament final. Any player who needs to hear that story can ask the USMNT's goalkeepers coach for this event, Ryan Thompson, who made nine saves in net for Jamaica that day in Atlanta.
The bright future that has for so long been the story around this up-and-coming US side is now becoming its present. If the program is to reach the new heights desired in 2026, players and staff will want to continue the methodical climb of the past three years over the next month.
---
Charles Boehm is a Washington, DC-based writer and the editor of The Soccer Wire. Contact him at:cboehm@thesoccerwire.com. Follow him on Twitter @cboehm.
More from Charles Boehm:
Photo by John Dorton – ISIPhotos.com