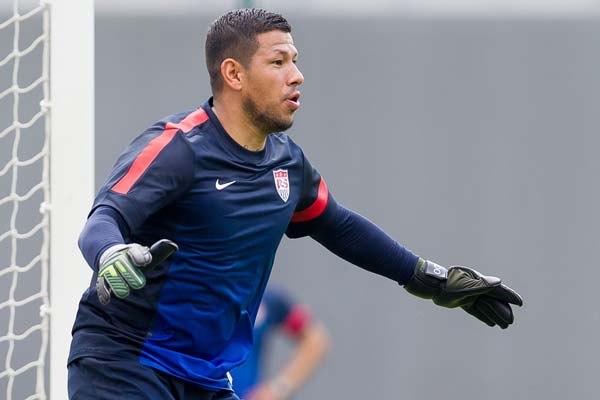 USMNT and MLS goalkeeper Nick Rimando explains what to do when setting up the wall to defend a free kick in soccer.
During a free kick situation in a game, one of the first defensive strategies for a team is to put up a wall to make sure the opposing team can't get a direct shot on goal. A wall can be as few as two players and sometimes as many as eight. The closer it is to the goal, the more players will be in it to defend the goal. If the ball is to one side of the goal or farther away, there may be fewer players in the wall since the defenders have to brace for a cross as well as a shot. Either way, it's the shooter's job to score, the defender's job to block the ball, and the keeper's job to organize everyone to make things easier on himself.
What happens when the referee blows the whistle and you realize the other team has a free kick?
There is often a lot of confusion because players will be arguing about the foul, and both teams will be trying to set their players. There will usually be a forward or midfielder setting up the wall so nothing quick happens. My job is to make sure they can't get to the near post.
Talk about what you have to do vocally to set up the wall.
It gets frustrating when the ball is close and you have five players in the wall. With everything going on after the foul, the players' minds are not always in it so you have to scream and yell at them and try to get them back in it.
What is your job once the wall is set?
Your job is to get to that far side of the goal. If it goes over the wall and you can get it, that's great. You have to make sure it does not get to the weak side. If it goes to that near post, it's either a great shot or a great save.
But you don't have to be worried about just the original shot, right?
They throw everything at you. You have to be ready for everything since they might send a man off the wall. You have to make sure everyone is marked up, the wall is set and you are set. If you are not set for the play, it's going to be an easy goal for them. You have to have smart players on your team that are very aware of what is going on. You have to be very alert of everything going on around you.
Do you thank the players who get hit in the wall or is that just their job?
They are in the wall, and that is their job. If they move and it goes in the goal, you are going to yell at them. If they get hit, they get hit. That's what the coaches put them in the wall for.
What's your best piece of advice for a young goalkeeper learning to set up a wall?
Do not cheat to which side the ball is going. Cover the ball. Don't anticipate to one side because if you are leaning to one side, you won't be able to get back to the other side.