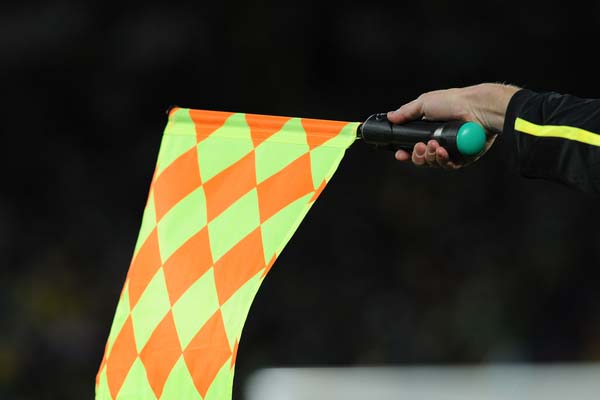 If you have not prepared your team sufficiently to face an offside trap, your squad may not know what hit it when it plays a team with a talented defense.
In an offside trap, the defense steps up just as a ball is being sent through by the attacking opponent so that the forward waiting to receive the ball is stuck behind the defensive line, in violation of the offside rule. In order not to be called offside, there must be at least two players (one can be the goalkeeper) between the attacking player and the goal.
Understand the offside rule
Beating the offside trap is actually a matter of reinforcing basic soccer strategy and techniques with your players. First, go over the offside rule and make sure that all of your players are familiar with the rule and its violations. Then, you must reinforce movement with and without the ball with your squad. In reality, if your forwards were being active and aggressive on the field in terms of moving to the ball, they would not become caught in the offside trap.
Basically, if your players stand around and wait for the ball on the field, they have a greater chance of being caught in the trap than if they are constantly moving to the ball and creating space (which good players should be doing regardless).
Learn to play backwards
Practice having your forwards face 'backwards' on the field (towards their own goal) while the midfielders are moving up the field towards them. The forwards should not be standing and waiting for the midfield pass. Have your forwards move towards the midfielders and call for the ball. This will cause the defense to move with the forward. Then, the midfielder has the option of moving towards one of the defensive holes, where he can receive the same ball back from the forward, and he is then in a prime spot to beat the defenders to the goal, as they are busy marking the forwards.
Play 1v1
Another way to beat the offside trap also relies on reinforcement of basic techniques. If your forwards and midfielders have excellent ball skills, confidence, and mental know-how, they should be able to hold their own in most one-on-one situations, and will be able to face the defenders head on while moving towards the goal. When the defense employs the offside trap, they are leaving a lot of space in front of the goal wide open. If your player can beat a defender one-on-one, he has an open field and only the goalkeeper to beat.