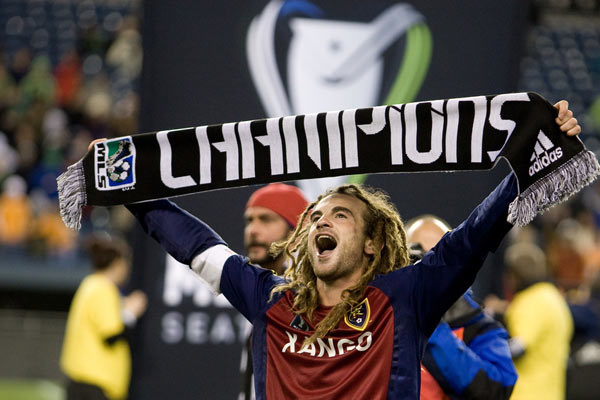 MLS expansion never seems to stop. With two more clubs set for 2015 and a third in the planning stages, MLS commissioner Don Garber listed several other potential expansion candidates in a media call. Here's our guide to how a 10-team league expanded to 19 teams and will be up to 21 next season. What does the future hold for MLS?
MLS builds through expansion
There's no talk like expansion talk, and MLS has its sights set on more teams in more markets. The timeline changes as opportunities emerge. We went from discussing the progress on a second New York City area team to a public announcement. From there, it was Orlando City joining MLS. Then it was David Beckham's option in Miami. Now, it's Atlanta, Minneapolis, or pick from the other cities the MLS commissioner mentioned.
Where are we in the expansion process?
Somewhere in Major League Soccer's national footprint. From early on, the original ten teams were outposts as MLS eventually filled in their map. With Tampa Bay the only Southeast representative and no teams in major cities like Chicago, the expansion picture was obvious. Fill in the gaps in that map, create national demand for the product, and watch as the league's TV ratings increased. Over time, more teams mean a better league. At least that's the theory.
Right now, we're waiting to see what happens with a second New York City area team that has yet to announce a stadium. We're also looking at a return to Florida, but in a different market in 2015. Then there's David Beckham's Miami project.
Does expansion always work for MLS?
It was easy going with the first expansion. The Chicago Fire remains one of the league's great expansion success stories, though for many newer fans 1998 doesn't resonate. Chicago drew big crowds at Soldier Field, won the MLS and US Open Cups, and stopped the DC dynasty.
Looking back, it might have been too much too soon, but it certainly beat what happened in Miami. The other member of the '98 expansion class struggled to establish a base playing north of Miami in Fort Lauderdale. In the NASL era, those were separate markets and MLS learned the hard way that the NASL got that right.
On a conference call in December of 2001, MLS commissioner Don Garber announced that Tampa Bay and Miami were no longer in the league. That cut off Florida, meaning no teams in the Southeast. That issue isn't completely put to rest with a return to Florida. There's still a gap between DC and Orlando that now focuses squarely on expansion to Atlanta.
Did contraction work?
The remaining teams benefited from a draft that broke up Tampa and a very good Miami team that finished 1st in the East the previous season.
However, it's worth remembering that between the end of the 2001 season and the contraction announcement several teams were rumored to be on the cut list. Once MLS made the announcement and limited contraction to Florida, the problem was that footprint along with the idea that any league would cut teams.
MLS wasn't alone in considering contraction. Major League Baseball came close to removing two of its teams, but that's a league with a lot more teams than MLS. Back at ten teams, MLS was once again addressing questions that expansion was supposed to answer. When they provided that answer in 2004, it introduced as many problems as solutions.
Real Salt Lake found an audience in a city that only has one other top-level major league team. Chivas USA sharing a stadium with the Los Angeles Galaxy didn't create the super clasico and divided loyalties like MLS hoped. The bigger success was relocating San Jose in 2006, but moving a championship caliber team into a new market isn't expansion.
What about Canada?
That starts in 2007 when Toronto joined. There's no question Toronto has the fans, but they ended up in the same category as the early years in Salt Lake. A new city has a team, but there's no guarantee that team makes the playoffs. It took three seasons for RSL to get to the postseason and they were champions the following year.
Toronto now stand as the team with the longest streak of never playing a playoff game. They're also the latest MLS team to decide to spend serious money on improving their squad. All evidence points to Toronto as the next MLS super club, following the Galaxy, Red Bulls, and Seattle examples.
With FIFA approval for MLS to act as Canada's first division, expansion targeted Canada as well as the USA. Vancouver followed in 2011 and Montreal joined in 2012. For not, we're not seeing additional rumors for Canadian expansion. There aren't a whole lot of metropolitan options in Canada. Edmonton and Calgary had teams in the original NASL.
We're missing some expansion teams, right?
Right. Seattle resets the standard for average MLS attendance starting in 2009. More to the point, they break with the idea that any team joining the league has to have a soccer-specific stadium. They're the only ones, though. Philadelphia in 2010 and Portland in 2011 are soccer-specific, just like the Canadian clubs.
Where is MLS expanding next?
Over the years, rumors put clubs in places like Trenton, NJ, Winston-Salem, NC, Oklahoma City, and other markets that aren't in the same category as the major markets without MLS teams.
For MLS, the biggest of those markets is New York. That ignores the team across the river, putting the Red Bulls in the position of needing to redefine their market and try to make things work with direct competition a short distance away.
At the same time, the footprint is still at issue. MLS is well aware, with Orlando City already joining in 2015 and Miami the next expansion market if David Beckham's group puts together a stadium deal. 
On a media call concerning MLS buying troubled club Chivas USA, commissioner Don Garber returned to a familiar topic. Expansion, namely a new list of potential candidates. Atlanta and Minneapolis seemed farthest along on a list that also included San Antonio, San Diego, and Sacramento. 
A quick list of the other major metropolitan areas not already mentioned as expansion targets where MLS only exists on television and where those cities have teams in all of the other four major sports: Detroit and Phoenix. It's worth noticing that list was longer by several cities the first time we put this together.
When Does Expansion End?
For MLS, there might not be the same pressure to keep a league at or below 20 teams as other parts of the world. Part of that is the size of the United States, the examples of the other North American major leagues, and the addition of Canada, reinterpreting FIFA's preference for 18 or 16-team domestic leagues. Even the Premier League reduced itself from 22 to 20 clubs to satisfy regulations, though they refused to drop down to 18.
If the target is the other North American leagues, all of them have at least 30 teams. It's worth considering that the NFL has 32 teams and none in the second-largest market in the country.