Defender
Biography of retired USMNT soccer player Chris Albright who transitioned from player to front office staffer with the Philadelphia Union.
Caps: 21 | Goals: 1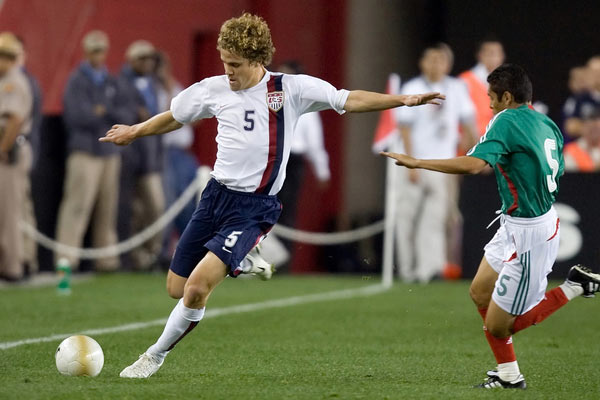 With a rare combination of strength, size, and speed, Chris Albright turned into a top outside back during his 15 year career in Major League Soccer. After being an integral part of U.S. squads at the under-20 and under-23 levels, Albright has taken a more prominent role with the full national side, getting the call to the 23-man roster for the 2006 World Cup as a replacement to Frankie Hejduk just one day after the original roster selection announcement was made.
Albright left the college ranks after an amazing sophomore season at the University of Virginia that saw him score 20 goals in 22 games.  He has had to deal with the high expectations at D.C. United that come with being traded for Roy Lassiter, the league's leading scorer at the time, before Albright had played his first professional game. Since joining the Los Angeles Galaxy, he provided depth behind Carlos Ruiz and helped the Galaxy win the 2002 MLS Cup, then moved to a regular position at full back, where he's also starred for the National Team.
In January 2008, just weeks after signing a new contract with LA, Albright was traded to the New England Revolution. He joined the NY Red Bulls for the 2010 season.  In February 2012, he signed with Philadelphia. Albright announced his retirement at the end of the 2013 season, taking the Assistant Technical Director job with Philadelphia. He left to become the GM of FC Cincinnati in October, 2021.
USMNT Experience
2007
Limited to two starts, in friendlies against Denmark and Mexico, before injury ended his year.
2006
Made two appearances with the US National Team.  Missed most of the winter, including Bruce Arena's month-long training camp in Carson, Calif., with a knee injury. Joined World Cup roster as a replacement for Frankie Hejduk just one day after the final roster was named. Did not play in any of the three matches at WC.
2005
Played in five final round World Cup qualifiers, starting four, and seven games overall. Posted his first National Team assist, setting up a goal in the 2-0 qualifying win against Panama in October with a pass to Kyle Martino.
2004
Returned to the National Team to play in four games, starting two.  Started his first World Cup Qualifier in the final semifinal round against Jamaica
2001
Appeared in four full international matches, three friendlies and a 2-1 World Cup qualifying victory over Honduras in which he came on as a substitute midway through the second half.
2000
Started all six games in the Olympic tournament, scoring two goals on the way to the team's fourth-place finish.  Scored two goals and two assists in the qualifying tournament, helping the U-23s to a trip to Sidney.
1999
Played in all four matches for the US team at the 1999 World Youth Championship in Nigeria, helping the team to an appearance in the round of 16.  Earned first full cap on September 8, hitting the equalizer in a 2-2 draw against Jamaica.
1998
Debuted with the U-20 national team in a 1-1 draw with Iceland on April 4, and went on to lead the team in scoring through the year with 10 goals in 18 games.
Professional Experience
2013
Finished his career in Philadelphia, becoming the team's Assistant Technical Director following the season.
2012
Joined the Philadelphia Union, playing in eight games.
2011
Used mostly as a sub for the New York Red Bulls.
2010
Established himself as a regular with New York, helping them in their run to the Eastern Conference title.
2009
Appeared in one game for New England missing the rest through injury.
2008
Signed new contract with LA in January, but then was surprisingly traded to the New England Revolution in exhange for allocation money.
2007
After starting the first five games for LA, tore his right hamstring muscle, causing him to miss the rest of  the season.
2006
LA Galaxy defender of the year in a season when LA failed to make the playoffs. Named to MLS All-Star XI for third consecutive year. Two goals and five assists.
2005
Chosen for MLS Best XI for the first time in his career. Finished the season with one goal and two assists after spending two months on the sidelines with a knee injury.
2004
Earned his first All-Star appearance with notable performances on the right side of the field. One goal and seven assists in 27 starts overall.
2003
Scored three goals and four assists in 29 games (23 starts) for the Galaxy.
2002
Acquired by LA from DC.  Assisted on Carlos Ruiz's golden goal that gave the Galaxy MLS Cup 2002.  Appeared in 15 games (nine starts) earning one assist on the season despite missing 12 games due to injuries.
2001
Finished the season making 23 appearances (14 starts) while posting a goal and an assist
2000
Earned a starting role with United and scored three goals in 25 appearances.
1999
Acquired by DC from Miami. Scored his first professional goal in a 4-3 US Open Cup defeat to the Charleston Battery. Started four games before ending his season prematurely with a torn MCL in his left knee.