Forward
Biography of USMNT soccer player Edson Buddle who played in the 2010 World Cup and played in MLS.
Caps: 11 | Goals: 3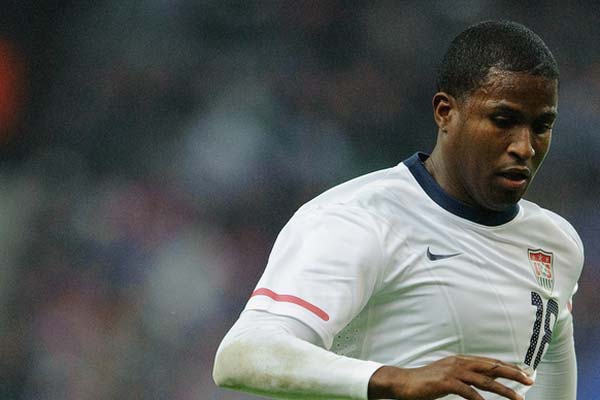 http://twitter.com/edsonbuddle
www.edsonbuddle.com
Edson Buddle had a breakout start to the 2010 season, seemingly scoring at will. His strong form earned him a call-up to the USMNT camp in advance of the 2010 World Cup where he made the roster. Buddle continued his run by appearing in two World Cup games. In his first game back with the Galaxy after World Cup duty, he scored. Buddle left MLS after the 2010 season, signing with FC Ingolstadt in Germany's 2.Bundesliga. He returned to MLS in the summer of 2012 with LA before moving to Colorado for the 2013 season. He rejoined the LA Galaxy for 2015, his last season in pro soccer. Buddle is currently coaching in the NYCFC academy system.
USMNT Experience
2012
Came on as a second-half sub in the 1-0 win over Italy.
2011
Scored in the November 15th friendly against Slovenia.
2010
Called into World Cup camp as part of the 30-player provisional roster and made the final roster. Played against the Czech Republic in the Sendoff Series. Started against Australia in the final warm-up game and scored two goals. Came on as a substitute against England and Algeria in the World Cup.
2003
In addition to making his senior US National Team debut as a substitute against Venezuela, appeared in three games (all starts) with the U-23s. Scored the only goal of the game in a 1-0 win over Haiti on 10/15. Scored two goals in a 6-0 win at St. Kitts & Nevis on 11/15 in second-round CONCACAF Olympic qualifying
2002
Was one of seven finalists for the US Soccer/Chevy Young Male Athlete of the Year award. On the U-23s' tour of England, appeared in four games (starting two), with one full international, notching two goals and two assists for six points.
2000-2001
Named to the US Under-20 national team for the 11th FIFA World Youth Championship in Argentina, scoring in a first-round win over Chile. Was one of 18 players chosen for the CONCACAF World Youth Championship qualifying tournament in Trinidad in March 2001. He appeared in four of the team's five matches during a January training camp in California, including a 90-minute performance against the senior US National Team on 1/11.
Professional Experience
2015
Rejoined the LA Galaxy.
2014
Two goals in 18 games in Colorado.
2013
Made 24 appearances in Colorado scoring five goals.
2011-12
After spending the season in the 2.Bundesliga, rejoined the LA Galaxy. Won the 2012 MLS Cup with LA. Traded to Colorado in the off season.
2010
Major League Soccer's Player of the Month for April.  Finished the season as the Galaxy's team MVP. Signed with FC Ingolstadt in Germany's 2.Bundesliga.
2009
Scored five goals in 19 games. Missed time due to two injuries, but was a regular starter for the Galaxy in the playoffs.
2008
Scored 15 goals with the Galaxy and was named to the All-Star team.
2007
Was traded to Toronto FC, where he made ten goalless appearances (two assists). Then moved to LA Galaxy, where he scored five goals in 16 games (ten starts) by season's end.
2006
Moved to RB New York, where he tallied six goals and three assists in 28 games (24 starts)
2005
Scored nine goals for the Crew in 23 games (21 starts), but his team failed to make the playoffs.
2004
Appeared in 24 games, 20 of them starts... Notched a team-leading 11 goals, including five game-winners, and two assists. Finished the year as The Crew's Budweiser scoring champion with 24 points. Tied for ninth in the league in scoring and tied for second in goals, just one off the league lead (Brian Ching). Was twice named MLS player of the week.
2003
Appeared in 21 games and started 16 times. Established new career highs in goals (10) and points (24). In the 2003 CONCACAF Champions Cup he started all four matches and scored four of the Crew's six goals in the competition.
2002
- Appeared in 21 matches, starting 13 of them. Scored nine goals, registered five assists.
2001
- Appeared in 17 games, starting five of them and finished his rookie campaign with three goals and two assists.
Youth and College
Played one season at State Fair Community College in Sedalia, Missouri. Helped lead State Fair to the 1999 NJCAA Division I National Championship. Scored the title-clinching goal in sudden-death overtime of the championship game, giving State Fair a 3-2 victory over Pima Community College.