Position: Goalkeeper
Date of Birth: 01/01/1975
College Experience: Santa Clara University
Height: 6' 2"
Weight: 190 lbs
Caps: 2
Shutouts: 1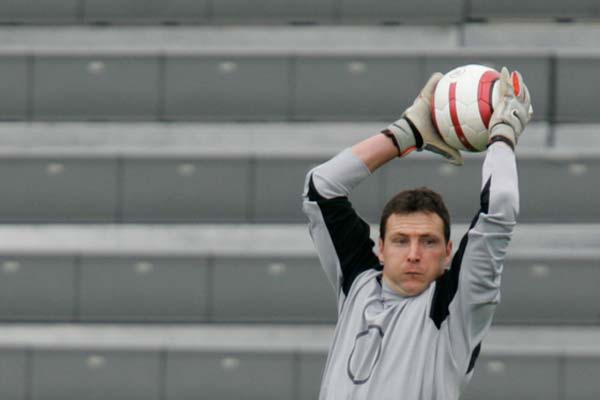 One of the best shot-stoppers in American soccer, Joe Cannon was called up to the USMNT after winning the 2001 MLS Goalkeeper of the Year. His play with the Earthquakes alerted the scouts in Europe and, after another fine season in MLS in 2002, he moved to France to play for First Division side RC Lens, but never made a first-team appearance. On his return he joined the Colorado Rapids, winning MLS Goalkeeper of the Year in 2004, and over the next two seasons helped his team to the Western Conference final.
For 2007 he was surprisingly traded to the LA Galaxy, where he was often the last line of defense in a side racked by inexperience and injury. Pulled off several heroics to help LA to the Superliga final against Pachuca, which they lost on PKs. In January 2008, he moved back to San Jose to re-join the revived franchise. Cannon was selected by Vancouver in the expansion draft following the 2010 MLS season. Cannon retired following the 2013 season and now works as a commentator. In 2017, San Jose elected him to the club's Hall of Fame.
"Winning the championship is definitely the most memorable moment of my career. I've never felt that much solidarity and unity anywhere in my life. Everything just came together perfectly that year and it was a great feeling, I am glad that our fans got to experience that after all the tough years they endured." – on winning the 2001 MLS Cup.
Cannon was elected to the San Jose Earthquakes Hall of Fame in 2017. He became the coach of the club's PDL affiliate the Burlingame Dragons in April, 2017.
USMNT Experience
2005: Won second senior cap against Honduras, starting 1-0 exhibition win before being replaced at the half by Kevin Hartman.
2004: Called into several camps.
2003: Played the first half of the 2-1 win over New Zealand.
Professional Experience
2013: 10 games with the Whitecaps, retiring after the season.
2012: 26 games for Vancouver.
2011: Played 20 games for the Vancouver Whitecaps, recording three shutouts.
2010: After starting the season as the regular in goal for San Jose, he injured his ankle in August. Had six shutouts before the injury. Picked by Vancouver in the expansion draft.
2009: Regular starter for San Jose, who failed to make the playoffs.
2008: Joined the San Jose Earthquakes and lead the League in saves with 124.
2007: One of the few quality, consistent performers in a miserable season for LA. His 29 starts at a GAA of 1.59 belie the number of times he bailed out the team's shaky defense as the Galaxy failed to make the playoffs.
2006: Made 28 starts for Rapids with a GAA of 1.55 and seven shutouts. Played for MLS All-Star XI in 1-0 win over Chelsea FC.
2005: Made 30 regular season and playoff starts for Rapids as they reached Western Conference final. GAA was 1.20 in regular season, 2.00 in playoffs.
2004: Made his first regular season start as a member of the Rapids on April 3, and was named MLS Man of the Match after making six saves in the 1-1 draw against Dallas in the season opener. Captured Rapids MVP award, MLS goalkeeper of the year, and MLS Best XI.
2003: Signed six-month deal with RC Lens of the French First Division. Returned to MLS late in the year with the Colorado Rapids. Had rights traded from San Jose.
2002: Won 13 games for the second consecutive season with a 1.10 GAA, leading the Earthquakes to the play-offs.
2001: Named Aquafina MLS Goalkeeper of the Year with 13-6-7 record, 7 shutouts and 1.09 GAA leading the Quakes to the 2001 MLS Cup.
2001: Led all goalkeepers with 19,142 votes in All-Star balloting and started for West All-Star team registering six saves and one assist in July, 28 All-Star game.
2000: In 26 appearances, had 1.49 GAA (fourth-best in the league) with a 6-13-7 record. Two-time MLS Player of the Week.
1999: Took over starting job mid-way through the season and played 90 minutes in each of final 18 games, finishing with 14-10 record and 1.33 goals-against average.
1998: Was Most Valuable Player for San Diego Flash team that won A-League's Pacific Division championship.  Compiled 21-7 record and 0.80 goals-against average with 12 shutouts, second most in league.
Youth and college: Was an All-American as a 1997 senior at Santa Clara and was a two-time All-Far West and three-time All-West Coast Conference selection … Played at Santa Clara from 1995-97 … Played at UC Santa Barbara as a freshman in 1993.