Position: Forward
Date of Birth: 07/25/1981
College Experience: University of Portland
Height: 6' 1"
Caps: 18
Goals: 2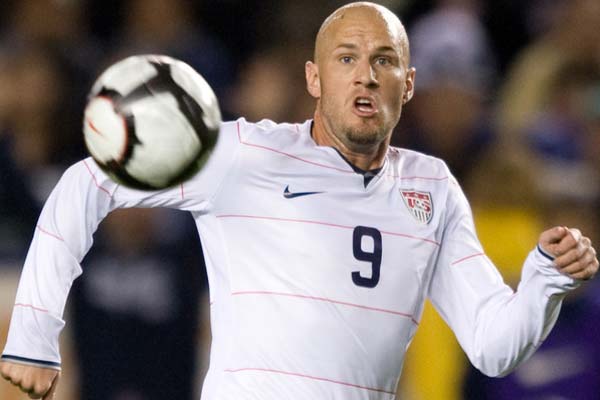 Conor Casey first made his name in USMNT circles by playing in all six matches of the 2000 Olympics, recording an assist and helping the US to a fourth-place finish.  A prolific scorer at the University of Portland, Casey left school early to sign with German Bundesliga club Borussia Dortmund.
In 2001-02, he was sent on loan to Hannover 96 in the German Second Division where he helped them achieve promotion to the Bundesliga.  Once his loan spell with Hannover 96 was up, he had another loan spell for Karlsruhe in Germany's Second Division in 2003.  After a brief stint playing for Borussia Monchengladbach, he transferred to FSV Mainz 05 for the 2004-05 season. In his first year with the club, he played in 28 league games and scored two goals. This coincided with his six appearances for the USMNT in 2004.
In February of 2007, Casey signed with Major League Soccer and joined Toronto FC, but moved on quickly to the Colorado Rapids. After a period out through injury, he scored his first goal for his new team in August 2007.  Since then, he has become a regular part of the Rapids lineup and is considered one of the top true strikers in Major League Soccer.
On October 10th, 2009, Casey made his mark at international level, scoring twice in the 3-2 win over Honduras that clinched World Cup Qualifying.  An MLS Cup winner in 2010, Casey was named Most Valuable Player of the final. Casey moved to Philadelphia for the 2013 season. In 2016, he joined the Columbus Crew retiring at the end of the season. Casey became an assistant coach with the Colorado Rapids in 2017, taking over as interim head coach on May 1, 2019. He left the club in August, 2019.
USMNT Experience
2010: Played in the January friendly against Honduras and against El Salvador in February.
2009: Returned to the National Team as a replacement for the injured Brian Ching.  On short notice, started the June 6th World Cup Qualifier against Honduras and was named to the Confederations Cup squad.  Used as a second-half substitute in the Confederations Cup. Scored two goals against Honduras on Oct 10th in the game that advanced the US to the 2010 World Cup. Started against Slovakia on Nov 14th.
2007: Scored two goals, and registered three assists in 15 appearances (11 starts) as the Rapids failed to make the playoffs.
2006: Still recovering from a torn ACL, he did not make any appearances for the US.
2005: Made two appearances for the U.S. before suffering a torn ACL.
2004: Played six games (391 minutes) for the US Men's National team, adding one assist on the year.  Made international debut on March 31st in a 1-0 win against Poland.
2000: Played in 10 games for the US Under-23 team in 2000. Scored a goal in a 3-1 win over Armenia.
2000: Appeared in six matches for the U.S. Olympic team in the 2000 Games. Recorded an assist to help the United States to a fourth-place finish.
1999: Appeared in four of the USA's six Pan-America Games matches. Helped the team to a bronze medal. Had six goals and two assists in 13 appearances for the U.S. Under-18 national team.
1998: Played four times for the U.S. Under-18s. Scored once and assisted on two others.
Professional Experience
2016: Joined the Columbus Crew in January playing four games that season before announcing his retirement.
2015: In an injury riddled season, played in 14 games with the Union scoring three times.
2014: Played in 25 games with the Union scoring eight goals.
2013: Scored 10 goals in 31 appearances with Philadelphia.
2012: Played in 18 games for Colorado. Chosen by Philadelphia during the Re-Entry Draft in December.
2011: Ruptured his Achilles tendon in a July 16th game against Seattle, causing him to miss the rest of the 2011 season.
2010: Another strong season in attack for the Rapids, Casey led his club into the playoffs as a wild card team.  Playing through the Eastern Conference bracket, they beat FC Dallas for the 2010 MLS Cup.  Casey was named MVP of the final, scoring Colorado's equalizer.
2009: Stated 24 games and scored 16 goals for Colorado.
2008: Missed the early part of the season while recovering from ACL surgery, but ended up leading the Rapids with eleven goals in 21 games.
2007: Moved to expansion franchise Toronto FC, but was quickly traded on to the Colorado Rapids.
2005-06: Was limited to only 10 appearances for Mainz due to a torn ACL he suffered early in the season.
2004-05: Transferred to FSV Mainz 05 and played 28 league games, adding two goals.
2003-04: Played 30 games and scored 14 goals, then transferred to Borussia Monchengladbach.
2003 – Loaned to Second Division Karlsruhe.
2002-03: Played four games scoring one goal, a game-winner against Arminia Bielefeld in the final match of the season.
2002: Helped Hannover achieve promotion to the German Bundesliga.
2001-02: Spent season on loan with Hannover 96 in the German Second Division where he scored seven goals in 19 games in just over 1,000 minutes played.
2001: Was an unused substitute for Borussia Dortmund in Champions League match on October 16 against Boavista.
2001: Scored 12 goals for Borussia Dortmund's amateurs in German Fourth Division.
2000: Signed a four-and-a-half year contract with Borussia Dortmund of the German Bundesliga in December.
Youth and College: Was named the West Coast Conference Co-Player of the Year in 2000. Led the nation in scoring with 23 goals and seven assists for 53 points. Named Freshman of the Year by Soccer America in 1999. Was named All-America and was the Colorado Player of the Year as a senior in high school. Was a Parade Magazine All-American. Topped 100 points in just 20 games as a senior.