Position: Defender
Date of Birth: 10/08/1986
Pro Team: Monterrey
Height: 5' 9"
Weight: 160 lbs
Caps: 18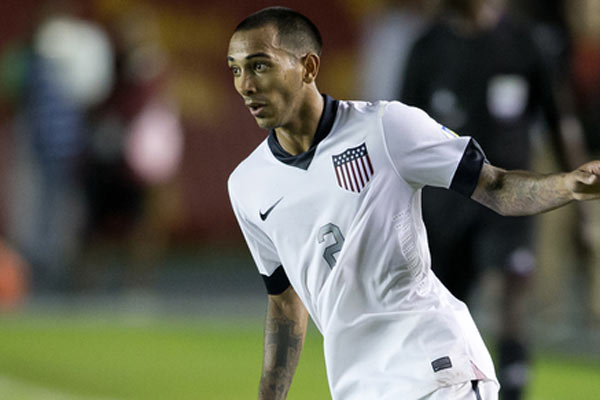 Edgar Castillo grew up in New Mexico and first gained notice in 2005 when he played for his local club at the Dallas Cup. He began his pro career in Mexico, where his parents were born, with Santos Laguna. After winning the Mexican league title in 2008, Castillo moved to Club America in January 2009. During the offseason, Castillo was loaned out to Tigres. He was eventually loaned to San Luis in 2010 and then Puebla a year later. Castillo announced that he would join Atlas for the 2014 Apertura season. Castillo joined Monterrey in 2015.
USMNT Highlights
2016: Started the World Cup qualifiers against Guatemala on Mar 25 and 29.
2014: Started against Ukraine on Mar 5.
2013: Subbed on in the second-half against Germany on Jun 2nd, against Jamaica on Jun 7th, and against Honduras on Jun 18. Started against Guatemala on Jul 5 and subbed on in the second-half against Bosnia and Herzegovina on Aug 14th. Subbed on in the second-half against Jamaica on Oct 11, setting up Jozy Altidore's goal. Started against Panama on Oct 15.
2012: Called into the roster for the May and June friendlies and World Cup Qualifiers. Played against Brazil on May 31st and Canada on June 3rd. Started against Mexico on Aug 15th.
2011: Played in Jurgen Klinsmann's first game as US coach, starting against Mexico in August 2011.
2009: Under a change in FIFA regulations, Castillo became eligible to play for the United States after earning three caps for Mexico.
Professional Highlights
2016: Stayed with Monterrey for the Clausura, making the final.
2015: Missed the Clausura playoffs with Tijuana and went on loan to Monterrey for the 2015 Apertura.
2014: Made the Clausura playoffs with Tijuana. Switched to Atlas for the Apertura season.
2013: Moved permanently to Tijuana where he was part of the squad that made it to the Copa Libertadores quarterfinals.
2012: Loaned to Tijuana for the Apertura where he became a regular with the club winning the title.
2011: Loaned out to Mexican club Puebla for the Clausura season, returning to Club America for the Apertura.  On the books of Club America from 2009-2011, Castillo played 20 times for America, including five in the 2011 Apertura.  Signed with Tijuana for the 2012 Clausura.  
2010: Placed on loan to Mexican club San Luis.
2009: Transferred to Club America in January, 2009, then loaned to Tigres during the offseason. Scored his first goal for Tigres against Santos Laguna in August, 2009.
2008: Won the Mexican Clausura title with Santos Laguna.
2007: Made debut for Mexico in a friendly against Colombia in August, 2007.
2006: Began his professional career with Santos Laguna.