Position: Defender
Date of Birth: 02/12/1977
College Experience: UCLA
Height: 6' 2"
Caps: 28
Goals: 1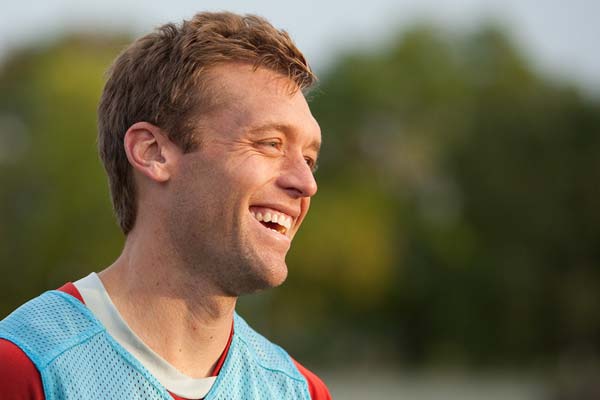 Jimmy Conrad started his career in the A-League with the San Diego Flash. Worked his way up to be a crucial part of San Jose's defense in 2000 and became a mainstay with Kansas City. Conrad rose to become one of the most widely-respected players in the league. He was a surprise selection to Bruce Arena's 23-man USMT roster for the 2006 World Cup, yet he proved his mettle by helping the U.S. tie the eventual World Cup champions, Italy, as a substitute, and was named Man of the Match for his efforts in the back in the 2-1 loss to Ghana. Renowned for his witty and intelligent interviews, Conrad used that experience with the media to take the next step in his post-playing career. Retiring from professional soccer on August 18th, 2011, Conrad now hosts a popular soccer channel on YouTube.
USMNT Experience
2010: Played in the January friendly against Honduras.
2009: Captained the US in the Gold Cup quarterfinal against Panama, but was injured during the first-half and had no more appearances in the tournament. Came on as a second-half sub against Denmark on Nov 18th.
2008: Called into January training camp. Played first half against Sweden in 2-0 win at HDC.
2007: Wore the captain's armband in the US team's 3-1 victory over Denmark on January 20. Scored direct from a corner in exhibition win over Mexico February 7. Was left off the Gold Cup roster, but rejoined the squad to make two starts at the Copa America.
2006: Made nine appearances for the US, including the Italy and Ghana matches in the 2006 World Cup.
2005: Called in to his first National Team camp in January 2005 in preparation for the United States' World Cup Qualifier vs. Trinidad & Tobago. Earned first cap on July 7 against Cuba in Gold Cup action. Played in the September 7 World Cup Qualifying tie with Costa Rica.
Professional Experience
2011: Retired on August 18th after being unable to safely resume his playing career due to concussions.
2010: A regular starter and the veteran leader of the Kansas City Wizards. Joined Chivas USA through the re-entry draft process in December.
2009: Regular for Kansas City, scoring a goal and an assist in 24 games.
2007: Made 28 starts overall for the Wizards as he anchored them to the Western Conference final in the playoffs. 2006 – Was once again a finalist for MLS Defender of the Year, despite only playing in 15 games due to playing in the World Cup and a broken jaw suffered in July.
2006: Played in 14 games due to World Cup duty, but still made MLS Best XI and the All-Star team.
2005: 25 starts in a season where he won MLS Defender of the Year and was named an All-Star and MLS Best XI.
2004: Named to MLS "Best XI" and was one of three finalists for MLS Defender of the Year. Started and played in 29 of 30 games for the Wizards in 2004 and was named to the All-Star team.
2002: Appeared in 25 games for the defending MLS Cup Champion San Jose Earthquakes, starting all 25 contests.
2001: Suffered a broken bone in his foot during the preseason and was forced to sit out the first 6 games of the season, but came back from the injury to help guide the 'Quakes to the 2001 MLS Cup Championship.
2000: The only San Jose defender to start in each of the team's club-record nine shutouts. MLS and the Galaxy allowed him to delay a yellow-card suspension for the 5/27 game at the Rose Bowl so that he could play in front of his stepfather, who was dying of cancer, and Conrad instead served the suspension at LA on 8/30. Spent off-season on loan to Lech Poznan in Poland.
1999: Played in 17 games, scoring his first MLS goal against the Wizards on Sept. 9th.&
Youth and college: Was part of 1997 NCAA championship team at UCLA, where he played for two seasons after transferring from San Diego State. Won the '97 U-20 club championship with the San Dieguito Surf. Played for the Santa Anita Stallions youth soccer club, Temple City (Calif.) High School and in Mountain View Youth Soccer League