Position: Defender
Date of Birth: 12/11/1987
Pro Team: Free agent
Height: 6' 0"
Caps: 57
Goals: 2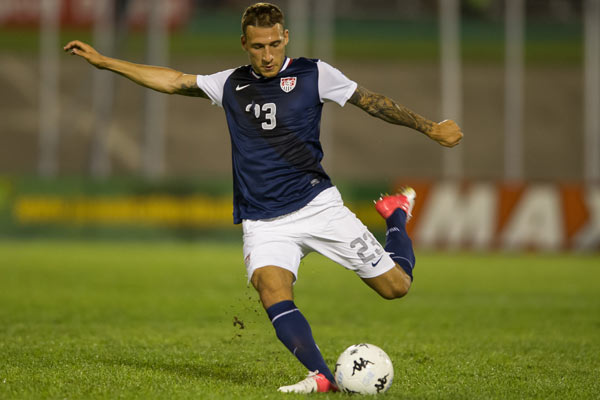 Fabian Johnson is one of the discoveries of the Jurgen Klinsmann era in charge of the USMNT. Eligible to play for the United States as well as his native Germany, Johnson accepted a callup in 2011 and went through the process of changing his national registration to the USA.  On the club side, Johnson has proven himself a crucual part of Hoffenheim's lineup in Germany's Bundesliga. Starting his career with 1860 Munich, Johnson has also played for Wolfsburg. He played at Under-19, U-20, and U-21 levels for Germany, and was part of their UEFA U-19 championship in 2009. Joined Gladbach for the 2014-15 season, leaving the club at the end of 2019-20.
Fabian Johnson USMNT Experience
2017: Started in the friendly against Venezuela on Jun 3. Started the World Cup qualifier against Trinidad & Tobago on Jun 8. In the starting lineup for the Sep 1 qualifier against Costa Rica.
2016: Started against Ecuador on May 25 and against Bolivia on May 28. Started in the Copa Centenario opener against Colombia on Jun 4  and against Costa Rica on Jun 7. Started against Paraguay on Jun 11. Started against Ecuador in the Copa Centenario quarterfinals on Jun 16 and against Argentina in the semifinals on Jun 21. Started the World Cup qualifier against St Vincent and the Grenadines on Sep 2 and Trinidad & Tobago on Sep 6. Started against Cuba on Oct 7. Started against Mexico on Nov 11 and against Costa Rica on Nov 15.
2015: Started against Denmark on Mar 25 and the Netherlands on Jun 5. Started against Germany on Jun 10 and Guatemala on Jul 3. Started against Honduras to open Group A play in the 2015 Gold Cup on Jul 7. Subbed on against Haiti on Jul 10. Started against Panama on July 13. Started the Gold Cup quarterfinal against Cuba on Jul 18. Started the Gold Cup semifinal against Jamaica on Jul 22 and against Panama in the 3rd-place game on Jul 25. Started the Confederations Cup playoff against Mexico on Oct 10. Started the World Cup qualifier against St Vincent and the Grenadines on Nov 13 and scored. Started against Trinidad & Tobago on Nov 18.
2014: Started against Ukraine on Mar 5. Named to the final World Cup roster. Started against Azerbaijan on May 28th. Started against Turkey on June 1st, scoring his first goal for the USMNT. Started against Nigeria on June 8th. Started against Ghana in the World Cup Group G opener on June 16th. Started against Portugal in the World Cup on June 22nd and against Germany on June 26th. Started against Belgium in the Round of 16 on July 1st. Started against the Czech Republic on Sep 3 and against Colombia on Nov 14. Started against Ireland on Nov 18.
2013: Started against Honduras on Feb 6th and Germany on Jun 2nd. Started against Jamaica in the Jun 7 World Cup Qualifier, against Panama on Jun 11, and Honduras on Jun 18. Started against Bosnia and Herzegovina on Aug 14th. Started against Costa Rica on Sep 6 and Mexico on Sep 10.
2012: Played in his first World Cup Qualifier on June 12th against Guatemala. Started against Jamaica on Sept 7th and 11th.
2011: Originally hoping to represent the United States in September, his national team switch was delayed until November.  Johnson made his debut for the USA against France on Nov 11th.  He started against Slovenia four days later.
Fabian Johnson Professional Experience
2019-20: In his last season with Gladbach, finished 4th.
2018-19: Finished 5th with Gladbach.
2017-18: Another 9th-place finish with Gladbach.
2016-17: Finished 9th with Gladbach.
2015-16: 4th-place with Gladbah.
2014:15: Finished 3rd in the Bundesliga with Gladbach.
2013-14: 9th-place finish with Hoffenheim. Announced in February that he would join Borussia Moenchengladbach for the 2014-15 Bundesliga season.
2012-13: 16th-place finish with Hoffenheim in the Bundesliga. Hoffenheim stayed up by winning the relegation playoff.
2011-12: Played in 29 games for Hoffenheim, scoring twice.   
2010-11: Finished 15th with Wolfsburg, transferred to Hoffenheim.
2009-10: Transferred to Wolfsburg in the Bundesliga. 
2008-09: Finished 12th in the 2.Bundesliga with 1860. 
2007-08: Made his debut for 1860 Munich's senior squad, finishing 8th in the 2.Bundesliga.
2005-07: Played 43 times for 1860 Munich's reserves.