Position: Forward
Date of Birth: 12/29/1972
College Experience: Duke
Height: 5' 8"
Caps: 14
Goals: 1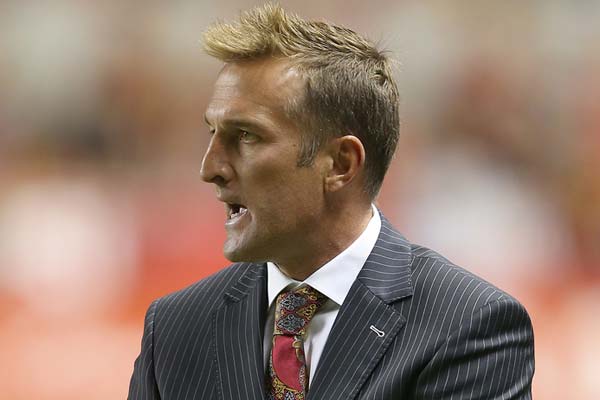 Jason Kreis established himself as one of the best players in Major League Soccer, playing 14 times for his country. He retired as a player at Real Salt Lake just four games into the 2007 season, in order to take over the coaching reins from John Ellinger.
Kreis was known for the thunderous power behind his free kicks as well as for his ability to create chances for his teammates. These skills were on full display in 1999, when he was named the league MVP and became the first player in the history of MLS to record 15 goals and 15 assists in a single season.
Until the 2007 season, Kreis lead MLS all-time in goals (108) and game-winning goals (30), and ranked among the MLS career leaders in games (301), starts (278), minutes (24,884), shots (807) and shots on goal (366).
Kreis spent the first nine years of his MLS career with the Dallas Burn before playing two seasons in Real Salt Lake. On November 17, 2006, he was selected by Toronto FC in the MLS Expansion Draft. Hours later, he was traded back to RSL for a partial allocation. He became coach of Salt Lake in 2007, winning the MLS Cup in 2009. Following an MLS Cup appearance in 2013, Kreis left RSL for the NYCFC expansion team serving as coach for the 2015 season. In 2016, Kreis became the coach of Orlando City. He left the club in June, 2018, taking over the USMNT U-23 program in March, 2019. Kreis coached Fort Lauderdale in 2020. In 2021, he joined Inter Miami as an assistant coach.
USMNT Experience
1999: Scored his first international goal in a 2-2 draw against Jamaica on September 8, 1999.
1997: Played in all three games for the U.S. in the Nike Cup.
1996: Awarded his first international cap on August 30, 1996, starting in a 3-1 victory over El Salvador.
Professional Experience
2007: Named head coach of Real Salt Lake, and retired as a player to take that job. Finished career with 112 goals and 76 assists in all regular season and playoff games.
2006: Was selected by Toronto FC in the 2006 Expansion Draft in November after scoring eight goals to go with five assists for Real Salt Lake.  Hours after the draft, he was traded back to RSL.
2005: Traded to expansion team Real Salt Lake for start of 2005. In 24 games as team captain he scored nine goals and had four assists
2004: Five goals and two assists for Dallas in 25 games (19 starts).
2003: Seven goals and two assists in 18 starts for Dallas.
2002: Led Dallas with 30 points on 14 goals and 4 assists overall as they reached the playoffs. Was a reserve on the MLS All-Star team that defeated the US National Team, 3-2.
2001: Seven goals and 11 assists in 28 games overall (27 starts) as Dallas made playoffs.
2000 – Eleven goals and 13 assists in 31 starts overall.
1999 – Named league MVP in a season that saw him lead MLS scoring with 18 goals and 15 assists. Added another goal in the playoffs.
1998 – Ten goals and eight assists in 32 starts overall.1997 – Eight goals and seven assists in 36 games overall (22 starts).
1996 – Started and scored a goal in the first ever MLS All-Star game. Scored the first goal in the history of the Dallas Burn on April 18, 1996, against Kansas City.  Scored 14 goals and registered five assists in 33 games overall (29 starts)
Youth and college: A three-time All-American at Duke University, where  he finished his career with 39 goals and 38 assists.  Kreis earned All-State honors in high school as a freshman  in Nebraska and as a junior and a senior in Louisiana.