Position: Defender
Date of Birth: 08/28/1970
College Experience: UCLA
Height: 6' 0"
Caps: 43
Goals: 1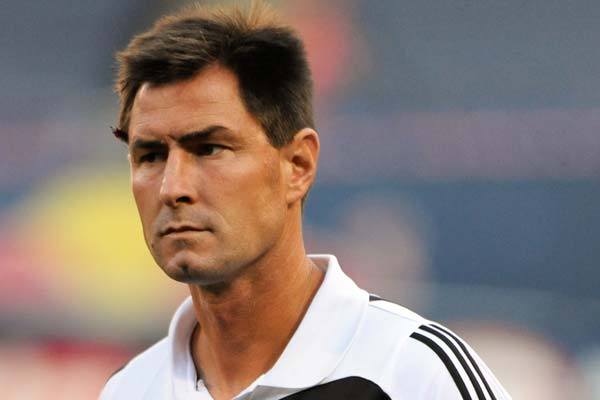 Playing in 44 games for the USMNT, Mike Lapper scored one goal and was a member of the 1994 World Cup team.  After retiring as a player with the Columbus Crew, he joined the club's front office as the Director of Soccer Business Development, which focuses on the growth of the Crew's camps, clinics and soccer academies. He later served as an assistant coach before leaving to join the coaching staff at West Virginia University. 
Before joining the Crew in 1997, Lapper played professionally for Southend in the English first division (1995-97) and with VfL Wolfsburg of the German second division (1994-95).  Lapper played collegiate soccer at UCLA where he helped the Bruins win the national championship in 1990.
USMNT Experience
1995: Helped the U.S. win U.S. Cup '95 and advance to semi-finals of 1995 Copa America.
1994: Was a member of the 1994 World Cup team, which advanced to the Round of 16.
1994: Scored his only goal with the national team on Apr. 20 against Moldova in a 3-0 USA win.
1993: Led the U.S. defense in minutes played with 2,205 and was second on the team in starts with 25.
1992: Started for the U.S. Olympic team and played every minute of the summer games in Barcelona.
1991: Debuted on the USMNT on Apr. 7 against South Korea.
Professional Experience
2002: Retired from Columbus on July 11.
2001: Saw action in 24 matches, starting 21 of them.
2001: Scored a goal and assisted on the game-winner against Dallas on June 23 in a 2-1 win, tying his career-high for points in a game.
2000: Appeared in 24 games, starting 20.
2000: Served as a team co-captain.
1999: Played in 31 games, starting 30 of them, logging 2,700 minutes second highest on the team.
1999: Tallied a career high six points with a goal and four assists.
1998: Started seven matches before tearing his left ACL May 9 against Miami causing him to miss the rest of the season.
1997: Played in 20 games, all starts.
1997: Scored his first MLS goal on Aug. 4 against Los Angeles.
1997: Made his MLS debut on June 7 against Tampa Bay.
1997: Allocated to Columbus in June.
1994: Scored a goal with his first shot for VfL Wolfsburg in a 3-0 win over Fortuna Koln on Sept. 25.
Youth and college:
Spent four seasons at UCLA from 1988-1991.  Lapper was a first-team All-America pick in 1991 and a two-time first-team All-Far West pick (1989 and 1991).  He helped the Bruins win the 1990 National Championship.