Position: Midfielder
Date of Birth: 01/23/1963
Height: 5' 9"
Weight: 165 lbs
Caps: 28
Goals: 4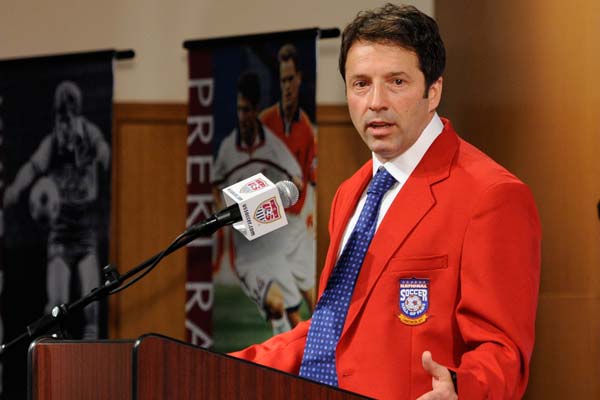 Preki Radosavljevic dazzled crowds with his magical left foot and incredible free kicks through the first 10 seasons of Major League Soccer. He scored 79 goals, registered 112 assists and was named MLS MVP two times (1997 and 2003). He retired after the 2005 season as a member of the Kansas City Wizards during his second stint with the team after also playing for the Miami Fusion.
After becoming a US citizen in 1996, Preki appeared 28 times under both Steve Sampson and Bruce Arena for the US National Team and was a member of the US team that played in the 1998 World Cup in France. As an international, he will always be remembered for scoring the goal that beat Brazil 1-0 on February 10, 1998, which came off a free kick with his lethal left foot.
Upon retiring, Preki joined Bob Bradley's staff as an assistant coach with Chivas USA for the 2006 season. When Bradley left to take over as the head coach of the US National Team, Preki was named as the head coach for Chivas USA on January 17, 2007.  In 2010, he took over as coach of Toronto FC, departing with director of soccer Mo Johnston in September.  That same year he was elected to the National Soccer Hall of Fame. In July, 2013 Preki became the first coach of Sacramento's expansion USL-Pro team. He later coached Saint Louis FC.
USMNT Experience
2001: Returned to the National Team for the September World Cup qualifiers against Honduras and Costa Rica.
1998: Netted the winners against Costa Rica and Brazil in the Gold Cup and played in seven games leading up to France '98.  Played in two group stage matches against Iran and Yugoslavia in the '98 World Cup.
1997: Played in the U.S. Cup and in four World Cup qualifiers, scoring in the win against El Salvador.
1996: Became a U.S. citizen on October 25th and won his first international camp days later against Guatemala on November 3rd.
Professional Experience
2005: Scored two goals to go with two assists in 16 appearances for the Kansas City Wizards during his final year in MLS.
2004: Suffered a fractured fibula and dislocated left ankle during a preseason exhibition match (2/21) and missed four months of the season. Made his 2004 season debut @ CLB (8/18) starting and playing the first half. Came on at halftime @ CHI (9/1) and played the final 45 minutes. Underwent arthroscopic surgery on his left ankle on 9/10 to repair damage that had not completely healed from his offseason ankle surgery. The procedure ended his season.
2003: Defying age, Preki played and started 30 games for the Wizards, logging nearly 2,700 minutes.  His season total of 12 goals and 17 assists, plus his still-devilish left foot, won him the MLS Most Valuable Player award, making him the oldest-ever winner of the award at age 40.
2002: Finished the 2002 season as the team's leading scorer with 24 points (7g, 10a).
2002: Became MLS' all-time leading scorer with 223 points (65g, 93a) on March 23.
2001: Part of the turnaround that saw the Fusion go from worst to first, winning his second Supporters Shield for the best regular season record in MLS.  Had eight goals and 14 assists in 24 games, finishing sixth among the league's top scorers.
2000: Played in all but one game for the Supporters Shield and MLS Cup winning Wizards.  Traded in the offseason to the Fusion.
1999: Named MVP of the All-Star game and led the Wizards in points for the fourth consecutive season.
1998: Had three goals and two assists against San Jose on September 9th, tying a league record with eight points in a single game.  Selected for the All-Star team.
1997: Named to the MLS All-Star team and Best Eleven for the second consecutive year as well as winning the scoring title with 41 points. Won the league MVP award.
1996: One of the original Kansas City Wizards, named to the All-Star team and the Best Eleven during the league's first year.
1994-95: Returned to the U.S. with the indoor San Jose Grizzlies of the CISL and was named league MVP in 1995.
1992-94: Spent two seasons with Everton netting four goals before moving to Portsmouth.
1985-92: Played indoor soccer in the United States with the Tacoma Stars and the St. Louis Storm.  A perennial all-star, he is considered among the best indoor players of all time.
1983-85: Played two seasons with Red Star Belgrade.