Position: Midfielder
Date of Birth: 06/14/1974
College Experience: St. Louis University
Height: 5' 9"
Weight: 160 lbs
Caps: 36
Goals: 4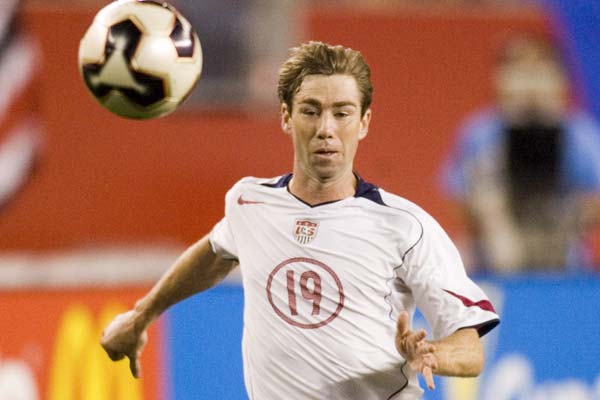 One of the best midfielders in the history of Major League Soccer, Steve Ralston finally broke through on the international stage in 2005 when he tied Landon Donovan for the most appearances for the USMNT with 15.
Known for his quality services from the right side of the midfield, Ralston always gave maximum effort for 90 minutes.  His dedication to the game was demonstrated when he worked his way up from the junior college ranks with a move to Florida International University and an eventual local draft selection by the Tampa Bay Mutiny. In the first season of Major League Soccer back in 1996, Ralston was named the first MLS Rookie of the Year.
Though his efforts at the club level were not always reward on the international stage, Bruce Arena relied on him heavily throughout World Cup qualifying. A lingering hamstring injury limited his play through the winter and spring of 2006, forcing Arena to leave him off his 23-man roster.
Overall, Ralston has been named to the MLS Best XI three different times and leads all players in minutes played in MLS from 1996 to the present. Ralston retired in 2010 to become an assistant coach with the Houston Dynamo. He took the same job with the San Jose Earthquakes in 2015. In September 2018, Ralston became interim coach of the Earthquakes.
USMNT Experience
2006: Played in only one match with the side due to injuries … Was named as an alternate to Bruce Arena's 23-man US roster for the 2006 World Cup.
2005: Tied for the team-lead with Landon Donovan in appearances with 15 for the US National Team … Scored two goals and registered three assists.
2004: Started and played three games. On Nov. 17, got first World Cup Qualifying start of career.
2003: Scored his first goal for the USMNT in 4-0 win over Canada.
2000: Played in the U.S. Cup against South Africa and Ireland.
1999: Played one game against Morocco.
1997: Debuted as a starter on January 17th against Peru after appearing for the U-23's.
Professional Experience
2010: After playing briefly with a lower division club, Ralston returned to the Revs.  He announced his retirement soon afterward, becoming an assistant coach with the Houston Dynamo.
2009: Played in 20 games, but once again had his season ended early though injury.  Announced in January that he wouldn't be re-signing with the Revolution.
2008: Played in 21 games before breaking his leg late in the season.
2007: Played in 26 games and was the assist leader for the Revs and the League with 14. Scored in MLS Cup, also setting the record for most games played by a US professional.
2006: Scored six goals to go along with five assists for the Revolution … Was once again a steady force as Steve Nicol's right-sided midfielder to help lead the team to their second consecutive MLS Cup title game.
2005: Played in 21 games for the Revolution, scoring one goal and providing six assists.
2004: Ralston's versatility proved to be a huge asset to New England as Ralston filled-in at right fullback, left midfield and central midfield due to the Revs' injury problems. The Revolution's team MVP, tied for third on the team in goals (7) and tied for second on the team in assists (8).  Only member of the team to play every single minute of all 2004 games.
2003: Played 26 games on the left side of coach Steve Nicol's midfield, scoring four goals and tallying seven assists.
2002: Led MLS in assists with 19 and took the Revolution to the final of the 2002 MLS Cup.
2001: A bright spot for a woeful Mutiny team.  The only remaining member of the original 1996 Mutiny, Ralston had 20 points in 25 games.
2000: Named to the MLS Best Eleven and won the Fair Play Award for the second consecutive year.  Voted a starter on the All-Star team.  Got his 100th MLS point against Columbus on June 28th as well as becoming the first MLS player to log 12,000 minutes.
1999: Named Team MVP, MLS Best Eleven, and MLS Fair Play Award winner after leading the league with 18 assists.  Became Tampa Bay's all-time leading scorer as well as the first MLS player to play 10,000 minutes.
1998: Played in 31 games for an underachieving Mutiny team.
1997: Started 29 games and named to the All-Star team.
1996: Drafted by the Tampa Bay Mutiny and started 31 games his first season.  Named MLS Rookie of the Year.
College: Starred for the Golden Panthers for three seasons (1993-95) after transferring from Forest Park Community College in St. Louis after his freshman season … a two-time All-American at FIU … led the nation in scoring as a junior with 56 points (19 goals and 18 assists), the second-highest total in school history … set the FIU single-season assists record that season … ranks first at FIU in career assists (33) and fourth in career scoring (113 points: 40 goals, 33 assists) and consecutive games with an assist (six), and shares the record for hat tricks (3) … in 1994, Ralston led the Golden Panthers to their second-ever NCAA appearance and final national rankings of No. 14 in the coaches poll and No. 15 by Soccer America.