Position: Goalkeeper
Date of Birth: 10/10/1973
College Experience: Loyola MD
Height: 6' 3"
Caps: 8
Shutouts: 2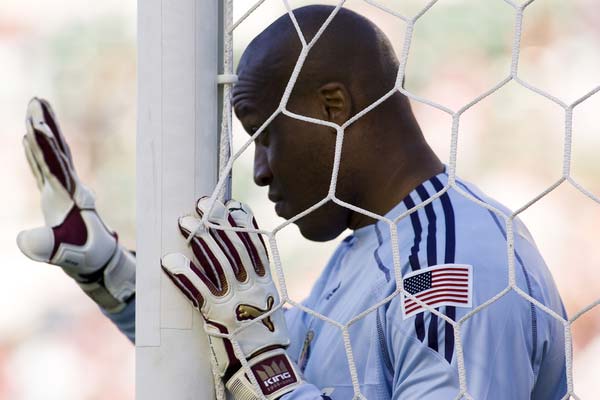 Zach Thornton's impressive size and stature allowed him to command the penalty box like few other US goalkeepers of his generation. His success in MLS made him a regular in USMNT training camps.  He is considered by many to be one of the top keepers in MLS history.
While with the Chicago Fire, Thornton won an MLS Cup and two U.S. Open Cups and was named Goalkeeper of the Year in 1998. After a stint with Benfica, he joined Colorado before eventually landing with Chivas USA.  There he revived his career once again reminding people of his skill in goal. Thornton retired after the 2011 season and is currently the goalkeeping coach at Houston.
USMNT Experience
2004: Called into camp in Chicago for the July 11th Poland game.
2001: Played in a 1-0 loss to South Korea in December of  2001.
2001: Shutout Jamaica in a scoreless draw in the US team's  last qualifying match for the 2002 World Cup.  Played in a 1-0 loss to South Korea in December.
1999: Went 2-1-1 with the full USMNT in 1999, posting victories over Chile (February 21) and Guatemala (March 11), dropping a 2-1 decision to Mexico (March 13) and drawing 2-2 with Jamaica (September 8).
1998; Manned the posts for the full 90 minutes November 6 against Australia in a 1-1 draw in  San Jose.
1996: Went 1-2-4 in seven pre-Olympic starts.
1995: Started all three games for the US at the Pan Am Games in Argentina.
1995: Started two of five games at the World University Games in  Japan.
1994: Played 25 minutes in a 3-0 win over Jamaica for his first cap with the senior team.
Professional Experience
2011: Used as a back-up, he played in two games that both resulted in wins for Chivas USA. Retired following the season.
2010: Had six shutouts in a tough season for Chivas USA where they failed to make the playoffs.
2009: Made the MLS All-Star team and posted a 0.87 goals against average over 27 games. Finished the season as MLS Goalkeeper of the Year, team MVP, Comeback Player of the Year, and MLS Best XI.
2008: Moved to New York but had no appearances prior to an August trade to Chivas USA.  Played in seven games but was injured in September. Appeared in both playoff games.
2007: Made just one appearance for Colorado. Waived at season's end.
2006: Regular with Chicago., making 24 starts and posting a GAA of 1.25. Traded in the offseason to the Colorado Rapids.
2005: Went 12-10-2 with a 1.64 GAA and  six shutouts in 27 games (26 starts) in his first full season back with the  Fire.
2004: Released from Benfica after 2003-04 season, returned to MLS and former club, Chicago Fire. Did not play any MLS games in 2004, but re-took the starting role for 2005.
2004: Signed six-month contract with Portuguese club  Benfica. Played in reserve matches.
2003: Started 34 regular and post-season games for the Fire leading them to the Supporters Shield, US Open Cup, and 2003 MLS Cup final.  Nominated for MLS Goalkeeper of the Year for with GAA of 1.22 and eight shutouts.
2002: Went 10-13-4 in 27 regular season games with a 1.23 GAA.
2001: Played every match (27) and led the league with a 1.08 GAA and nine shutouts (tied with Matt Jordan), en route to the semi-finals of the playoffs.
2000: Finished third among MLS goalkeepers in goals-against average (1.28) and a record of 15-4-6 with five shutouts, losing 1-0 in the MLS Cup final to Kansas City.
1999: Started 33  matches for Chicago overall, going 17-12 with a 1.09 GAA and seven  shutouts in the regular season.
1998: Named the 1998 MLS Goalkeeper of the Year and made MLS Best XI after finishing the season with a 16-8 record and eight shutoutson the way to Chicago's first MLS Cup Championship.
1998: Drafted by  the Chicago Fire in the sixth round of the 1997 MLS expansion draft.
1997:  Played in three matches as back up to Tony Meola with the NY/NJ  MetroStars.
1996: Drafted in the seventh round of the 1996 College Draft by  the NY/NJ MetroStars. Played three games.
College: Thornton earned third-team All-American honors in lacrosse at Loyola College in Maryland, with 23 goals and six assists in 1993.