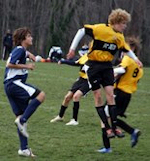 The United States National Soccer Team Players Association is proud to be associated with the B+ Foundation, created by the family of Andrew McDonough.  Andrew was a soccer player from Delaware who turned tragedy into inspiration through his battle with Leukemia, the life he led on and off the field, and the example he continues to set for numerous people who impacted by his story.
How does a 14-year-old elite soccer player in seemingly perfect health go from playing four soccer games on Saturday to cardiac arrest on Monday?
That's what thousands of people were asking each other when they heard the news about Andrew McDonough of Wilmington, Delaware.   Known around town and on the soccer field for his mass of curly blond hair and magical personality, Andrew was leading a charmed life.  The week before he was diagnosed, this straight-A student went skiing on Monday, had intense personal training sessions on Tuesday and Thursday, went to his high school dance on Friday, and played four soccer games to help lead his FC Delco team to the Pennsylvania Indoor State Cup championship on Saturday.  
Unbeknownst to everyone, Andrew did all of this while his body was on the verge of collapse.  He made a game-saving play with just seconds left on the clock to seal the state championship for FC Delco.  When Andrew and his Dad met at midfield after the game, his Dad said, "I'm so proud of you.  You've got the heart of a champion!"  Little did they know how right he was.
After complaining of pain in his side, Andrew was brought to the hospital on Monday January 29, 2007, expecting to be told he had appendicitis.  A subsequent diagnosis of leukemia was met with acceptance and Andrew's usual determination to win.  His body, however, had different plans, and his organs went into septic shock causing cardiac arrest just hours later.  That's when Andrew's "heart of a champion" kicked in.  Even as the doctors told his parents that Andrew wouldn't live through the night, Andrew's high level of physical fitness and cardiac strength kept him with us that night – and for 166 more nights. 
"The sickest child" at A.I.duPont Hospital for Children bravely battled leukemia, multiple life-threatening infections, nearly 50 surgeries, strokes, hemorrhages, and airlift transport to Philadelphia for brain surgery. On Saturday, July 14th, 2007, Andrew accomplished his mission on Earth at the age of 14. But not before changing the lives of thousands of people who followed his story. Over the 167 days of his hospital stay, word spread across the country and around the world about this handsome scholar-athlete fighting for his life with a very positive attitude — a B+ (Be Positive) attitude — his blood type.  Andrew's courageous battle was chronicled in newspapers, television and on his website where he and his family have received visits from over 1.6 million "friends" who have left messages of prayer, hope, consolation, and stories about their friend Andrew.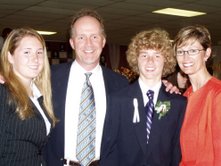 Tens of thousands of  "B+/Pray for Andrew" t-shirts were being worn across the country and  "B+" bumper stickers appeared on cars as a show of support for Andrew.  Checking Andrew's CaringBridge website the first thing in the morning and the last thing at night became a ritual for thousands and thousands of "friends."  How was Andrew doing?  How's the family?  What's the latest news?  Everyone wondered.  Everyone cared about Andrew.
But Andrew's story isn't just about how brave he was in the hospital.  In just 14 short years, Andrew changed the world in so many positive ways.  Andrew's life and the way he lived it have somehow made an impact on hundreds of thousands of people.  Teenage boys are telling their friends and their parents that they love them.  Teens are asking their parents for more family time.  Kids are asking "What would Andrew do?" in tough situations.  Sports teams are chanting "Play like Andrew."  And people are openly talking about their faith.  Because they're emulating Andrew.
 
His family has started the Andrew McDonough B+ Foundation to continue to spread the B+ message:  It's not a grade.  It's an attitude.  The Foundation raises money for childhood cancer research and provides financial assistance to families of critically ill children.  Andrew's Dad speaks to schools, sports teams, and various organizations.
Andrew's love of soccer and his B+ attitude have spread among the youth soccer community.  Many teams wear "B+/Live Like Andrew" t-shirts for warm-ups, at local tournaments and all the way up to the USYSA National Championship.  The elite Jefferson Cup in Richmond proudly awards the Andrew McDonough B+ Award to a player on the Under-14 boys and girls championship teams who best exemplifies Andrew's spirit.  Major League Soccer has partnered with The Andrew McDonough B+ Foundation and youth teams are raising money through the "B+  Score for a Cure" program.
The "beautiful game" of soccer was such a big part of Andrew's life — from his first team at age 4 coached by his Mom, to his travel team years for Concord (DE) Clash and FC Delco (PA) Roadkill, and representing his state (DE) in the Olympic Development Program. 
Andrew said that he would one day represent his country and play professional soccer.  While he will never run on the field again, he is watching over all of the soccer fields and all of the players, young and old, who passionately play the sport.  We know that Andrew is honored that the US National Team Soccer Team Players Association recognizes him as one of their own.  Andrew and his heart of a champion live on!