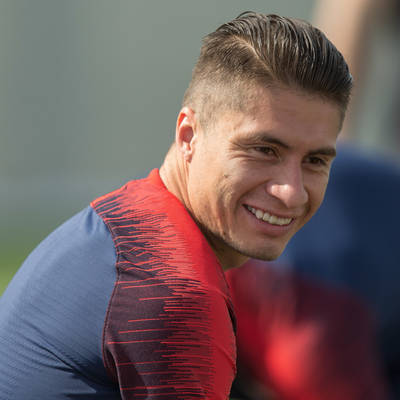 Defender
Bio of USMNT player Jorge Villafana, an MLS Cup winner who is currently a free agent
Caps: 21
Jorge Villafana didn't win his first cap with the USMNT until 2017 when he was already a seasoned professional in MLS and Liga MX. Villafana made his debut for the United States in the January, 2017 camp, a decade after his first appearance in MLS with Chivas USA. A tough and experienced defender, Villafana was a big part of Portland's MLS Cup win in 2015. He left MLS for Liga MX following that championship, signing with Santos Laguna. Villafana rejoined Portland in August, 2018. He moved to the LA Galaxy for the 2021 MLS season.
Youth Soccer: Villafana played his youth soccer in Anaheim, winning Sueno MLS, the soccer talent show where the prize was a tryout. He used that to join Chivas USA's reserves and eventually the senior side.
USMNT Experience
2018
Started the Mar 27 friendly against Paraguay and subbed on against Bolivia on May 28. Started the Jun 2 friendly against Ireland and subbed on against France on Jun 9. Started against England on Nov 15 and subbed on against Italy on the 20.
2017
Got his first cap for the USMNT and quickly added to them in World Cup qualifying and as a member of the Gold Cup squad. Debuted against Serbia on Jan 29. Played in the World Cup qualifier against Honduras on Mar 25. Named to Gold Cup squad. Started the Gold Cup semifinal against Costa Rica on Jul 22 and the final against Jamaica on Jul 26. In the starting lineup for the Sep 1 qualifier against Costa Rica. Started the World Cup qualifier against Panama on Oct 6 and against Trinidad & Tobago on Oct 10. Subbed on against Portugal on Nov 14.
Professional Experience
2022
Missed an LA Galaxy season with injury where the club finished 4th and advanced to the conference semifinals.
2021
Moved to the LA Galaxy, playing in 21 games and finishing 8th in the West.
2020
Played in 19 games and scored a goal for the Timbers, finishing 3rd and exiting the playoffs in the opening round.
2019
Finished 6th in the West with the Timbers, exiting the playoffs in the first round.
2018
Won the Clausura with Santos. Transferred to Portland in August making the playoffs.
2017
5th in the Clausura, making the quarterfinals. Finished 14th in the Apertura with Santos Laguna, missing the playoffs.
2016
Joined Santos Laguna in Liga MX. Finished 7th in the Clausura, making the quarterfinals. Missed the playoffs in the Apertura.
2015
A major part of the turnaround in Portland, finishing 3rd in the West and winning MLS Cup.
2014
Joined the Portland Timbers, finishing 6th and missing the playoffs.
2010
8th in the West with Chivas USA, missing the playoffs.
2009
4th in the West and once again exiting the playoffs in the semifinals.
2008
2nd in the West and another playoff exit in the semifinal round.
2007
Won the West in his first season with Chivas USA, exiting the playoffs in the semifinals.