Position: Midfielder
Date of Birth: Oct. 29, 1987
Pro Team: Tigres
Height: 5'5"
Weight: 135
Caps: 26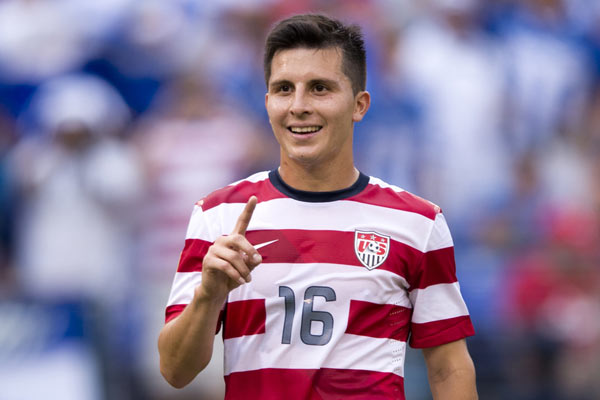 Born in Longview, Texas, Jose Torres was not part of the US youth soccer setup.  Instead, he caught the US coaching regime by surprise after establishing himself in Mexico's topflight with his play at Pachuca. A move to Tigres paid off, winning the 2015 Apertura title.
Bypassing the youth National Teams, Jose was named to the roster for the October 11th World Cup Qualifier against Cuba after choosing the United States over Mexico.  Jose was capped in the 68th minute of that game, making him officially a member of the US National Team. He would be a regular throughout qualifying and start against Slovenia at the World Cup.
USMNT Highlights
2013: Started against Guatemala on Jul 5 and Belize on Jul 7. Subbed on at halftime against Cuba on Jul 13. Started against Costa Rica on Jul 16. Started in the Gold Cup quarterfinal against El Salvador on Jul 21 and the semifinal against Honduras on Jul 24.
2012: Part of the squad for the May and June friendlies and qualifiers. Started against Brazil on May 30th. Started against Mexico on Aug 15th. Started against Jamaica on Sept 11th.
2011: Returned to the National Team for the Aug 10th friendly against Mexico.
2010: Played the first-half against Holland on March 3rd. Played in both Sendoff Series games and was named to the World Cup roster. Started against Slovenia in the 2010 World Cup.
2009: Got his second cap as a substitute in the World Cup Qualifying draw away to El Salvador on March 28th.  Started against Costa Rica on June 3rd.  Came on as a sub in the Qualifying finale against Costa Rica.
2008: Made his National Team debut as a 68th minute substitute during the Oct. 11th World Cup Qualifier against Cuba at RFK Stadium in Washington, DC.
Professional Highlights
2015: Finished 1st in the Clausura but exited in the first round of the playoffs. Won the Apertura title with Tigres after finishing 5th in the regular season.
2014: Finished 14th in the Clausura and 2nd in the Apertura. Lost in the Apertura final.
2013: Played 22 games for Tigres. Finished 1st in the Clausura regular season and 8th in the Apertura.
2012: A regular with Pachuca in the Apertura season, joined Tigres for the 2013 Clausura.
2011: Played in only seven games in the Apertura season after suffering a fractured foot.
2010: Winner of the CONCACAF Champions League with Pachuca.
2009: Regular in the Pachuca side that made it to the Clausura finals.
2008: Jose had seven starts during the 2008 Clausura, and got his frist goal early in the Apertura season.
2007: Gets his first league game for Pachuca during the 2007 Apertura.  He finishes the season with two appearances and an assist.
2006: Joined Pachuca in Mexico's first division.