Position: Midfielder
Date of Birth: 05/03/1977
College Experience: University of Virginia
Height: 5' 8"
Caps: 37
Goals: 6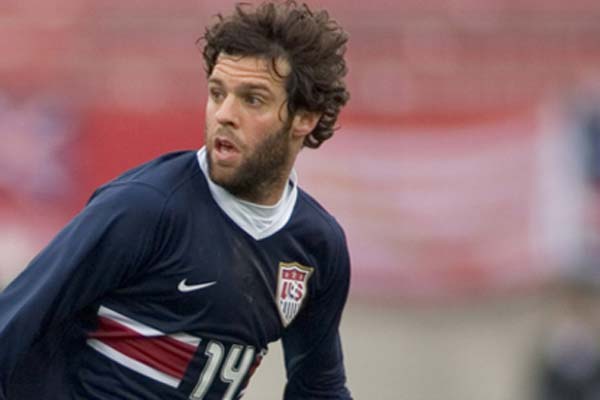 When Ben Olsen first entered Major League Soccer in 1998 with D.C. United, he was a right-sided player. But as his career has progressed he has proven versatile enough to play as a holding midfielder for both club and country.  His athleticism and amazing work rate brought him enormous success at the youth international level, DC United, and for the full USMNT.
Olsen was poised to take his game to the next level after 19 full international appearances and a successful stay in England on loan to Nottingham Forest, before a fractured ankle in March of 2001 put him out of action for the rest of the year. Olsen struggled to put his injury woes behind him, missing several games in 2003 and 2004. Finally, in 2005, when switching to a center midfield position under United head coach Peter Nowak, Olsen started to blossom again, putting him back in the mix for the US National Team. In 2007, new DC coach Tom Soehn pushed Olsen back out wide, with surprisingly successful results, including his first career hat-trick.
The culmination of Olsen's rebirth was being named to Bruce Arena's 23-man roster in 2006 as a center midfielder. In that World Cup, Olsen made one appearance when he replaced an injured Claudio Reyna in the first half against Ghana in the team's third match of group play.
Olsen had an exceptional 2007 season in MLS, but injury problems would recur. After missing most of the 2008 season, he was once again a regular contributor in 2009. He announced his retirement on Nov 24th, 2009 and joined DC United's coaching staff. On Aug 4th, 2010 he was named interim head coach, eventually dropping the interim part of the title. He remained in charge of DC until October, 2020 putting together one of the longest runs of any coach in MLS history.
"Of course, it has meant a lot to me to be part of this organization. It has been a wonderful feeling. It has been like a second family for me. I have been very lucky to play here since college. This is just a great club." on playing for DC United, from 10 Questions With Ben Olsen
USMNT Experience
2007: Named to the Copa America roster. Started in losses to Argentina and Paraguay.
2006: Made eight appearances for the US National Team, including his appearance off the bench in the World Cup against Ghana. Scored two goals to finish in a tie for second on the team for the year.
2005: Played four games in the Gold Cup, including the final, and the November friendly against Scotland.
2003: Played two games, including a start against Argentina on February 8.
2002: Scored in his return from a two-year absence from the National Team in a 2-0 win over El Salvador.
2000: Was part of the squad that won the Nike US Cup. Was a key member of the US team that finished fourth in the 2000 Olympic games.
1999: Named the Chevrolet Male Athlete of the Year for his success with both the national team and with D.C. United.  Scored first international goal in a 2-1 victory over Chile on February 21, 1999.
1998: Made first full international appearance on November 6, against Australia.
1997: Registered three goals and three assists in 20 games for the U-20s.
Professional Experience
2009: Returned to DC and made 20 League appearances.  Retired at the end of the season.
2008: Made one appearance for DC, missing most of the season due to injury.
2007: Continued to be an integral part of the DC United team that won the Supporters' Shield, often taking over as team captain when Jaime Moreno was absent. Playing mostly on the right if midfield, scored seven goals and recorded seven assists in 26 games (23 starts), including his first career hat-trick against New York.
2006: Started 21 of 23 games he appeared in overall, scoring twice and assisting on three times as one of the Supporters' Shield-winning team's holding midfielders.
2005: Started 23 of the 24 games he played in overall, notching two goals and four assists.
2004: Named an MLS All-Star as he started 25 games in the regular season, scoring three goals and adding four assists. Played and started four games in postseason playoffs, adding one assist on United's road to a fourth MLS Cup title.
2003: Played 26 regular season games for United, recording four goals and seven assists.
2002: Returned to DC United's line-up after nearly 18 months away from the field. Played ten games (seven starts), recording a sole assist.
2001: Sidelined by ankle injury.
2000: Began a successful loan spell with Nottingham Forest of the English First Division. Earned MLS Player of the Week honors in April. Played 13 games (one goals, three assists).
1999: Notched seven goals and 11 assists in 34 games for United on the way to the club's third MLS Cup championship. Scored in 2-0 MLS Cup final win over LA.
1998: Played 37 games overall (31 starts) as part of the United team that went to MLS Cup and lost to Chicago. Scored four goals and recorded nine assists. Was in the DC team that won the 1998 CONCACAF Champions Cup. Signed with DC as a member the Project-40 program, and went on to be named the 1998 MLS Rookie of the Year.
College: Olsen started all 69 games of his collegiate career at the University of Virginia, scoring 34 goals in 41 matches.  In high school, he was named the Pennsylvania Player of the Year and the Parade Magazine National Player of the Year as a senior at Middleton High School.