Defender
Biography of USMNT soccer player Jonathan Spector who was part of the 2010 World Cup squad.
Caps: 36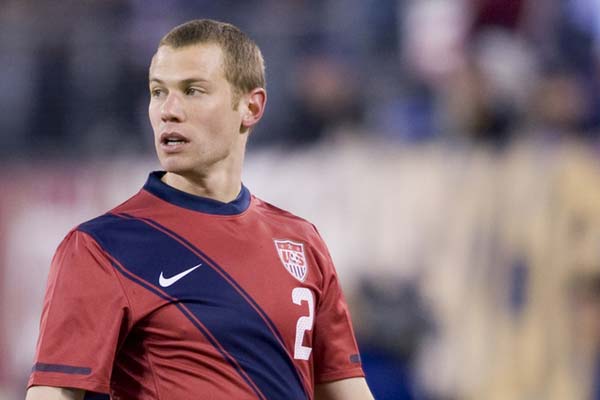 Jonathan Spector is an established talent in English soccer signing for Manchester United after playing for the Chicago Sockers in 2003, becoming a regular at London club West Ham United, and eventually joining Birmingham City.
Spector is a cool and assured defender who can move seamlessly up to midfield as well. A product of the US residency program in Bradenton, FL, he was already a veteran at the highest level at an early age. Spector was named to the USMNT 2010 World Cup roster weeks after helping save West Ham from relegation. He signed with Birmingham City for the 2011-12 Championship season.
Because he holds a German passport, Spector avoided the work permit issues that keep some Americans from playing in Europe. He left England in 2017 to sign with Orlando City in MLS. Spector joined Hibernian in March, 2019. He announced his retirement on Aug 11, 2019.
USMNT Experience
2015
Subbed on against Brazil on Sep 8 and against Costa Rica on Oct 13.
2012
Subbed on in the second-half during the 1-0 win over Italy.
2011
Played in both of the March friendlies, starting against Argentina.
2010
Named to the US World Cup roster. Started against Ecuador in the October 12th friendly and against South Africa on Nov 17th.
2009
Returned to the US National Team in his hometown, starting for the USA against Honduras on June 6th. The regular on the right side in the Confederations Cup, Spector played in both of the September Qualifiers and started against Slovakia and Norway on Nov 14th and 18th.
2007
- Won a total of eight caps, including five starts. Made three starts in the Gold Cup campaign, including the final 2-1 win over Mexico.
2005
- Made his World Cup Qualifying debut against Panama on October 12, picking up his third cap against Scotland in November. Played for the U-20's in the World Youth Championship in Holland.
2004
- Earned first cap with the US Men's National Team in the World Cup Qualifier against Jamaica in Columbus on November 17 when he came in as a 77th minute substitute.
2003
- Regular with the USMNT U-17 team.
Professional Experience
2018-19
Signed with Hibernian in March, 2019 finishing in 5th-place in the Scottish Premier League leaving at the end of the season.
2018
Played in 13 games for Orlando, becoming a free agent at the end of the season.
2017
Finished 10th in the East with Orlando.
2016-17
A regular with Birmingham City for the first half of the Championship season, he signed with Orlando City during the January transfer window.
2015-16
Another 10th-place finish in the Championship with Birmingham City.
2014-15
Part of a Birmingham City squad that finished 10th in the Championship. Spector played in 24 games.2013-14: Injury kept him out of the squad with eight appearances over the first-half of the season. Finished with 22 appearances for City, finishing 21st in the Championship.
2012-13
Played in 29 games for Birmingham.
2011-12
Signed with Birmingham City playing in 31 games.
2010-11
A shift to midfield brought goals for Spector, but West Ham's struggling form finally caught up with them and they were relegated at the end of the season.
2009-10
Part of a West Ham club that needed a late turnaround to stave off relegation.
2008-09
After missing half the season due to hip surgery, Spector regained his spot in the squad as West Ham once again finished middle of the table.
2007-08
- Made regular appearances in West Ham's first team both as sub and starter as the club achieved mid-table security by Christmas.
2006-07
- Transferred to West Ham United, and part of the squad that barely avoided relegation to The Championship. Made 28 appearances in all competitions.
2005
- Appeared in 23 games on loan to Charlton Athletic, with 16 starts.
2004-05
- Made numerous first team appearances for Manchester United in the EPL season, including a Champions League start in 3-0 win over Dinamo Bucharest.  Earned MVP honors in a 0-0 draw with Everton.  He was also named the MUFC Jimmy Murphy Young Player of the Year.