Position: Goalkeeper
Date of Birth: 09/09/1984
College Experience: South Carolina
Pro Team: Atlanta United
Height: 6' 4"
Weight: 210 lbs
Caps: 64
Shutouts: 20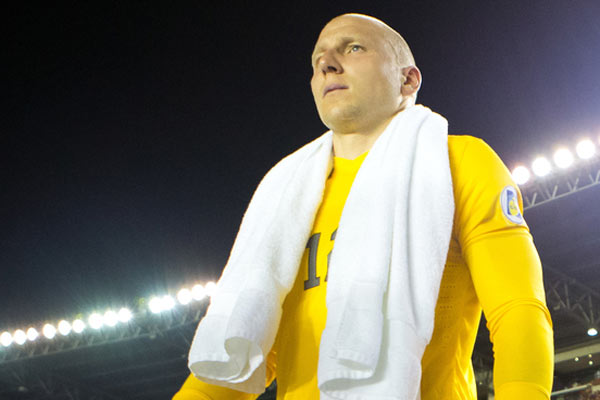 Considered a surprise pick by Chivas USA, and second overall at the 2005 MLS Super Draft, Brad Guzan quickly showed he might be the next great American goalkeeper.  As his team gave him plenty to do in its first season, the towering, vocal keeper's game continued to improve, and in 2007 both he and his team-mates enjoyed a breakout season in MLS. He won his first USMNT cap in 2006, followed by a second the following year at the Copa America.
In 2007 he was voted Major League Soccer Goalkeeper of the Year.  By 2008, Guzan was a transfer target for several European clubs. Midway through the '08 MLS season, he joined Aston Villa. Guzan started his career with Villa as the backup for former US National Team stalwart Brad Friedel. Guzan eventually took the starting job. He left the club for Middlesbrough prior to the 2016-17 season. Guzan joined Atlanta United after the 2017 Gold Cup.
Brad Guzan USMNT Experience
2019: Started against Uruguay on Sep 10. Started against Cuba in the Nations League on Oct 11 and against Canada on Nov 15. Started against Cuba on Nov 19.
2018: Started against Peru on Oct 16 and England on Nov 15.
2017: Started against Mexico on Jun 11 and Ghana on Jul 1. Started the Gold Cup opener against Panama on Jul 8 and against Martinique on Jul 12. Started against Honduras on Sep 5.
2016: Started the Mar 29 qualifier against Guatemala. Started against Puerto Rico on May 22 and Ecuador on May 25. Kept a clean sheet against Bolivia on May 28. Started in the Copa Centenario opener against Colombia on Jun 4 and shutout Costa Rica on Jun 7. Started against Paraguay on Jun 11. Started against Ecuador in the Copa Centenario quarterfinals on Jun 16 and against Argentina on June 21. Started the World Cup qualifier against St Vincent and the Grenadines on Sep 2 and kept the clean sheet. Subbed on in the first-half against Mexico on Nov 11. Started against Costa Rica on Nov 15.
2015: Started in the 4-3 win over the Netherlands on Jun 5 and against Germany on Jun 10. Started against Guatemala on Jul 3 and kept a clean sheet in the 4-0 win. Started all of the USMNT's games at the 2015 Gold Cup, winning the Golden Glove as the top goalkeeper at the tournament. Started the Sep 5 friendly against Peru and the Sep 8 friendly against Brazil. Started the Confederations Cup playoff against Mexico on Oct 10. Started the World Cup qualifier against St Vincent and the Grenadines on Nov 13.
2014: Named to the final 2014 World Cup roster. Played the second-half against Turkey on June 1. Started against the Czech Republic on Sep 3. Started against Ecuador on Oct 10 and Colombia on Nov 14.
2013: Started against Costa Rica in the Mar 22 World Cup Qualifier and Mexico on Mar 26th. Started against Panama on Oct 15.
2012: Subbed on in the second-half against Scotland on May 26th.
2010: Played in the Sendoff Series game against the Czech Republic. Was named to the 2010 World Cup squad. Played the second-half in the 2-0 loss to Brazil on August 10th. Started against South Africa on Nov 17th as captain.
2009: Replaced the suspended Tim Howard in goal for the March 28th World Cup Qualifier against El Salvador.  Took over in net for the final group stage game in the Confederations Cup that saw the US advance with a 3-0 win over Egypt.
2008: Called in to January training camp, then pulled off several fine saves in 2-0 friendly win over Sweden in Carson, CA.
2007: Named to the Gold Cup squad and the Copa America squad.  Started the July 5 Copa America Group C game, a 1-0 loss to Colombia.  Played second half of 1-0 October exhibition win in Switzerland.
2006: Made his debut against Guatemala in a 4-0 win on February 19th.
Brad Guzan Professional Experience
2019: Finished in 2nd-place with Atlanta, advancing to the conference finals. Won the US Open Cup. 
2018: Made the playoffs with Atlanta, winning MLS Cup.
2016-17: Spent the season with Middlesbrough, winning starts on a team with several good goalkeepers. Announced move to Atlanta United following the season, with Boro eventually relegated. Advanced to the playoffs with Atlanta.
2015-16: A tough season at Aston Villa ended with the club's relegation. Guzan joined Middlesbrough on Aug 29, 2016.
2014-15: Finished 17th with Aston Villa in the Premier League.
2013-14: A regular in goal for Aston Villa, finishing 15th in the Premier League.
2012-13: Took the starting job under new manager Paul Lambert for a Villa team that finished 15th in the Premier League. 2011-12: Backup at Aston Villa.
2010-11: Under new manager Gerard Houllier used as a backup at Aston Villa. Loaned to Hull City in January, 2011.
2009-10: Backing up Brad Friedel in the Premier League and starting regularly in the Europa League and domestic cup competitions.  Had a strong showing against Sunderland in the League Cup on Oct 27th, stopping a penalty in regulation and then stopping three more as Villa advanced on penalties.
2008-09: Left MLS for Aston Villa midway through the season.  The regular starter for Villa's UEFA Cup campaign.
2007: Posted a 0.93 goals against average in 27 games, including an impressive 13 shutouts, as Chivas USA won the Western Conference.  MLS Goalkeeper of the Year.
2006: In goal for 15 games overall as Chivas made the playoffs, but injury kept him out the side for around half the season. 
2005: Left college early to sign with Major League Soccer, drafted by Chivas USA.  Becomes the surprise starter making 23 starts in his and team's disappointing rookie season, posting a GAA of 1.99.
2004: Member of Chicago Fire reserves where he was named PDL All-League.